My knee is bionic.
Or I'm bat shit crazy.
Let's be honest… I am certifiable a little crazy.  Vegas says it's part of my charm (granted, next to her I am basically sane).
I decided that I was SICK of doing cardio on the elliptical.  That thing makes me feel like a hamster.  Instead, I decided to go for a run.  I told myself I'd do an easy 30 mins, but it felt good so I went for an hour.
First run back – 5.75 miles.  With hills.  Totally sane.
Apparently the PRP Therapy and Acell works for an ACL tear!  I know this really does sound stupid, but it didn't hurt AT ALL or I would have stopped.  I was expecting some soreness, but even the next day it was perfectly fine.
Now, on to the food…
---
I'm still being reasonable with my diet (yay me!).  Read on for my day of continued healthier eats and link up to Jenn's WIAW baby over at Arman's today!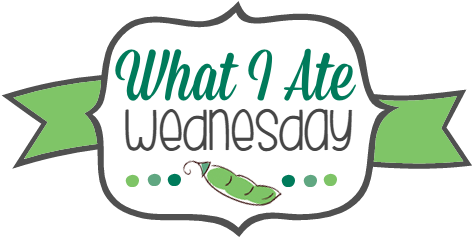 ---
Breakfast:
The usual morning cocktail followed by the matcha sludge.
I've been craving an omelet, so that's just what we had.  Half eggs and half egg whites stuffed with yellow bell peppers, onions, basil, and Purple Haze Chevre from Cypress Grove.  that cheese is my favorite – it's lavender buds mixed with fennel pollen.  Basically, it's crack.
Topped with peach salsa and more basil, but toast with a little schmear on the side.
Lunch:
I did some experimenting with tuna cakes.  It mostly worked out.  I liked it well enough.  Vegas was ambivalent.  I think they could have used more flavor.  Will keep working.
It wasn't bad, and it was even better over some spaghetti squash and greens and topped with mustard.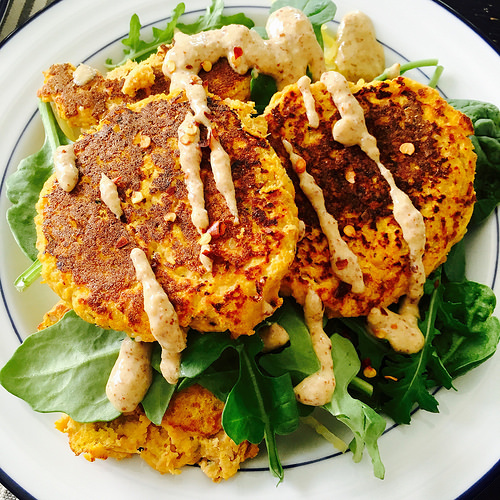 Funny story about the mustard… I dropped it down an open vent (still waiting on new vent covers) by the fridge when I was cleaning up after lunch.  Oops.
Snack:
I was starving and running late for to the gym.  I scarfed down a PB&J Quest bar and didn't take a pic.  

Dinner:
I've had Lindsay's recipe for Garlicky Green Crockpot Lentils and Chicken marked to try since she posted it last week.   To days was the day.  I prepped everything and tossed it in the crockpot before heading to the gym.  It was perfectly cooked by the time I got home.  Good thing too – I was STARVING.
The verdict?  Absolutely delicious.
There are very few people whose recipes I will follow to the letter.  Lindsay is one I trust completely… the ONLY thing I added was some turmeric (because anti-inflammatory… how proud are you, Lindsay???)
Dessert:
I'm back to one of my old favorites – midnight snack dessert bowls!  Still delicious.
***
This whole eating clean thing takes a ton of self-control, but it's more fun when the food is creative.
What's your favorite kind of cheese?  Vegas likes what we affectionately refer to as shitty cheese (Kraft American Cheese). 
What's the last blogger recipe you tried?