Were am I?
Did this weekend really happen?
Friday I almost wrote a whole post on how there's no way I'd place in this competition.  It's my first figure competition, I'm too small… and frankly, I didn't want to get my hopes up.  I like winning.  I dislike disappointment.
I promise to share more later, but I'm still reeling and trying to get organized for the week!  Here's the short version…
We loaded up the car and headed to the 4th Annual NPC Jen Hendershott Big Shott Bodybuilding Classic and All Women's Fitness, Figure, and Bikini Weekend.
Upon arrival, we headed to the host hotel for check-in and the first 2 layers of tanning.  If you ever really want to step outside your comfort zone, sign up for pre-show spray tanning.  I was naked in a room of 20-ish other women waiting in line to get strayed by the tanning guy (yes, a guy… he was really great/professional though).  Once you got sprayed, you then had to stand in front of a fan drying until your next coat.  Did I mention it was cold?
I looked like an oompa-loompa, and modesty no longer exists in my vocabulary.
The pic above if from the next morning – my sweet hair stylist was texting me asking for pics of my hair and coaching me on how to do it up.  Love. Her.
We had an athletes meeting before the competition where Ms. Jenn Hendershott explained to us the order of events and introduced the photographers.  It was nice to have a relaxed gathering before things got crazy!  She's standing on the the stage we would be walking across in just a couple of hours!
The competition is 2 parts: pre-judging in the morning, and the "big" show at night.  The tough thing is, all the decisions (except overall winners) are made at the pre-judging.  So you have to go the whole day sticking to your diet so you still look good on stage that night, but knowing there's nothing more you can do in terms of placing.
It turns out I DID place.  4th in Figure Class A!  I'm still a little shell-shocked.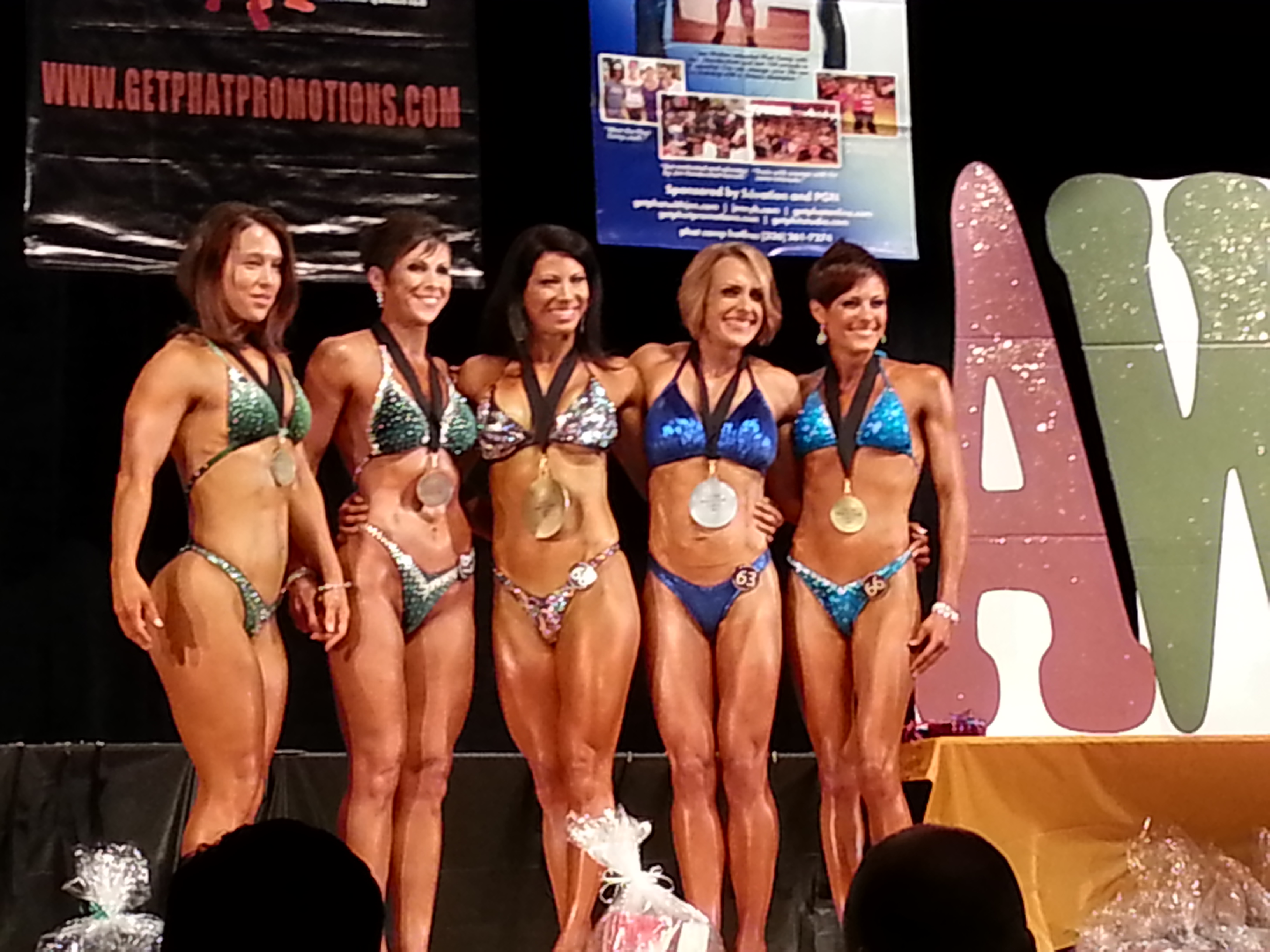 More pics to come when we get the professional shots in!  It's safe to say I've been bitten by the bug – I cannot WAIT to start building and growing for my next show (hopefully March).
Below is a pic with the women from my gym (we ALL placed in out categories!) and our trainer, Steve.  I wish I had one with the boys!  Abdul took 1st place in his Men's Heavyweight Class and 2nd in the Men's Heavyweight Open!
More details and the post-competition download (read: sugar-fest) to come!!!
***
Thank you so, so much for all of the emails, tweets, texts, comments, and Instagram support this weekend.  each one made me smile.  I've never felt such support from a community before… I can't begin to express what that meant to me.
How was your weekend?  Anything exciting to report?
When was the last time you stepped outside of your comfort zone? 😉