Mail days are the best.
Thanks to e-bills, actual mail is a treat 80% of the time!
The awesome people at PopSugar sent me a Must Have Box to try this month.  I was really impressed!  The Tilo scarf alone was worth it (retails at $125!).  It's high-quality and incredibly soft.  Soft kitty, warm kitty…
Those Ghirardelli sea salt chocolates do not suck either.  I love that they are bite-sized… it (moderately) slowed me down as I worked my way through the bag.  I've already replenished with the dark chocolate variety. #sorryimnotsorry
Working out in the morning was a little more fun with my fancy blue Nicole Miller ear buds.  They matched my shoes today. #winning
The fuel made the workout more fun too.  A raw Almond Brownie bar from Urban Remedy.  It wasn't too sweet and had a hint of salt to it.  Someone at PopSugar knows I love a sweet & salty combo!
They hooked me up with a discount code to share with you guys if you'd like to check it out: SEPT14SELECT will get you $10 off a 3 month subscription (offer expires 9/30/14).
*Disclaimer: POPSUGAR provided me with a complimentary POPSUGAR Must Have box. The opinions I have shared about the box are my own and POPSUGAR did not tell me what to say or how to say it.*
________________________________________________________________________________________
This WIAW was a fun one.  It is still really busy at work with conference follow up, but I had time to prep some fun food on Sunday and I feel like I'm making forward progress in the gym and at work. Good times.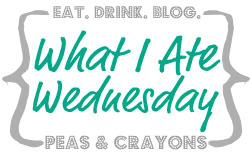 Read on for my eats, and then check out Jenn's blog for everyone else's delicious creations!
________________________________________________________________________________________
Breakfast:
My morning cocktail was followed by one of these zucchini protein muffins from the freezer before hitting the gym.  It was a cooler morning… but I still sweat like a pig.  So I ran home and made a quick smoothie before rinsing off and walking to work.
I'm almost out of my favorite protein powder, so I've started combining it with the "B" player powders I have laying around.  It works really well – no nasty flavor or texture problems.  This was a chocolate-vanilla protein combo with spinach (really… you cannot taste it).  I topped it with blackberries and muesli. I always blend smoothies with almond milk, guar gum, and ice to make it creamy like ice cream.  Massive, thick post-workout smoothie.  #twss
Mid-Morning Snack:
A totally normal work snack – Salmon sashimi a with purple sweet potato and broccoli slaw.
Lunch:
This is my hacked-up version of Heather's lovely Coconut Curry Cod recipe.  My fish was turbot instead of cod and it turned out well!  The buttery turbot is great with the rich coconut sauce.
The hacked part was my lazy interpretation of the marinade.  I skipped the peanuts and dumped delicately poured the saucy mix below over the fish before baking it.  I'm too impatient to marinate anything.
Lazy Laura Curry Sauce:
½ C full-fat coconut milk
1 tsp curry
½ tsp cayenne
½ tsp cumin powder
¼ tsp garlic powder
freshly ground pepper
At least I didn't spill it today!
Mid-Afternoon Snack(s):
Brown food often often tastes better that it looks.  This Vegan Mushroom Stroganoff would have been that way if I'd used half the amount of garlic.  Next time I'll follow Janet's recipe more closely.  Whatever.  It was still edible.  Those chips are great, btw!
Dinner:
This was the coolest dinner I've had in a while… and I didn't do anything but warm it!  I tried my first Garnish & Gather meal.  They have a weekly menu of 4 ready-to-cook meals.  You chose what you want and pick it up the following week at a convenient location.  The ingredients come in a cute reusable bag with your name on the labels:
The locally-sourced, raw ingredients come in exactly the right portions.  All they ask you to have on hand is oil, salt, and pepper.  They even give you a detailed recipe card and a conversation-starter question for the dinner table.
You guys know I love to cook, but some things I just can't do one my own… which is why I was tempted by this meal created by James Beard Award Chef Linton Hopkins.  It included Holeman & Finch coffee cured pork shoulder.  Friends, I am not about to cure pork shoulder at home!  Along with the pork I received a sorghum glaze, eggplant, kale, a tomato, lady peas, soffrito, and chicken stock.  All local!
It was fantastic.  I ordered enough for 2 meals so I could have one for lunch tomorrow… and I wish I'd ordered more.
Overall, it was totally worth it to try something new and I would do it again.  You do need to know what you're getting into.  It is not an "affordable meal" service; however, it's cheaper than a restaurant meal.  It is also not for those that don't enjoy the process of cooking.  The meal can be done in under 30 minutes if you know your way around the kitchen.  I had to multi-task.  It required the use of 4 pans.  That was the worst part for me.  I hate doing dishes.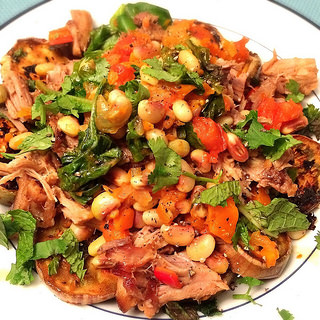 If you're in Atlanta, try it out!  Go in with open eyes and be ready for an adventure.  You'll learn something new and will surely have a delicious meal you wouldn't have made if left to your own devices.
Dessert:
Despite a hearty dinner, I had to have my usual dessert bowl.  The base was greek yogurt, 1/2 scoop of vanilla protein powder, gelatin, and cinnamon.  Crumbled on top was one of my Oatmeal Protein Cookie Balls.  The sauce on top won the night – I mixed dark cocoa power and almond milk in a teeny bowl and added a few marshmallows to it.  Then I microwaved that for 12 seconds until it was slight melty.  Pour over the top of said bowl.  Swoon.
***
I have a little surprise coming Friday…
Would you do something like a Garnish & Gather meal?
Answer my G&G dinner card question: What is your favorite season?  Spring!