Yesterday I did my last long-ish run before Saturday's Tough Mudder.  Good thing since it's blustery, rainy day in the South!
Still not up to 11 miles, but I can do half of that… that's a good start… right?!
At least I'll have all of those breaks obstacles.
Distance: 5 miles
Time: 42:22
Pace: 8:44
I'm going to be ridiculously fast after having to run into the wind the past couple of weeks! 🙂
Then I came home and made dip for the vegetarian dinner par-tay.
A fine running-reward. Tasting was strictly for quality-control purposes.
_______________________________________________________________________________________
The menu from my kitchen: Muhammara +Veggies, Non-Crab (Tempeh) Cakes, Remoulade (for cake-dipping)
I was told the Tempeh Cakes were, in fact, reminiscent of crab cakes… I wouldn't know since I don't eat seafood.
Non-Crab Tempeh Cake recipe to come tomorrow!
One friend brought yummy polenta cakes.
Of course we had dessert.
Another guest brought Is It Really Better Than Sex? Cake.
Minds outta the gutter!!!
Today I want to share the recipe for my new go-to dip.  Which says a lot since I am hummus-obsessed.
Muhammara.
A creamy Lebanese dip made from roasted red peppers and toasted walnuts.  It has a neat flavor profile thanks to the molasses, peppers, and spices.  It is at once savory,  rich, and spicy.
Basically, it's addicting.
_______________________________________________________________________________________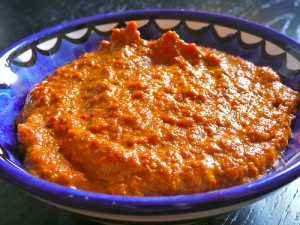 Besides being delicious, this dip is full of healthy fat, protein, Vitamins A and C, and lycopene (thought to reduce risk of certain cancers).
Muhammara (Red Pepper and Walnut Dip)
Adapted from Epicurious and Good Food, Good Wine, and a Bad Girl
1 C roasted red peppers, roughly chopped
1/2 C panko breadcrumbs
1/3 C walnuts, toasted and roughly chopped
2 T fresh lemon juice
3-4 cloves garlic
3/4 tsp ground cumin
1 tsp ground cinnamon
1/2 tsp salt
1 T blackstrap molasses*
1 (heaping) tsp muscadine jelly*
1 tsp dried hot red pepper flakes (adjust to taste)
1/3 C extra-virgin olive oil
Using a food processor, pulse the first 8 ingredients roasted red peppers, panko, walnuts, lemon juice, and spices until mostly blended.
Add the molasses, jelly, and red pepper flakes.  Blend until smooth.
Pour in the oil in a thin stream into the food processor – running on low speed -until oil is incorporated.  The dip should have a hummus-like consistency.  You may add more oil or water as needed to thin.
Transfer to serving bowl and serve with warm pita and vegetables for dipping.  (It's also good by the spoonful on top of a leftover black bean burger.)
*The original calls for pomegranate molasses, which I did not have.  In order to get the molasses tang AND the sweetness, I used blackstrap and added a bit of my grandmother's homemade muscadine jelly.  It works like a charm!
Makes ~2 cups (8 servings)
***
Overall, I ended Fat Tuesday feeling sufficiently fattened full.
Did you do anything fun for Fat Tuesday?  It smacks of being a perfect "treat" day.