Stop what you're doing.
Watch this: 
When I saw this video this weekend, I stopped in my tracks.  How many times in your life that you heard someone refer to "running like a girl" or "throwing like a girl"?  How many times have you SAID it?  I'm know I'm guilty.
To quote the commercial: "Why can't 'run like a girl' also mean win the race?"
We grow up thinking we can succeed… but not to the point that a man can.  I won't ever play for the Braves or lift as much as the guy next to me (maybe 😉 ), but that doesn't diminish what I CAN do.  We don't have to do things like a boy.  Doing them like a girl is just fine!
That's one more reason I'm loving the #MoveHappy month Heather and I are partnering on.  Fitness doesn't have to look any certain way.  It should be something that keeps you moving, that challenges you, and – most importantly – that you enjoy.  Fitness should be fun, not a chore.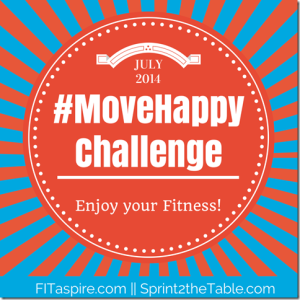 Ready For the Week 1 Prizes?
Like I mentioned last week, we have some awesome prizes to keep you motivated all month!  These are from brands we personally love, and I think you'll find they are some of your favorite too (or maybe new favorites?).  The challenge starts July 1st and ends August 2nd.
Fabletics (an outfit from current lookbook, a gym bag and water bottle) & Variety Box of 12 Quest Bars!  That's right.  Workout schwag and the holy grail of protein bars.  Life is good, my friends.
How to Participate
To be eligible for each week's prizes, you simply record at least 3 #MoveHappy workouts on the official #MoveHappy post of the week.  This first week is hosted by Heather (the second week will be by me).  Heather is also announcing her NEW website and blog name this week, so go holla at her!
You can also earn BONUS ENTRIES by sharing your progress on Instagram.  After you've recorded your 3 workouts on the official blog post, you will receive extra entries each time you share a #MoveHappy photo on Instagram, including the hashtag and tagging @sprint2thetable and @betterwithveg.  We'll randomly select a winner from the entries.
***
I got my #MoveHappy on this weekend lifting some heavy shoulder weights and playing softball #LikeAGirl.
What do you do like a girl?
How will you #MoveHappy this week?  Don't forget to enter by recording it in the comments on Heather's blog!