Long weekends make me happy.
We really should implement a 2-day work week, 5 day weekend policy.
This weekend was full of happy movement.  Atlanta is home to the world's largest 10K, the Peachtree Roadrace.  It's held every year on the 4th.  This is my 5th race; I've only missed one since 2008!  I haven't been running much, but my goal was to finish in under an hour.  I rolled out of bed early Friday morning and took the train to the start line.
I debated going to the convention in town… but nah.
 _______________________________________________________________________________
It was a really good race.  Since the weather was nice, the streets were lined with even more people than usual cheering on the runners.  Spectators and businesses along Peachtree Street were handing out beers, pizza… icy pops… anything imaginable!  I didn't stop – I just wanted to win meet my goal.  And I made it!  10K in 57:52.  I was finisher #11,687.  It's a huge race.
I met up with Sarena and Tony post-race for brunch.  They ran that morning too and we were ravenous.  Good thing the restaurant was so crowded we didn't get food for more than an hour… but that's the situation anywhere near the finish line.  At least the company was marvelous!  I can't believe we didn't get a picture of the 3 of us, but here's a selfie of me and a random guy at the finish.
Week 2 #MoveHappy Challenge
Did you #MoveHappy this weekend?  In case you missed it, Heather and I are co-hosting a challenge to have FUN with fitness in July.  You can read the details here.  We have a lots of prizes and 5 chances to win some of our favorite fitness-related items.  
Last week's prize was announced on Heather's blog, but this week I have the goods!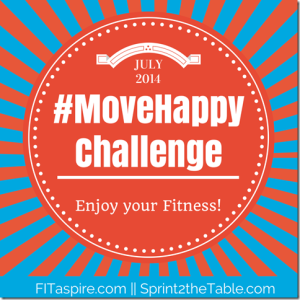 This Week's Sponsors
So what ARE this week's prizes?  This week we have prizes from Nutrex and Quest Nutrition!
Nutrex Hawaii

I was actually introduced to Nutrex by Heather at Blend this year.  I immediately used the spirulina to strange-up my oats at breakfast.  It's good stuff!  Spirulina is a super-concentrated whole food – did you know one serving is 60% protein?!
Nutrex is giving away a prize pack that includes this, along with Green Complete superfood blend (to boost immunity and increase energy) and BioAstin Astaxanthin (a powerful antioxidant thought to support joint, skin, eye, and brain health and improve exercise recovery).  Also included is a cool bag for your schwag!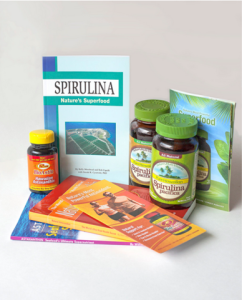 Quest Nutrition
If you've been reading my blog for any amount of time, you may have noticed I love Quest bars.  Finding a bar that is high in protein, low in carbs, and still tastes good is no easy task!  These are my favorite.  I particularly love them baked.  Their hashtag is #cheatclean, and that's really when it feels like!  If you chop up the cookie dough bar into squares and broil it for 2-3 mins, you'd swear it was Cookie Crisp cereal!  
The company and all of it's people are amazing too.  They jumped on board with the #MoveHappy campaign and donated 4 boxes so that EVERY week's winner will get a variety box of 12 Quest Bars.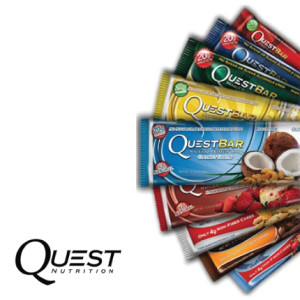 How To Enter?
It's easy!  Record at least 3 #MoveHappy workouts on the official post for the week.  So this week, you comment on THIS POST each time you finish a #MoveHappy workout.  For bonus entries share your progress on Instagram!  You get extra entries each time you share a #MoveHappy photos on Instagram, including the hashtag (#MoveHappy) and tagging @sprint2thetable (me) and @FITaspire (Heather).
Remember, this challenge is making fitness fun.  Moving happy can be a million different things – running a race, lifting weights, hiking, playing with your kid… something that gets you moving and puts a smile on your face.  Do it, and then come back here and share it in the comments.
If you're a blogger, you can also add the sidebar image and spread the word!  Head over to Heather's blog to see who won week 1!
***
This weekend was also the 6th anniversary of my dad's death… I'm forever grateful to him for inspiring me to start moving.  He was a movin' happy guy.
Have you tried Quest bars?  What's your favorite flavor?
How did you #MoveHappy this weekend?