Being in the mountains mandates some #MoveHappy action.
It's downright chilly in places!
This week of #MoveHappy I joined forces with Heather!  Literally – I spent the entire week in Colorado.  Here's just a quick showing of what we did:
Of course, we also fueled with plenty of good food.  I don't think it's possible to have bad food in Colorado.
This is dinner at The Fort before we went to see an ABBA cover band at Red Rocks.  I celebrated National Tequila Day appropriately, then we shared peanut butter stuffed pickled jalapeños, a "Mountain Man Sausage Plate" (buffalo, wild boar with cranberries and apricots, and Jackalope sausage with habeñero chiles and cherries with chipotle honey mustard and sweet chile dipping sauces), salad with jicama and pepitas, veggie tamales, and bison sirloin. And then we played in the yard.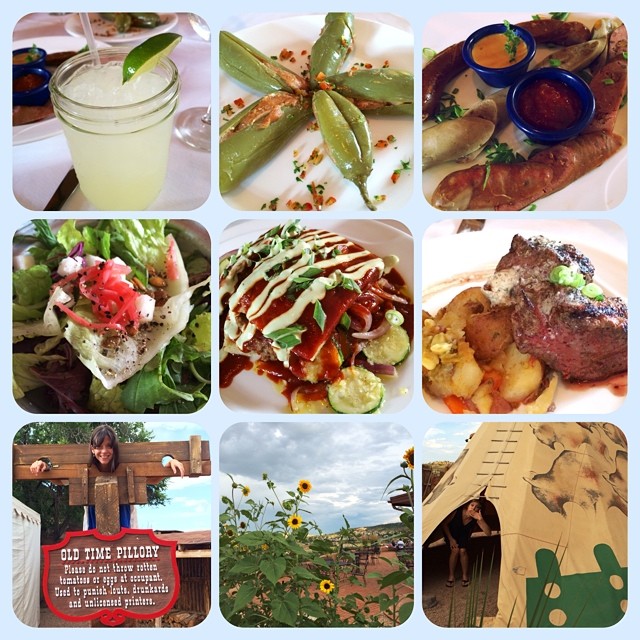 Our pre-rafting breakfast was an epic version of my Waffle House favorite at Daylight Dounuts in Breckenridge.
Sweet Potato Waffle topped with #yolkporn and a side of bacon. We split a chocolate frosted sprinkled donut as an appetizer. Breakfast of champions!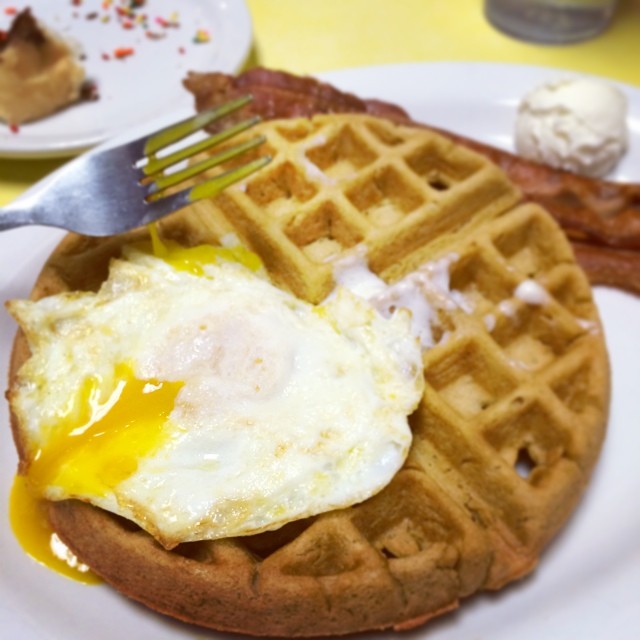 We ended an epic weekend by taking in a show at Red Rocks – Mary Chapin Carpenter and the Indigo Girls played with the Denver Symphony!  It was unreal how fabulous it was.
Hiking up to the venue was hard after the 14'er, but a big ass burrito bowl, beer, and an incredible evening of music made it all better.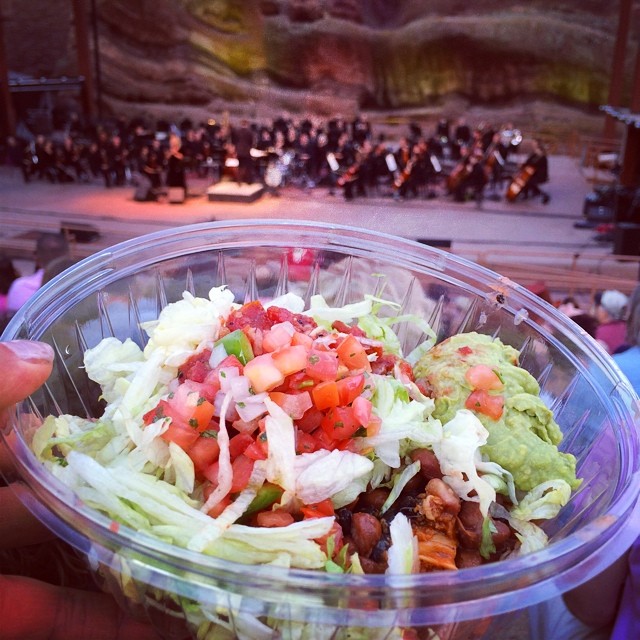 Move Happy Finale
There's a LOT more to share, but for now I must go to bed.  After talking a bit about this week's prizes!  Once again we have my favorite Quest bars… and this week we also have Sizzlefish!  I love Ron at Sizzle fish – he's 100% committed to offering a high-quality, delicious product.  I truly look forward to receiving these boxes.
Their Omega-3 Protein Mix is my go-to.  It includes Coho Salmon, Atlantic Salmon, Sablefish, Trout, Catfish, Atlantic Cod, and Haddock.  Did you know that a diet high in fish, particularly fish high in Omega 3 fatty acids, enhances athletic performance and health?   It's perfect for training fuel!
Sizzlefish's fish are frozen at the peak of quality, pre-portioned, and shipped on dry ice.  I can pull them out as needed during the week for quick and easy dinners.  And one lucky winner will win a boxy this week!  Just head over to Heather's blog and leave a comment telling us how you #MoveHappy this week!
Winner, winner chicken dinner!
You didn't think I forgot, did you?  The winner of last week's #MoveHappy prizes – a Growing Naturals protein prize bag and a box of Quest bars – is….

Brittany!  Send me an email with your mailing address and phone number so we can get your prizes to  you ASAP!
***
I am SO SAD I'm flying home today!  Colorado is pretty marvelous.
Have you ever been whitewater rafting?
Are you a fan of hiking?