The only thing I love more than working out is getting new workout-related stuff.
And food.  Obviously.
To start this 3rd week of the #MoveHappy movement out right, I thought I'd share with you some of the marvelous new fitness-related items I've been loving lately.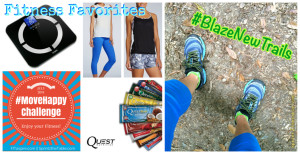 1. Mizuno
Recently I was given the chance to try out Mizuno's new Wave Kazan trail shoes for a FitfFluential campaign.  Let me tell you – I have never in my life put on a pair of shoes that felt like they were made for my foot.  Until now.  I have worn these just bumming around!  This shoe cradles the heel perfectly, preventing unwanted sliding.
Trial running is their intended use, and I used them for that too.  Even since my trip to Switzerland I've been obsessed with trails, both for hiking and running.  There's something so freeing about running through the woods.  And it's cooler in the shade of the trees.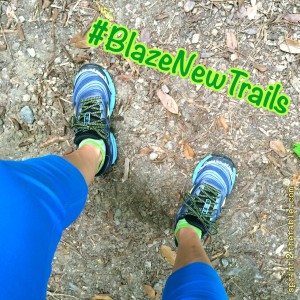 I really love the color of these shoes.  They're darker, which is perfect for trails.  There's no need to worry about ruining a pretty white shoe!  At 8 oz, they're also really light.  This is important to me for trial running because I like bouncing off of rocks and logs.  Some of the trails out here demand bunny hopping!
Mizuno is all about ensuring the design of their shoes, and this new trail shoe is no different!  They use the newest technology which provides flexibility without sacrificing stability.  The midfoot "X" groove allows the heel and forefoot to move independently and adapt to uneven terrain.  In English, the Krazen has the right amount of grip for more uncertain terrain, but it doesn't impede the ability to bounce around, change direction, and dodge random artifacts on the trail.
Maybe I need to call up my ultra runner friend…
2. Moving Happy
I love this #MoveHappy campaign.  Last week you guys commented on the posts I hosted all week long – it was really motivating for me to read all the fun ways people were getting their happy move on!  You guys inspired a hot little jog after my softball game Sunday.  I love playing ball, and was feeling my fitness groove after a fun morning on the field!
This week's prize is Heather's favorite protein powder, Vega.  (Mine is next week. 😉 )  One of the things I appreciate about Vega is that , like my go-to, Vega is a high-quality plant-based protein option.  It's is often featured in Heather's delicious protein recipes, and she was even recently shared ways she uses the products on their blog!
Check out a few of Heather's fun protein recipes: Peanut Butter Cup Protein Pudding, vanilla frosted protein donut, double chocolate protein pudding, and chia pudding.

To help you #fuelyourbetter in all your #MoveHappy adventures, Vega will be sending this week's winner a package filled with Heather's personal favorites: Pre-Workout Energizer, Electrolyte Hydrator, Performance Protein, Protein Smoothie, and a t-shirt!
She hand-picked these items, so bop on over to her blog and tell us how you #MoveHappy this week for chances to win!
3. Quest Bars
Quest bars are again included in this week's #MoveHappy prize.  You want to win these.  I eat at least 5 a week.  I bake them.  I let them melt in my car and get my steering wheel sticky eating it post-workout.  I cut the cookie dough into little squares, broil it, and eat it like cereal (that tastes like Cookie Crisps cereal!).  I got my boss hooked too; he showed up last Monday with a box of Cookie Dough and a box of Peanut Butter.  Which I ate.
In conclusion, Quest bars are like crack.  But less whack.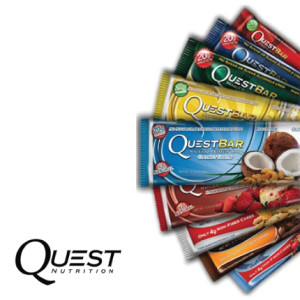 4. Surpahs Body Fat Scale
I never had a problem with scales.  I can take them or leave them; how much I weigh isn't as big of a deal to be as how my clothes fit.  That said, when I was offered a chance review the Surpahs Body Fat Scale scale I got excited.  This is like the luxury car of scales.  It uses Bio Impedance Analysis to measure body fat, hydration levels, bone mass, and muscle mass.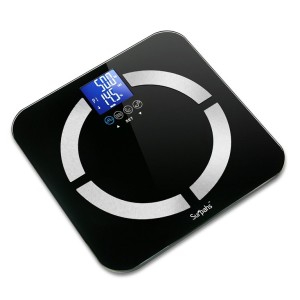 Like similar scales, you can select your gender, age, and height… but this is the first one I've seen that allows you to choose an activity level too!  I really geeked out on that part because my trainer was having me set my old scale to a 25 year old male to get a more accurate measure.  Since I'm taking this year off of competing to build muscle, I'm super excited to have a way to monitor my muscle mass.
Yes, these things are never 100% accurate, but it gives a good estimation in my opinion.  It's only $40 on Amazon; to me that's a steal for what it can do.  Bonus: it's small and pretty – the black is modern-looking and fits right in with my decor.
5. Fabletics
I am NOT stylish in the gym (or in general, but that's another post).  It's not that I don't appreciate a nice outfit… it's just not something I make time to acquire.  This is why I'm loving Fabletics.
I've tried mail order clothing before and it has never, ever fit correctly.  I was weary of Fabletics, but after it was a #MoveHappy prize they offered me a free shipment for review so why not?  Since receiving my review order, I've placed a second order.  I LOVE it!  The clothes fit exactly as advertised, they're stylish, and there's something for every body type and sporting activity.
The first outfit I tried was the one below, but with black shorts.  I wore it to the gym and people immediate commented that I looked nice.  I only thought no one paid attention to the fact that I wear the same 2 outfits over and over…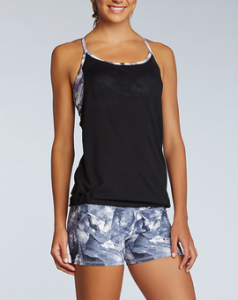 The second outfit I ordered myself was this, but with the top in black.  I'm especially pumped about these blue pants.  They are super soft and it's fun to have a little color pop.
Totally wore them to work.  Twice.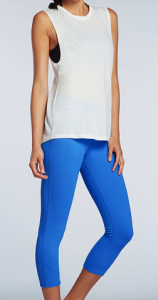 Winner, winner chicken dinner!
You didn't think I forgot, did you?  The winner of last week's #MoveHappy prizes – a Nutrex Hawaii Hawaiian Health Kit and a box of Quest bars – is….

Cassie!  Send me an email with your mailing address and phone number so we can get your prizes to  you ASAP!
***
We have another winner…  Click here to see if you won the Emergen-C 3 month supply!
What fitness items are you loving lately?  It's my birthday tomorrow.  Feel free to send them my way.  😉
Do you like running trails?