Have you ever met a raw foodist?
I don't get it… 
I do get that it can be fun sometimes though!  Like veganism.  It forces creativity, which I love.  Also, I love bacon.
A raw vegan taco seems strange, but this was so good it even surprised me.  You could go all raw if you took the time to marinate the mushrooms and omitted the lentils.  I'm not that patient.
While it didn't include bacon, I barely missed the meat in this vegan taco salad creation.  Sautéing the mushrooms with aminos gave it a delicious saltiness the was reminiscent of meat.  Plus, anything you top with guac is a win.
I also love having a texture contrast with the crunchy raw bell peppers.  A bite of that with the creamy guacamole and juicy tomatoes was a fiesta in my mouth.  #twss
On the side I had some dehydrated kale chips, courtesy of Whole foods.  Gotta have chips with my guac!
---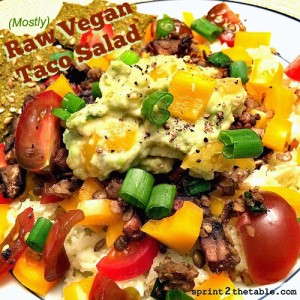 (Mostly) Raw Vegan Taco Salad
Taco "Meat"
1 portobello mushroom, diced
1/4 C cooked lentils
Juice of 1/2 orange
1 garlic clove, minded
1 green onion, chopped
2-3 sprays Bragg's Liquid Aminos (~1/8 tsp)
1/4 tsp cumin
Sprinkle of cinnamon
Guacamole
1/2 ripe avocado
Juice of 1/2 lime
1/4 tsp cumin
1/2 jalapeño, diced
1 T onion, diced
Toppers
Bell pepper
Tomato
Mango
Cilantro
Freshly ground pepper
Cauliflower "Rice"
1 C cauliflower florets, pulsed in food processor to a rice-like state
Sauté taco "meat" ingredients until tender.
Meanwhile, mash together guacamole ingredients.  Prep desired toppings and cauliflower rice.
Plate rice and stack remaining components on top.
Take a picture (because it's pretty) and enjoy!
---
How have you enjoyed making co-workers, friends, or family stare with strange but good creations this week? The link up rules can be found here or by clicking on "Strange But Good" in the menu bar above. In short, I want to see what concoctions have earned you weird looks from co-workers, family and friends! Post your Strange But Good creations, grab the logo below for your blog, and link up here.
Remember to use #strangebutgood in any Tweets and Instagrams of your creations. 🙂



***
I just realize I should have saved this recipe for Cino de Drinko Mayo! 
Do you like raw food?
Will you celebrate Cinco de Mayo?