It's a theme in my life.
Except in the dating scene.  Strange = bad.
Two Fridays ago I wrote a post of some of my favorite Strange But Good concoctions… and 2 weeks later I of course have more to share!
Before we dive into the realm of odd: there is an Atlanta blogger potluck meet up this weekend.  If you want to come and haven't received an email, send me a note and I'll forward the invite to you!  The more the merrier. 🙂
Ok.  Back to the strange fun stuff:
1. Salmon + Blackberry Salad
You guys may have seen this on WIAW…
I mixed 4oz salmon, 2 T fat-free ricotta, a little cinnamon, a little unsweetened almond milk, and blackberries.  It was strange but oh-so-good.
2. Mexican Hot Chocolate Protein Ice Cream
Hot ice cream?  Why yes… there is cayenne in it!  this sweet-heat treat was a fantastic midnight snack.  The green tint comes from spinach… but that's standard, not strange.
Mexican Hot Chocolate Ice Cream
1 scoop chocolate protein powder
1 tsp cinnamon (or 2 sticks)
1/2 in piece ginger
1/4 tsp cayenne (can adjust to taste)
1/4 C unsweetened chocolate almond milk
2 C spinach
5-6 drops liquid stevia
1/8 tsp guar gum (optional)
Ice, to taste
It's topped with Walden Farm's Sugar-Free Caramel… but honestly… that's more strange than good.
3. Bacon-Ricotta Stuffed Sweet Potato
After news of the impending bacon shortage… I was craving bacon.  I stuffed a locally-grown pre-cooked sweet potato with with ricotta and then crumbled a small piece of pre-cooked bacon on top.  Then I placed it int he oven under broil while I made a quick vegan tempeh stir-fry.
Vegan + Bacon = Tasty Dinner.
4. Zucchini Bread Protein Batter
This is Strange But Good PROOF!  Debbie @ Accidentally Delish gave it a try for WIAW: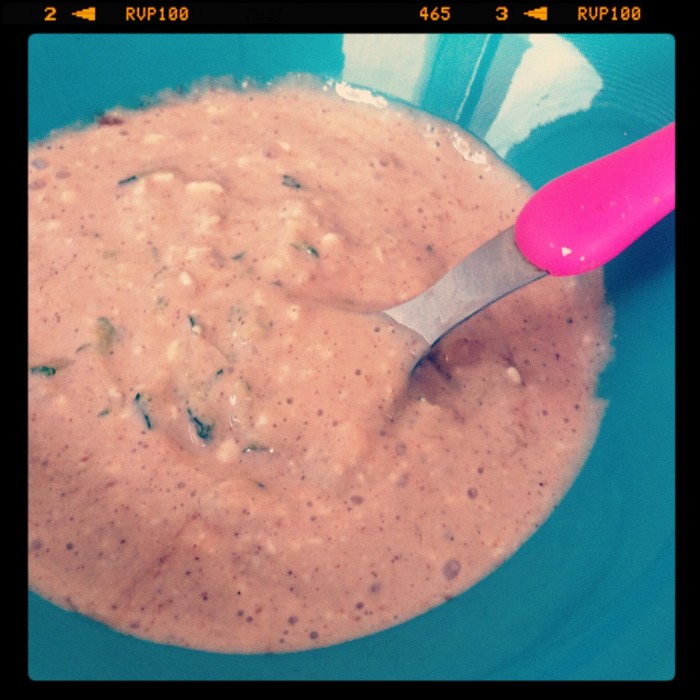 From Debbie: "You don't even taste the zucchini. I promise."
Click here for the full recipe.
5. Lightlife Portobello Burger with Sweet Potato-Chipotle Spread
This was strange but good on 2 counts.  First, this Lightlife Portobello Mushroom Burger tasted downright meaty.  I was shocked – I even went back to check the ingredient list.  All vegetarian!
The best part?  It has a full 20g of protein. 🙂
Second, the sweet potato as a condiment.  It's addicting… I've topped my salmon tortilla pizzas with it too.  I love sweet with a little heat (as if you couldn't tell from the Mexican ice cream), and that was perfectly balance here with the sweet potato and chipotle.  Cumin added a warm, earthy flavor that was especially good with the meaty 'shroom burger.
My dinner guests and I enjoyed the burgers in a very green way – on a field of spinach, cucumber, cabbage, broccoli, cilantro, and a few cannellini beans.
***Disclaimer: As a part of the DailyBuzz Food Tastemaker program, Lightlife provided me with a stipend and product for sampling.  All opinions are MINE. 🙂 ***

This series is brought to you in partnership with Lightlife, Live long. Travel light. To learn more, click here http://www.lightlife.com.
_______________________________________________________________________________________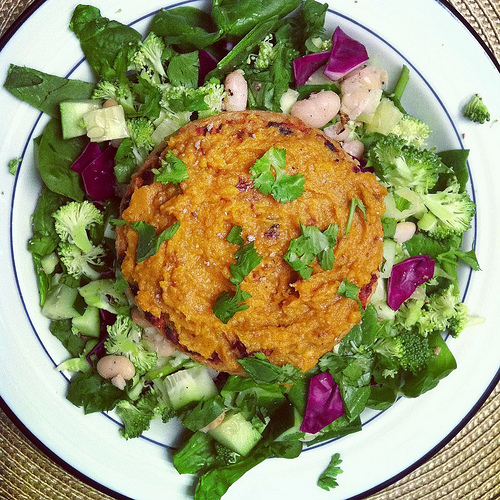 Sweet Potato-Chipotle Spread
1/4 C pre-cooked sweet potato, mashed
1 tsp chipotle in adobo
1/2 tsp ground cumin (or curry powder – both are good here)
1 T unsweetened almond milk
Place all ingredients in a small bowl and mash to combine.
Use as a condiment on burgers, pizzas, sandwiches… or a dip for your favorite veggie sticks or chips!
***
I just realized how much sweet potato I've been eating.  These local 'taters are just so tasty!
Do you have a favorite veggie burger?
What is your #strangebutgood this week?