I'm a believer in "go big or go home."
The following post is sponsored by Fitfluential LLC on behalf of Verizon Wireless.
The other day my trainer told me I'd never be big enough. Not that I can't build, but I love it and I'll always want MORE muscles.  #truth  I also submit that there is never enough chocolate cake or good red wine.*
*My stomach and liver may disagree.
There's one more thing to have to add to the list.  Verizon Wireless' new More Everything plan!
When I first got a cell phone I was 17 and I bought my own because my dad said I had no business with a cell phone.  It was one of those big Nokias and I thought I was the coolest kid ever.  Time have changed!  Now kids get phones for "safety" and their parents pay for it all.  I must confess that I actually regressed and am on the family plan with Verizon.  It's cheaper to share with my mom and sisters… even if my mom and I are the only ones paying for said plan (slacker younger siblings!).  Either way, I switched from a not-so-great provider to Verizon years ago and I couldn't be happier.
This new More Everything plan is perfect for us budget-conscious people sharing with our families.   It starts as low as $45 a month and, you can power up to ten devices with UNLIMITED TALK, UNLIMITED TEXT and all the data you can handle!
Since we're all unique little snowflakes, you have the option to build your own package.  Just choose the devices and data.  You can also upgrade to a new phone without having to wait those pesky 2 years!  I suggest the iPhone 5s. 🙂
Interested?  Click here to learn more!
It makes all my over-sharing on Instagram possible.  Like this week's roller derby bout!  I got to see my old teammates!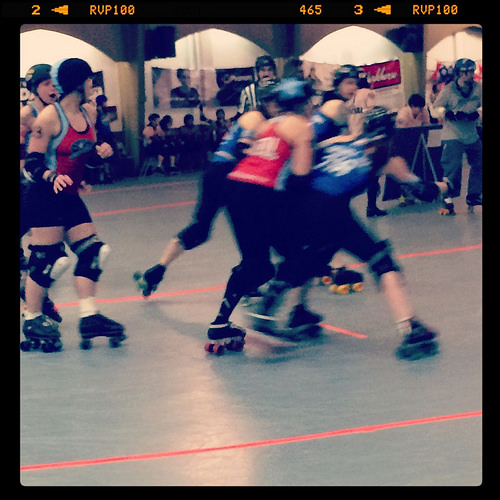 ***
More can be Marvelous… even on Mondays.
What can you never have too much MORE of? 
What was your first cell phone?