M is for Monday.
I swear I didn't plan this.
This weekend had an M theme, which happens to work really well for Katie's Marvelous Monday link up.  See what I did there? 😉
1. Meringues
My company is a cloud-based technology. Rather than handing out boring collateral like pens at the executive meeting, I ordered cloud-like meringue cookies!  Dyed blue and stuffed in pumpkins for Halloween.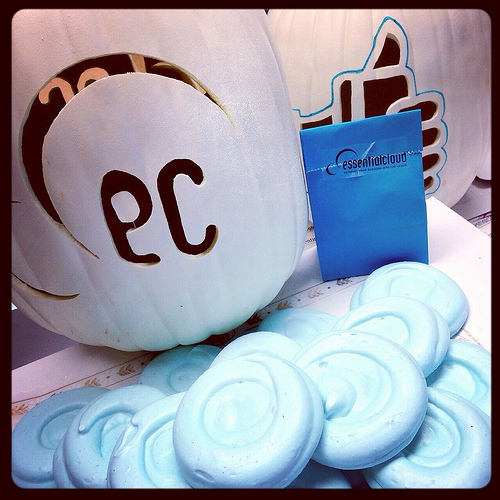 Thanks to Henri's Bakery for doing a great job on this custom order – I've been going there since I was a kid!
NO, I didn't eat one… 2 weeks to go!
2. Muscles
Speaking of 2 weeks to go, I had my second to last posting practice with my trainer before my competitions!  I have never loved posing, but I'm learning to look forward these Saturday sessions – I get to spend the day posing and training with some of the most inspiring competitors around.
This Saturday's session made me more excited than ever for these next competitions, and for the next year where I'm 100% committed to hardcore BUILDING.  I love lifting.
3. Mom
This weekend was my mom's birthday.  She's turning 29, once again. 😉
I was really excited to have her over for brunch.  She opened presents  and I made her my jicama nachos with shrimp, pico, yellow tomato, and #yolkporn.  She save this #strangebutgood creation two thumbs up, which means the world since she is the one I have to thank for my love of food and creating in the kitchen.
4. Muffins
Not just any muffins.  I accidentally made Mocha Mint Protein Muffins.
These were going to be a version of my coffee pancakes.  I accidentally added too much egg, so I decided to bake them instead. This is what a Thin Mint would taste like as a muffin.  Talk about an awesome mistake!
I used Dunkin Donuts' seasonal Mocha Mint coffee, but you could use any flavor and add extracts.  I added peppermint extract because the DD coffee isn't actually very mint-y.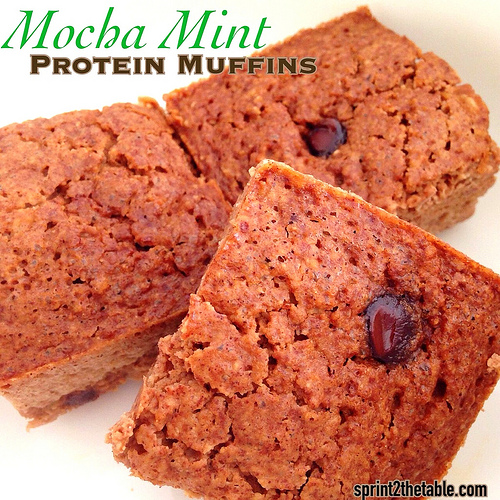 Mocha Mint Muffins
2 T oats
1 T coconut flour
1 T (10g) chocolate protein powder
1 tsp chia seeds
1/2 tsp cinnamon
1/4 tsp no-salt baking powder
1/4 C egg whites
1/4 cup brewed coffee (I used mocha mint)
1/4 tsp peppermint extract
6-8 drops vanilla liquid stevia
Optional: chocolate chips, cocoa powder, nuts
In a small bowl, mix dry ingredients. Add wet ingredients and stir to combine.
Pour into prepared muffin tins and bake ~25 mins.
Makes 2 muffins (or 3 squares in my slightly smaller silicone mold).
Note: I learned that this recipe can be doubled when I made more to have for breakfast this coming week.
This mistake was even sweeter because it gave me a recipe to link up to Heather's MMAZ.  She told me seeds could count as nuts.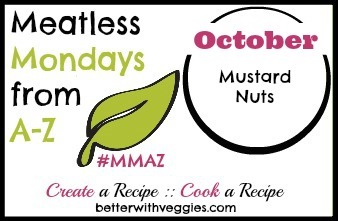 5. Munchies
It's Halloween.  You have candy coming out the you-know-what.
Just in case you want to give your blood sugar a break, I have a giveaway for one of my favorite bars.  One of you will win a whole box of thinkThin High Protein Bars.
Normally a "thin" bar wouldn't appeal to me; however, my dad actually got me into these.  When he was getting chemo, all he wanted where the chocolate fudge bars.  Random craving, right?
I came to love them.  The 20g protein is perfect for a quick fix post-workout or on the run.  It keeps you full, gives you a pop of energy, and has 0g of sugar.  They're also gluten-free!
My favorites right now are the Cookies 'n Cream and the Chocolate Toffee Nut, but you can choose your own!
***
I am literally back-to-back in meetings all week.  Between that and gym time, blogging may be sporadic.  Does anyone else think of Clueless when they use the word sporadic? 
What is your favorite protein-filled snack to-go?
What was the last happy kitchen accident you had?