You can never go wrong with Mac 'n Cheese.
Wedding showers mean bite-sized treats… but we needed mac 'n cheese to go with the Southern themed-food of the shower I catered last weekend!
What to do?  Mini-mac muffins!
Using smoked Gouda here rather than the more traditional mozzarella was a big win.
The deeper, smokey flavor went well with the herbed bread crumb topping without being over-powering.  Extra-sharp cheddar is also key for a more flavorful mac.
I doubled the recipe and made what felt like a million of these.  I wish I'd counted… but I think there were 144.  Plus the leftovers, which I turned into a casserole for the family. 🙂
After looking at the quantity, I thought "There is NO way people will eat all of these."  Wrong.
While these weren't the first item to go (these deviled eggs flew the coop!), there weren't any left at the end of the night.
---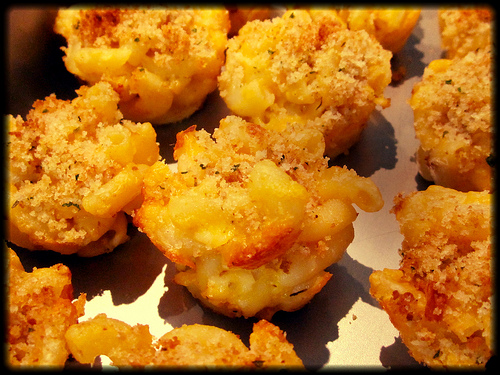 Mini Mac 'n Cheese Muffins
1 lb box elbow macaroni
2 C extra sharp cheddar, shredded
2 C smoked gouda, shredded
2 T Butter, melted
1 C 2% milk
1 egg, beaten
1/2 tsp dry mustard
1/2 tsp nutmeg
S & P, to taste
1/2 C seasoned dry bread crumbs
1.5 tsp olive oil
Pre-heat oven to 350 degrees and grease mini muffin tins.
In a large pot, cook macaroni according to package instructions, leaving it slightly al dente.  Remove from the heat, drain and return to the pan.  
Return pasta to pot and stir in melted butter until coated.  Stir in 1 1/2 C of each cheese and stir until melted.
Mix together milk, eggs, mustard, nutmeg, salt, and pepper.  Pour mixture over macaroni and mix well.
Spoon macaroni into each tin, slightly over-filling.  
In a small bowl, mix together bread crumbs and olive oil.  Sprinkle reserved cheese and bread crumb mixture over the tops.
Bake at 350 for 20 minutes, or until tops are golden brown.  Allow the muffins to cool for a few minutes before removing from the pan so that the cheese sets and they hold their shape.
Makes ~72 mini muffins.
Note: If you have any mix leftover, pour it in a casserole dish for a traditional mac n' cheese.  I added some cayenne and truffle oil to my leftovers.
***
I tried the Kraft mac 'n cheese at a friend's house as a kid and thought I didn't like mac… until years later someone made me the "real" thing (read: homemade).  Life-changing, my friends. 
Did you ever eat the Kraft mac growing up?
What are you favorite mac 'n cheese add-ins?