These flavor-packed Middle Eastern Spiced Chicken Skewers with Herbed Tahini Sauce are the perfect summer dinner on the grill!

I needed a vacation from my vacation.  So I took one.  I returned from my birthday adventures on Tuesday… but I was SO tired I couldn't think of blogging.  Instead, I hung out with my sister who was in town, caught up on work, got back to the gym, and made something tasty – Middle Eastern Spiced Chicken Skewers with Herbed Tahini Sauce.
Like many Middle Eastern dishes, this one has quite a few spices in it.  Don't be scared.  It doesn't take long to throw a bunch of spices in a bowl, and the flavor punch is awesome.
This recipe's bonus is that you'll have leftover spice blend AND tahini dip to use in other dishes.  The spice blend makes an awesome addition to a frittata, and that tahini is really good mixed with shredded chicken or turkey for lunch.
I guess I'm still "vacationing" because I don't have much more to say… it's been a wonderful start to my 33rd year.  Thank you for all the birthday wishes.  xoxo
---
Middle Eastern Spiced Chicken Skewers with Herbed Tahini Sauce
4 servings
adjust servings
Ingredients
For the Chicken Skewers
1/4

C ground cumin

2

T turmeric powder

1

T smoked paprika

1

T black pepper

1

lb chicken breasts, cut into 1 inch cubes

2

T olive oil
For the Tahini Sauce
1/2

C tahini

1/2

C firmly packed basil

1

C firmly packed flat leaf parsley

2

T fresh lemon juice (~1/2 lemon)

1/2

tsp black pepper

1/2

tsp sea salt

1/2

tsp paprika

1

small garlic clove
Instructions
Stir together cumin, turmeric, paprika, and pepper in a small bowl.
Place the chicken, oil, and 2 tablespoons of the spice blend in a baggie. Seal the bag tightly and shake well to coat. Place in the fridge to marinate for at least 30 mins.
While the chicken marinates, soak wooden skewers in water for 45 minutes to prevent charring.
Next, prepare the tahini sauce. Place all ingredients in a food processor and purée until smooth. With the processor running, slowly pour in 1/4-1/2 a cup of water until desired creaminess is reached (I left mine on the thick side, like a hummus). Transfer to a serving bowl.
Lightly grease a grill or grill plan and bring to med-high heat.
Remove chicken from the fridge and thread onto skewers. Grill until just done, about 4 minutes on each side. Serve with the tahini sauce.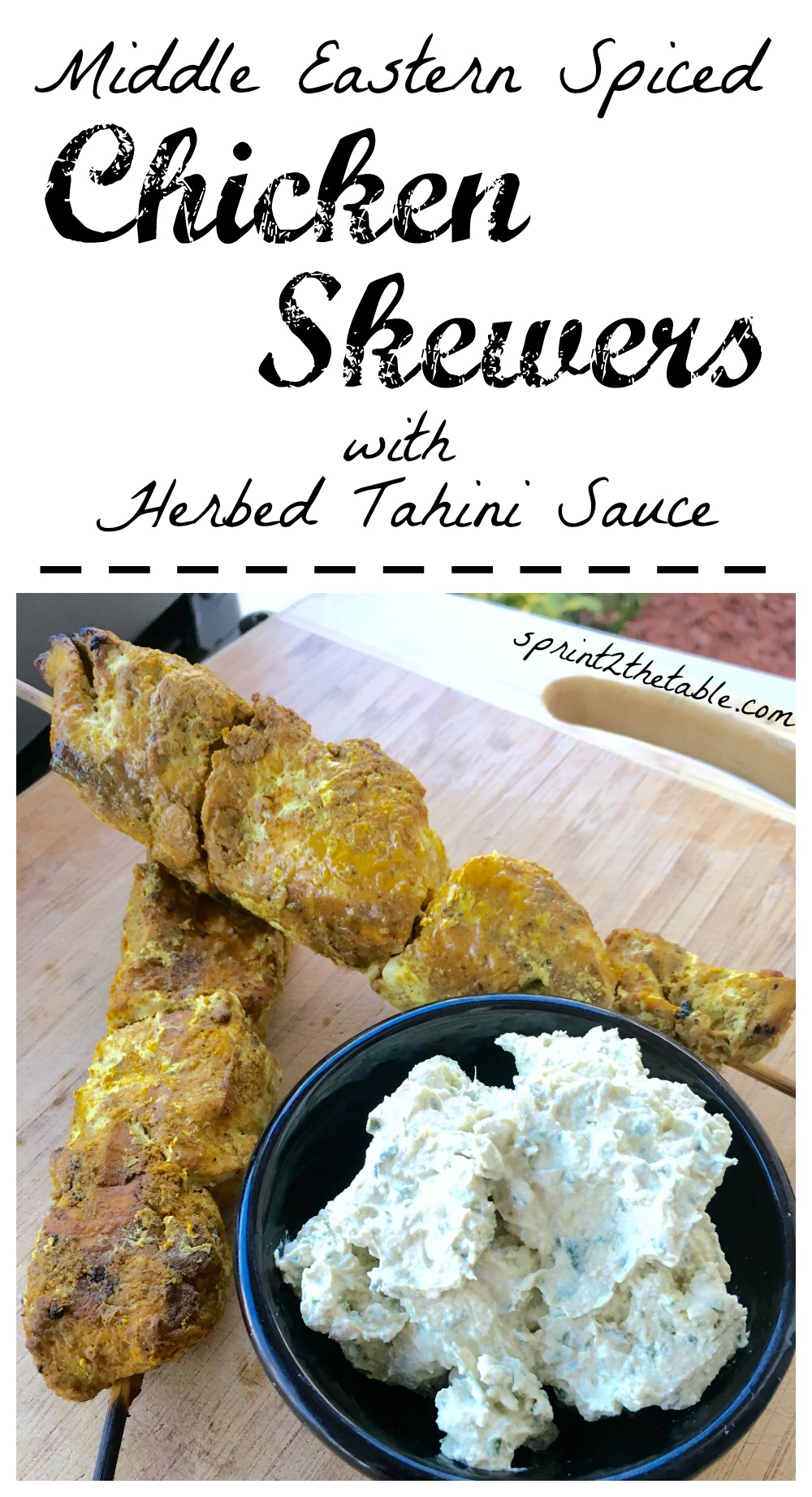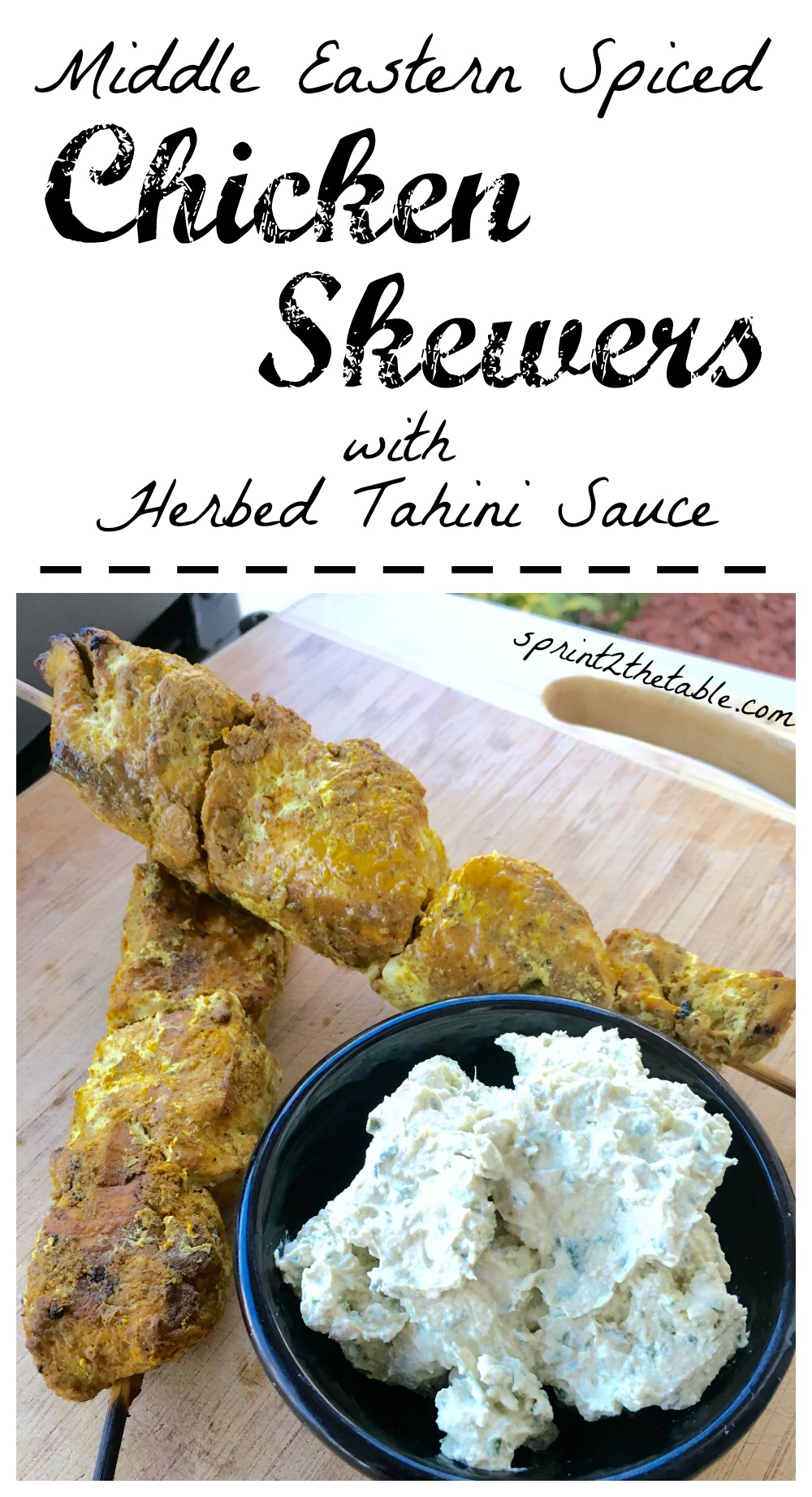 ***
I'm going to do a few posts about my birthday adventures along the California coast… eventually.  For now, check out the San Fran portion here and the rest on Instagram!
Do you like Middle Eastern food?
What's your favorite food to skewer?