I have an unintentional pattern of behavior.
Let's be honest… I have several patterns: wake up, eat, workout, eat more, sleep.
This particular pattern is a recipe development pattern.  I make something with carrot.  Then I make it with zucchini.  What can I say?  I play favorites!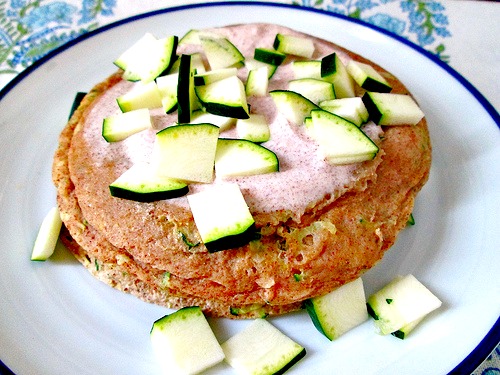 Even though I'd made the carrot version, I thought zucchini could qualify for #strangebugood.  Mostly because my Southern family would stare, mouths open, at the thought of making a healthy zucchini bread.  If that wasn't enough, the sight of it cooking in the microwave would send them over the edge.
It does work, and it solves a common problem when microwave baking – the problem of dry mug cakes.  With the added moisture from the zucchini, your cake will be almost juicy.  In a good way.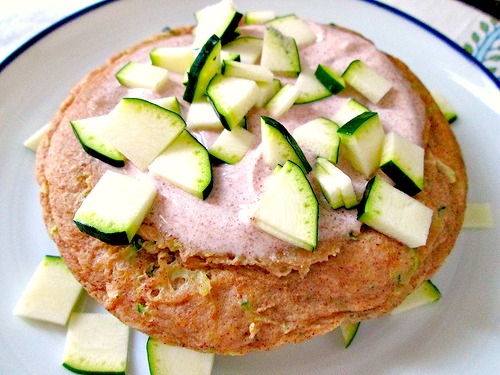 For the protein, I wanted to use something super-clean that added a good vanilla flavor.  Clean protein powders have become increasingly important to me after reading (and being shocked by) the ingredient list of a popular powder that shall remain nameless.  That's why I REALLY happy to have found Growing Naturals.  You can read more about them here.
This small company sponsored part of my Blend trip, and I was able to share some with a few of the ladies there.  However, there wasn't enough for EVERYONE and what about those that couldn't go?  Growing Naturals is generously offering a discount code – "SPRINT30" – for 30% off your first purchase any product through until July 31!
---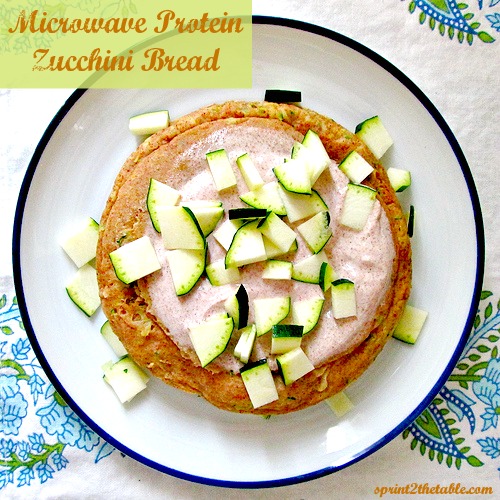 Microwave Protein Zucchini Bread
Based on my Microwave Protein Carrot Cake recipe.
1/2 C grated zucchini (90g)
1 scoop

Growing Naturals Rice Vanilla Protein Powder

(or 31g scoop of your preferred)
1/4 tsp no sodium baking powder
1/2 tsp cinnamon
1/4 tsp ground ginger
1/8 tsp nutmeg
1 egg white
1 T applesauce (no sugar added, can also use pumpkin puree)
1/4 tsp almond extract
1/4 tsp butter extract (optional)
~8-9 drops NuNaturals lemon liquid stevia
"Icing" (see below)
Grate zucchini, squeeze out excess moisture, and set aside.
Place dry ingredients in bowl and stir to combine.  Stir in wet ingredients.  Mix in grated zucchini.
Transfer to a greased (I use PAM) cereal bowl and microwave for 2-2.5 mins (mine took 2:15).  Tip the cake out onto a plate and top as desired.  
My cake was topped with a cheese cake icing made by combining Greek yogurt with cinnamon, ginger, cake batter drops, and stevia.
Makes 1 cake.
Approximate Nutritionals (will vary based on protein powder used): 154 calories, 2.1g fat, 183.7mg sodium, 13.4g carbohydrates, 0.7g fiber, 6g sugar, 24.5g protein.
---
How have you enjoyed making co-workers, friends, or family stare with strange but good creations this week?
The link up rules can be found here or by clicking on "Strange But Good" in the menu bar above. In short, I want to see what concoctions have earned you weird looks from co-workers, family and friends!
Post your Strange But Good creations, grab the logo below for your blog, and link up here.
Remember to use #strangebutgood in any Tweets and Instagrams of your creations. 🙂
***
This weekend is Atlanta's Food & Wine Festival.  I'm so exctied I can barely stand myself!
What are your unintentional (or intentional) patterns?
Have you tried mug cakes?  What's your favorite recipe?