My Mam Maw made the best carrot cake.
I know we all say this, but I'm not kidding.  I think it could have won awards.
It's probably her I have to blame for my carrot obsession.  Oatmeals, shakes, protein batters, overnight oats… I put carrot in EVERYTHING.
I've even been making my own cake.  Healthy and with protein, of course.  Mam Maw is turning in her grave.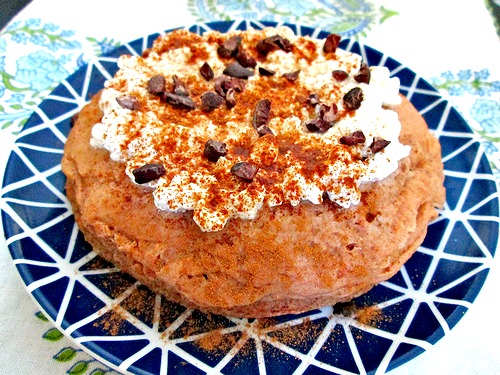 The traditional cake is loaded with oil and sugar.  It's iced with cream cheese and more sugar.  How could it NOT be good?
Anyway, this isn't one of those cakes.  This cake won't make you feel like you need to run a marathon the morning after AND it still tastes good!  2g of fat and 6g of sugar, plus a whopping 24.5g of protein.  That's without the "icing."  I have been whipping these up with my Designer Whey protein powder post-workout.
Carrot Cake you can feel good about in under 10 mins.  That wins in my book!  This cake has all the spice of a traditional cake, and is incredibly moist!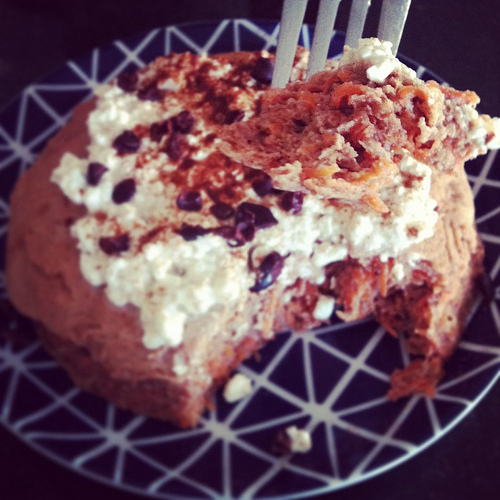 It took me a few tries to make this.  It kept exploding in the microwave!  Did I mention I hate cleaning the microwave?
Making it in a cereal bowl vs. a mug really helped.  I did that and adjusted some measurements to finally get a cake in one piece.  The first explosions still tasted good though: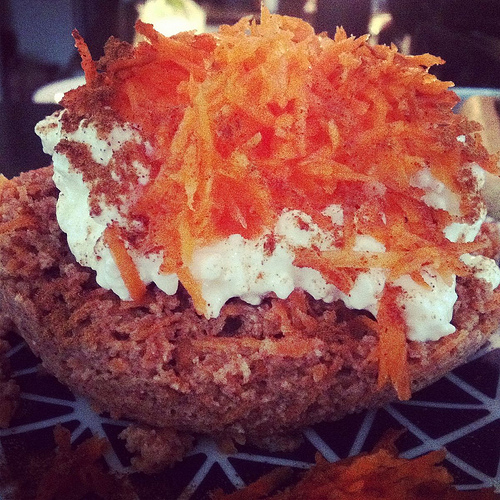 I really liked having the icing on there too.  It's a simple cottage cheese mix, but that creaminess takes the cake.  Hee hee.
___________________________________________________________________________________

Microwave Protein Carrot Cake
Based on my Chocolate 150 Calorie Protein Cake recipe.
1/2 C grated carrot
1 scoop white chocolate Designer Whey protein powder (28g scoop)
1/4 tsp no sodium baking powder
1/2 tsp cinnamon
1/4 tsp ground ginger
1/8 tsp nutmeg
1 egg white
2 T water (or other liquid)
1 T applesauce (no sugar added, can also use pumpkin puree)
1/2 tsp almond extract
1/8 tsp butter extract (optional)
~5-6 drops NuNaturals vanilla liquid stevia
Optional toppings: "Icing" (see below), cinnamon, cacao nibs
Grate carrot and set aside.
Place dry ingredients in bowl and stir to combine.  Stir in wet ingredients.  Mix in grated carrot.
Transfer to a greased (I use PAM) cereal bowl and microwave for 2-2.5 mins (mine took 2:15).  Tip the cake out onto a plate and top as desired.  
My cake was topped with a cheese cake icing made by combining cottage cheese with stevia and maple extract.
Makes 1 cake.
Approximate Nutritionals (will vary based on protein powder brand used): 154 calories, 2.1g fat, 183.7mg sodium, 13.4g carbohydrates, 0.7g fiber, 6g sugar, 24.5g protein.
***
As for Mam Maw's cake… I have the recipe.  It may make an appearance on here for some holiday… 😉
What is your favorite cake?
Did you have any odd names for your grandparents?  I called my other grandmother "money" for a while.  She worked at a bank. 😉