No one wants to spend all their time cooking on vacation.
And when you don't have a stove, it's impossible.
Breakfasts have been quick and easy for us.  We only have a microwave and a fridge in our studio… so when I bought eggs Vegas gave me a weird look.  Apparently she'd never had microwave eggs before.  It sounds strange, but it's actually really good.
This Egg McMuffin didn't stand a chance:
Microwave scrambled eggs are super easy.  My best friend already tried it and agrees (and she doesn't cook)!
It only uses one dish, and they're done in less than 5 minutes.  Pro tip: Add a little water (not milk) to make the eggs super fluffy.
Microwave Scrambled Eggs
2 eggs (or egg whites)
1 T water
Salt and pepper, to taste
Beat eggs, water, salt, and pepper in a small, microwave-safe bowl.  
Microwave (uncovered) on high for 45 seconds.  Remove and stir with a fork.  Return to microwave until eggs are almost set, about 45 seconds more.  
Remove from microwave.  You can also stir in cheese at this point, if desired.
I placed mine on an English muffin slathered with hummus (it's good – really).
---
Did I mention why I'm stove-less?  It's Vegas' birthday, so we ran away to Tahoe to celebrate and snowboard in the fresh powder.  Remember when I tried it in Big Bear?  It's going a little better this time!
When you have a scene like this waiting for you, you don't want to screw around.  Not making breakfast any way. 😉  Hence the microwave eggs.
One of Vegas' favorite brunch orders is Eggs Benedict.  Long ago I went on a lightened up Eggs Benedict kick.  It was the first time I'd poached an egg at home.  It was delicious, and I wanted to make Vegas one of her favorites on her birthday… but I'm a little limited in this hotel.  That didn't stop me.
Did you know you can also poach an egg in the microwave?  This has actually been my go-to for a while – I'm incredibly impatient and hate to wait for boiling water to poach anything.
It wasn't Benedict, but it was good!  I stacked our poached eggs atop an English muffin with some turkey.  Perfectly #strangebutgood.
We needed something green for the plate, so I made a quick dressing for a salad.  It was interesting because we didn't actually have salad dressing.  I went to an old favorite – hummus and lemon juice.  Just two spoonfuls of hummus and juice form half a lemon.  Super easy – you can do this with apple cider vinegar too.
I also poured this mix atop my eggs for a janky benedict sauce.  (This was a little to experimental for Vegas to try.)
---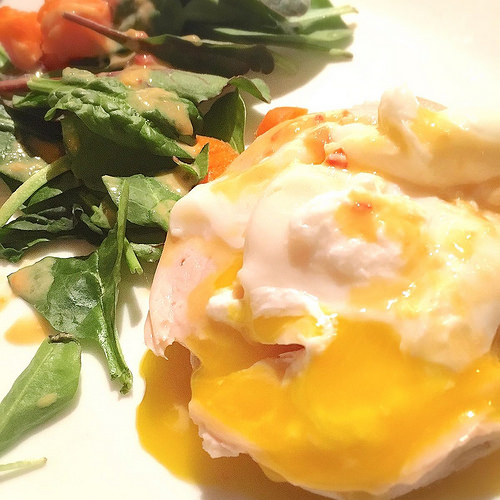 Microwave Poached Egg
1 egg
1/2 C water
1 tsp apple cider vinegar
Fill a small, microwave-safe bowl with water.  Add a teaspoon of apple cider vinegar (it keeps the egg white intact).  Microwave until boiling hot, about 2 mins.
Crack the egg and gently drop it into the water.  The egg white will begin to thicken; you may need to use a spoon to carefully direct it around the yolk.  
Microwave for another 30-45 seconds.  Carefully remove from water and place atop your muffin.  
Note: This is really good in soup too.
---
How have you enjoyed making co-workers, friends, or family stare with strange but good creations this week? The link up rules can be found here or by clicking on "Strange But Good" in the menu bar above. In short, I want to see what concoctions have earned you weird looks from co-workers, family and friends! Post your Strange But Good creations, grab the logo below for your blog, and link up here.
Remember to use #strangebutgood in any Tweets and Instagrams of your creations. 🙂
***
It's almost Super Bowl time!  I'm making some new (healthier) snacks from this round up for the festivities.
Have you ever made microwave eggs?
What's your go-to hotel breakfast?