Do you ever just not feel like exercising?
You've been in Cubonia all day, staring at a screen…
The thought of lacing up and running can be excruciating.  That was me yesterday.  I skipped the weights I planned Thursday.  I sat at my desk all day Friday.  Slug.
Yes, sometimes you NEED rest days.  But sometimes you just need to get a foot out the door.  I got my foot out the door for 34 minutes and 4 miles.  It made me feel 100% better.  (Note to self: moving make you feel good.  Just do it.)
I feel like everyone with a blog also has a fancy Garmin watch.  I do not.  They're great watches and can give you some nifty data… I just don't need that much watch.  I use the Tech4o Accelerator.
Features include:
Accurate pedometer
Customizable –  specify your height/stride/weight
Chronograph (ok, ok… I've never used this)
Countdown timer (this is pretty cool)
Daily alarm
The best part?  It's on sale for $50!!!
_________________________________________________________________________
After my refreshing run, I needed fooood.  And there was a Meyer lemon in the fridge calling my name.
If you haven't tired a Meyer lemon yet, run out and do so now.  They're at the end of their season and they are light years from a plain lemon.
How do they differ from regular lemons?
Deeper yellow in color
Twice as juicy
Sweeter/less acidic
Edible skin (you can eat a regular lemon peel, but you probably won't get far)
Drooling yet?  They are awesome in compotes, cheesecakes, drinks, draaaanks, dressings… anything!
I decided on a ricotta sauce, to be used with penne and super-thick asparagus (seriously – I've never seen stalks this huge).
It is rare that I make pasta at home.  I'm more into quinoa or lentil mixes.  With the ricotta, I needed something with more umph.
When you read this, it sounds like a time consuming recipe.  It isn't – each piece can be done simultaneously.  I had a gourmet-quality dinner on the table in 30 minutes.
Hit.  The.  Spot.
________________________________________________________________________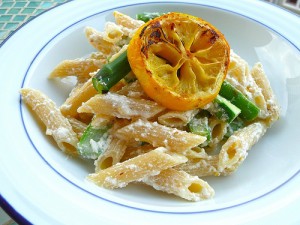 Meyer Lemon Ricotta Penne with Asparagus
4 oz penne pasta
1 Meyer lemon + zest
1.5 T olive oil (I used Sweetwater Growers' Basil-Infused)
1/2 C ricotta
1/2 tsp red pepper flakes
S+P, to taste
2-3 T shallot, minced
1 C asparagus
Prepare pasta as directed on package, adding 1 tsp of sea salt to the pot.
Meanwhile, place a small pot filled with water over high heat and bring it to a boil.  Fill a bowl with ice water and set aside.  Add the asparagus to the boiling water and blanch for 1-2 mins (just until turning a vibrant green). Drain asparagus and add to ice water to stop the cooking and retain color.  Drain the asparagus again, cut into 2-in pieces, and set aside.
Heat a small amount of oil in small pan over med-high heat.  Add minced shallots and sauté until translucent.  Remove from heat and set aside.
In a bowl, stir together lemon zest, lemon juice, ricotta, red pepper flakes, freshly ground black pepper, and salt.
Toss veggies and pasta with the ricotta and enjoy!
***
If possible, consume on a patio while enjoying a warm, sunny evening. 🙂
Do you run with some sort of tracking device?  Garmin?  iPhone?
Do you make pasta at home often?