The "ayes" are in.
By "ayes" I mean the votes I received to my new specs.  I made everyone in the eye store vote (by everyone I mean 6-7 people).  Post-eye store I posted pics my top 3 choices for you guys and then left you in suspense. (Admit it.  You were still wondering about it. 😉 )
Gucci won.  (If they had carried D&G, they probably would have won – yes, I'm like that.)
---
Speaking of seeing things… (<— most cleaver topic transition ever)
The recipe on my bulgur package caught my eye as I was making my Blueberry-Cilantro Bulgur Salad.  It was for a tabbouleh, but that's not the interesting part (though it sounds good).  The part that jumped at me was how the bulgur is prepped.
Raw.
Apparently you can soak it for 15 mins and voila – raw bulgur.  I told you it's like oatmeal!
As such, I made it for breakfast-ish.  Ish because I ate it for breakfast, but many of you would consider this to be a lunch or dinner dish.  To each their own.
Added bonus: it's NOT hot (like overnight oats!) – perfect after a sweaty morning run!
The crunch from the raw bulgur was awesome, especially with the creaminess of the avocado.  Even if you can't stomach it for breakfast, try it out at lunch.  It's a great way to add more raw food (and protein!) to your diet. 🙂
Think about it: many people put salsa on their eggs.  You can often find avocado on breakfast sandwiches.  Why wouldn't you put it on bulgur?
---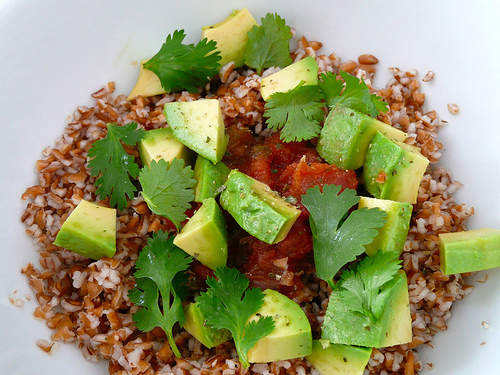 Mexican Raw Bulgur Bowl
1/4 C bulgur (uncooked)
1/4 C water
2 T salsa
1/2 avocado, diced
1 T fresh cilantro
S+P, to taste
Combine the bulgur and water in a bowl.  Let stand for 15 mins.
Fluff with fork.  Top with salsa, avocado, and cilantro.  Season with salt and pepper as needed.
Enjoy!
***
It's Friday!!!!!  I can't even complain about this week – it FLEW by.
Do you think I made the right choice on the glasses?  Don't tell me if you hate them.
Do you like sweet or savory breakfasts better?