It's hard to believe it's almost Cinco de Drinko Mayo.
I didn't actually realize it until I saw someone else's blog post.  Maybe that's why I've been craving Mexican lately?
This concoction is an unexpectedly Mexican combo, but a tasty one.  My pineapple was perfectly golden to the top, meaning it was on the sweet side.  That sweetness was wonderful with the earthy beets.
The colors were nice too – pretty food tastes better!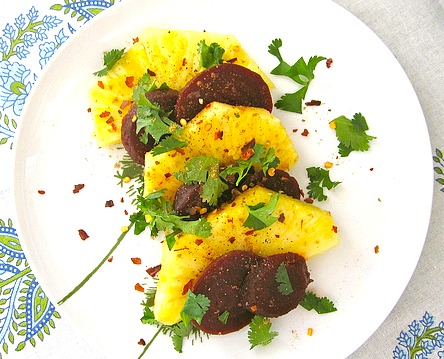 You can use pre-cored pineapple from your grocery store, but I recommend buying pineapple whole.  Whole pineapples always intimidated me in the past because I wasn't sure how to tell if it was ripe.
Then I found a fool-proof method.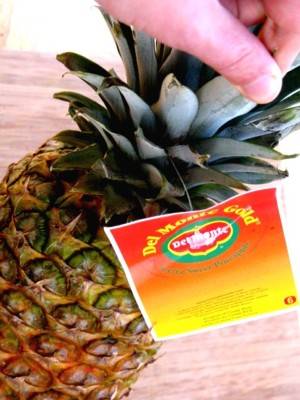 There are 2 ways that – in combination – I have found to be fool-proof:
Color: A ripe pineapple should be golden in color.  Yes, there will be some green, but there should be gold forming, particularly at the base (the sweetest part of the pineapple).  The further up the gold, the sweeter the fruit.
Leaf: You should be able to fairly easily remove a leaf from the crown of the pineapple.  Some say this is a myth, but has never steered me wrong.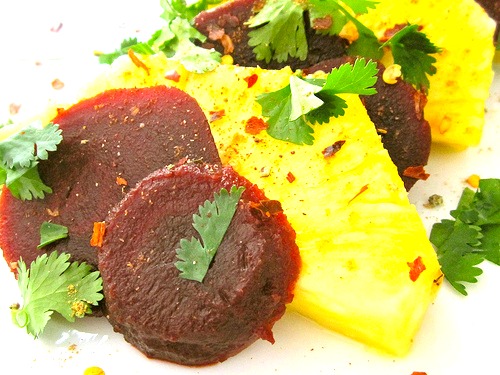 Cumin, red pepper, and a pinch of cinnamon give the salad its Mexican taste.  The cilantro and the lime juice on top set it off and balanced the stronger spices.  (If you don't like cilantro, parsley would be an excellent sub here.)
Note: I didn't include the measures for any of these because… well, you don't really need them.  Make as much or as little as you like, as adjust the spices to your tastes.  I piled on the cilantro and the red pepper flakes.
__________________________________________________________________________________
Mexican Pineapple and Beet Salad
Pineapple
Beets, roasted
Cilantro
Cumin
Cinnamon
Red pepper flakes
Pepper
Fresh lime juice
Peel and core the pineapple and cut into half-moon slices.  Slice beets into rounds.
Arrange in layers on a plate.  Sprinkle with each of the spices, adjusting flavors to your palate.
Top with cilantro and fresh lime juice.  If it's available, crumbled cotija cheese would also make a nice addition here.
***
I am realllly looking forward to Cinco de Mayo this year because I will be hanging with some of my favorite bloggers at the Blend Retreat!
Are you going to Blend?
Do you have a secret for determining if a certain fruit is ripe?