In my constant quest for protein, I've become obsessed with chickpea flour.
I've always loved socca.  Chickpea flour is also quite good in Seitan Chorizo.  But what other uses are there for the protein-filled flour?  I need a lot more in order to get my daily 150g of protein!
I've been teasing you guys all week on the blog and on Instagram with pics of this dish:
It's a vegan quiche!  Even if you are not vegan, you'll love this one.  I've been noshing on it for lunch all week.  The Mexican-inspired ingredients of cumin, onion, and peppers give it a ton of flavor (which only gets better on days 2 and 3). 
 It lacks the traditional quiche crust, making it gluten-free.  However, it doesn't lack a crust!  The chickpea flour forms its own thin crust around the edges and bottom of the quiche, giving you something satisfying to bite into.
Inspired by Janet 's Mediterranean Crustless Quiche.  If you haven't check out Janet's blog yet, please do.  I've made many of her recipes verbatim and they have all been outstanding!
---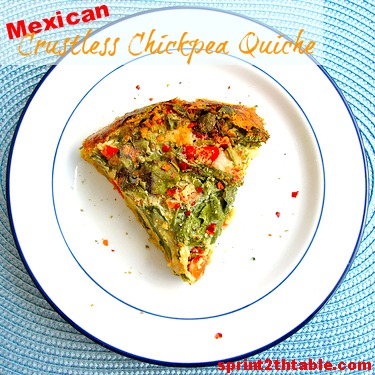 Mexican Crustless Chickpea Quiche
4 C loosely packed cups spinach, destemmed and chopped
1 large tomato, chopped
1 red bell pepper, chopped
1 jalapeno, diced
1/4 C red onion, chopped
1/4 C cilantro, rough chopped
2 C chickpea flour
4 cloves garlic, minced
1 T avocado oil (can use olive oil)
1.5 tsp ground cumin
S&P, to taste
3 C water
Pre-heat oven to 475 degrees.  Lightly grease a 9″ spring-form pan.
In a medium bowl, mix together the vegetables and cilantro.
In a large blender (I used my Vitamix), combine the chickpea flour, oil, cumin, salt, pepper, garlic and water.  Blend until smooth and frothy.
Combine the chickpea mixture with vegetables and stir to combine.  Pour mixture into greased pan, making sure it is evenly distributed.
Bake at 475 for ~50 minutes, of on the convection setting at 450 for 40 mins.  The quiche should brown on top, and a cake tester should come out clean.  Allow to cool slightly before removing from spring-form.
Serves 6.
Approximate nutritionals (per slice): 175 calories, 4.8g fat, 24.1 carbs, 5g fiber, 5.7g sugar, 8.8g protein
***
Don't forget to click here and enter to win 2 boxes of Special K's new granola bars!  Contest ends Monday, July 2nd.  (Side note: Can you believe it's almost JULY?!)
Have you ever made a vegan quiche before?  I want to try one with tofu, too!
What are your favorite quiche or savory pie fillings?