The only thing I like better than Indian food is Mexican food.
Depending on the day.
On this MLK Day, I am celebrating equality Mexican-style with soup.  After seeing Jenn's Crock-pot Chicken Tortilla Soup, I was craving a batch.  Alas, I have no crock-pot and I can't follow a recipe.  This is what resulted: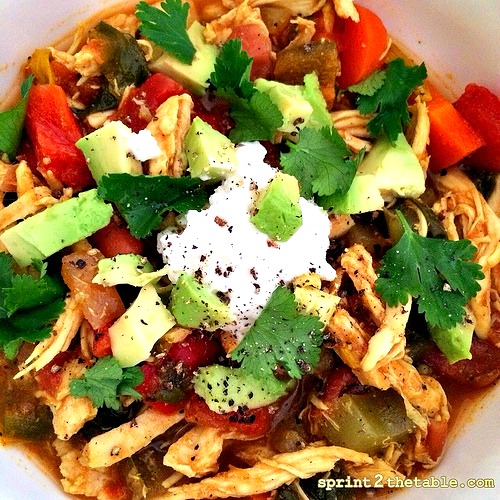 It's hearty.  If you like a soupier-sopa, you should add more broth.  I happen to get angry when I order soup it's 75% liquid.  It's also spicy.  If you are sensitive to that sort of thing, you might leave out a jalapeno.
Veggies in soup are almost as good as roasted veggies to me.  I love the way they absorb so much of the flavors in the broth.  Same goes for the chicken!  Speaking of chicken*… if you're looking for a shortcut you can just buy a plain rotisserie chicken to shred up in this fiesta.  Not that I've ever done that… 😉
*This would also be tasty with tempeh or TVP if you're looking for a meat-free option!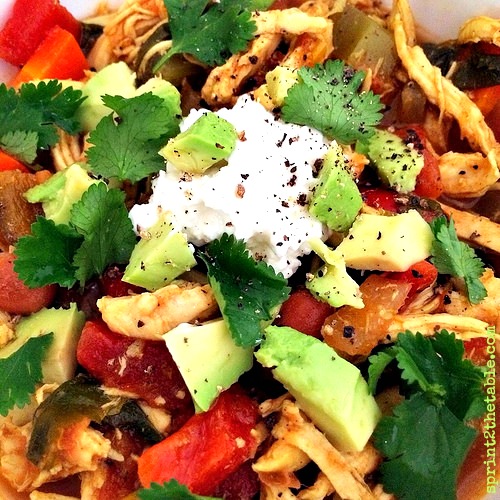 Topped with avocado, cottage cheese, and cilantro, it's so delicious you won't even care the recipe made so much* you're eating it for an entire week.
*It is also tasty from the freezer.
---

Mexican Chicken Soup
4 split (2 whole) chicken breasts (~20oz)
1 T olive oil
1/2 red onion, chopped
2 jalapenos, seeded and diced
3 stalks celery, chopped
1 large carrot, chopped
1 small red pepper, chopped
4 large cloves garlic, minced
1 quarts low-sodium chicken stock
1 (14.5 oz ) can fire-roasted tomatoes, crushed
1 C kidney beans
1 tsp ground cumin
1 tsp ground coriander
1 tsp dried oregano
1 tsp pepper
1/2 tsp ground turmeric
1/4 tsp cinnamon
Juice of 1 lime
1/2 C chopped fresh cilantro leaves
Preheat the oven to 350 degrees.
Place the chicken breasts on a pan.  Lightly rub with olive oil.  Bake 25-30 mins, or until 170 degrees.  When the chicken is cool enough to handle shred the meat.  Set aside.
Meanwhile, heat olive oil in a large pot.  Add onion, jalapeno, celery, carrot, and red peppers and cook over medium heat for ~10 minutes, or until onions begin to brown.  Add garlic and cook for 30 seconds.
Add stock, tomatoes, beans, spices, and cilantro.  Allow soup to come to a boil, then lower heat and simmer for 25 mins.  Add the shredded chicken and adjust seasoning to taste.  
Serve soup with your choice of garnishes.  I used avocado, Greek yogurt, and fresh cilantro.
Makes 10 servings.
***
Happy MLK Day!  Cheers to equality.  And being Marvelous.
Do you have a crock-pot?
Did you get the day off? What are you doing with it?