Rice has never been appealing to me.
It's always been sort of boring to me.  Like a waste of plate space.  I'd rather have more veggies or a big piece of crusty bread.  I even order my burrito bowl from Willy's without rice.
When I started seeing cauliflower rice recipes floating around Pinterest, I had to check it out for myself.  Finally, was way to re-create rice-based meals without having to waste space on actual rice.  Other benefits: it doesn't take an hour to cook, it's loaded with fiber, and one cup is only 28 calories!
I'd like to say that Cinco de Mayo was the inspiration for making this bowl Mexican… but really it's just because I eat something Mexican-ish nearly every day.
This is the simplest recipe – you simply put the cauliflower in a blender or food processor and pulse until it resembles rice.  I added some red pepper to mine to make it more flavorful and festive-looking.
Topped with carrots, black beans, avocado, pineapple, and cilantro and then smothered in a spicy salsa verde, this bowl looked like a fiesta!  It made for a filling lunch that didn't weigh me down and make me yearn for a siesta.
I really loved how the cauliflower really did resemble rice, and the way it took on the other flavors in my Mexican bowl.  If I hadn't made it myself, I would have had no idea I was eating cauliflower!
---
Before we get to the recipe… I guess you want to know if you won the Nature Box giveaway. 🙂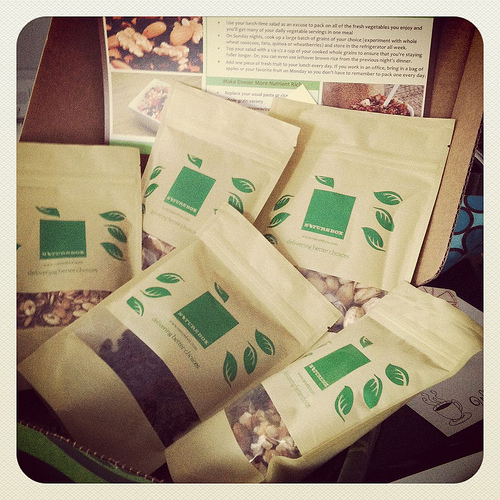 The lucky winner is….
Email me your address and I'll get it to Nature Box in time for the May box delivery!
---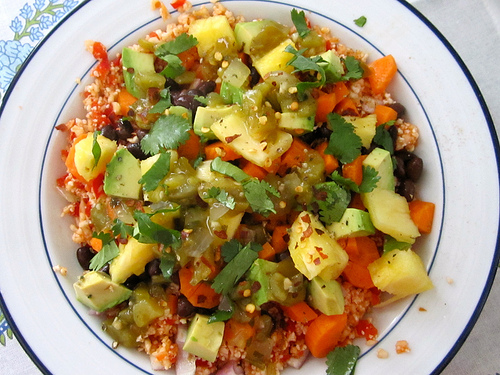 Mexican Cauliflower "Rice" Bowl
1 head cauliflower
1/2 red pepper
1/2 C black beans
1/2 C pineapple, cubed
1/4 C red onion
1/2 avocado, cubed
1 carrot, diced
Cilantro
Salsa
Cumin, cinnamon, red pepper flakes, S+P, to taste
Cut cauliflower and red pepper into pieces and place in a food processor or blender.  Pulse the pieces until they are the size and consistency of rice.
Transfer the "rice" to a medium bowl.  Top with remaining ingredients.  Sprinkle with cumin, a pinch of cinnamon, red pepper flakes, and S&P, to taste.
Enjoy!
***
I procrastinated packing last night… so I better get to it before my afternoon flight.  I can't believe the Blend weekend is FINALLY here!!!
How will you be celebrating Cinco de Mayo?
Are you a fan of rice?  Have you ever made a rice alternative?