Everyone is a critic.
I have had to be talked off a ledge over bad service and/or food at a restaurant.
The Washington Post food editor Joe Yonan "came out" as a recently converted vegetarian.  This has sparked reactions from 'we love you no matter what" statements of acceptance (Yonan compares it to when he came out as gay), to the expected accusations of not being a serious critic.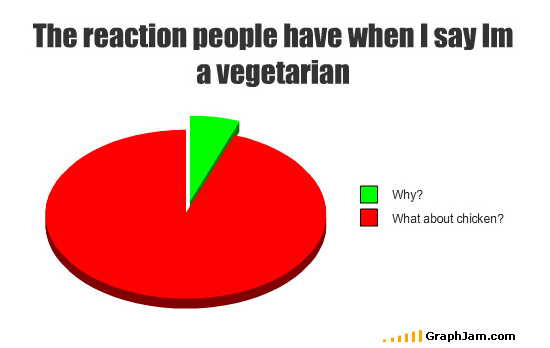 Yonan admits to taking the occasional taste of meat out of curiosity or for his line of work, but in his daily life he's keeping it meat-free.
I've said it over and over again, but diet is personal.  To be honest, I'd probably still eat more of a vegetarian diet if I wasn't competing (I went vegan once too… but that wasn't for me).  I think it's great that Yonan is opening up about his choice.  Hopefully it will help more people realize that vegetables can be prepared just as decadently and be just as pleasing to eat as a piece of meat.
---
That food critic would certainly give 5 stars to this month's green WIAW theme!  While I did eat bacon (among other meat), I do have a fruit or veggie with every meal.  No matter your dietary practice, eating your greens is always important.

Check out my 7 veggie-laced, protein-filled meals below, and then click here to head over to Jenn @ Peas and Crayons to get to see how everyone else is green-ing up their food this month!
---
Meal 1:
My morning cocktail (apple cider vinegar, water, Glutamine, and Aminos) brought a smile to may face today.  I bought a new brand of glutamine (they were out of my usual), and it came with the cutest mini scooper!
Like last week's Mexican Spaghetti Pie, I was once again craving a savory Mexican breakfast.  Apparently I was also craving some healthy fats, because this Mex-Fast Tortilla Stack included avocado, a runny egg, and bacon.
It may look fancy, but if you approach it from a semi-homemade angle (see recipe at the bottom of this post), this breakfast can come together in 10 mins or less.  Mex-FAST.  Get it? 😉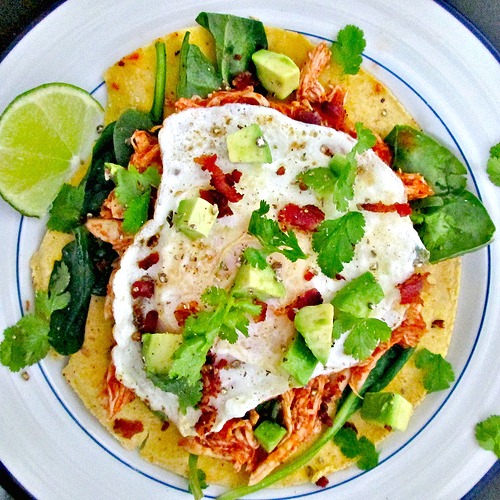 This would make even the most anti-morning person smile.  And I did.
Does life get any better than a runny egg in the morning?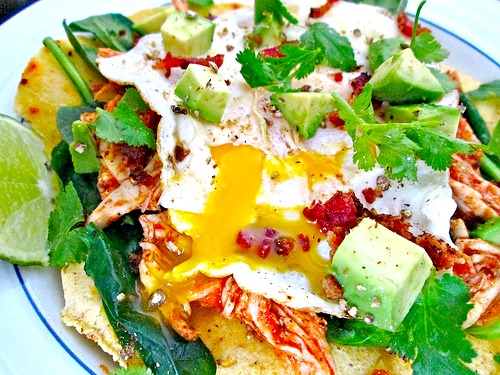 Meal 2:
The salmon and fruit obsession is back with a #strangebutgood combo: salmon, beets, cilantro, walnuts and… watermelon.  It's really good.  I promise.
Meal 3:
Lunch was a post-workout meal.  I braved the cold jog there (in snow flurries!) and back, so despite a good burn I was freezing again and wanted a hot treat.
I used my french vanilla Designer Whey to make a new microwave bake!  I've tried this combo once before and it needed work.  I think I have it down now, but want to try it one more time before sharing to be sure.
Meal 4:
I got the most perfect rotisserie chicken ever from Whole Foods this week.  It was fresh out of the oven and perfectly cooked.  Their Naked chicken is my favorite because they don't add all the salt the others have.  I shredded it on Sunday for a quick meal during the week.
Today I mixed it with red pepper, celery, hummus dressing (hummus + apple cider vinegar), and freshly ground pepper.
Meal 5:
This was one of the most successful days for kitchen experiments ever.  For dinner I decided to try my hand at lamb meatballs and a cucumber yogurt dip.
Big.  Win.  I'll share it when it's warm light enough to take pics.

Served atop a spinach salad with red pepper and cauliflower.
There were also eggplant chips (I forgot them in the oven) and half a Carb Master cookie dough bar (dessert – it had to happen).
Meal 6:
I really wanted dessert, but instead I was good and had mahi mahi.  I baked it during my Sunday food prep with a Greek yogurt, rosemary, and lemon sauce.
For my veggies I had a side of carrot and celery sticks.  I love both veggies with peanut butter, so I made a quick sauce from peanut flour, sriracha, and unsweetened almond milk.
Meal 7:
Finally, time for dessert.  If you follow me on Instagram, you know that I ate the same thing last night.  It was sooooo good though!
Peanut Butter Pumpkin Bowl
1/2 C Greek yogurt
1/4 C pumpkin puree
2 T peanut flour
1/4 C unsweetened almond milk
1/2 tsp apple pie spice
1/4 tsp almond extract
1/4 tsp butter extract
Stevia, to taste
Optional topping: whole wheat rice crispies, blueberries, and cacao nibs
---

Mex-Fast Tortilla Stack
3 T tomato sauce
1/2 tsp cumin
1/4 tsp smoked paprika
1/4 tsp garlic
Shredded chicken (I used a rotisserie from Whole Foods)
1 egg
1/2 C spinach
1 corn tortilla
Optional toppings: avocado, cilantro, freshly ground pepper and bacon sprinkles. 
Mix together tomato sauce and spices (you could also just use salsa here).  Add chicken, stirring to combine.  Microwave ~12 seconds, until warmed.  Set aside.
Cook egg in lightly greased pan, until cooked to desired level.
Add spinach to pan to lightly saute.
Place tortilla on plate between 2 moist paper towels.  Microwave ~10 seconds to soften.
Top tortilla with spinach, chicken, and egg.  Add any additional toppings.  Devour.
***
The protein count for the day: 169.3

Do you think an "official" food critic can be vegetarian?
What's for breakfast?  Do you shake things up at breakfast or have the same things?