Christmas ends so quickly!
So does the dessert.
I took a nice, long blog break last week to enjoy the time with my family.  It was great to take some rest… but I was excited to come back and share, and to read everyone else's recaps!  Is anyone else still full? 😉
Our Christmas Eve was a little different this year – we went out to dinner!  That was fun, but the best part was our tradition of sharing dessert and drinks at home with some family friends.  I make something different every year.  This year was chocolate-hazelnut martinis and an amazing Sweet & Salty Chocolate Guinness Pie topped with marshmallow meringue.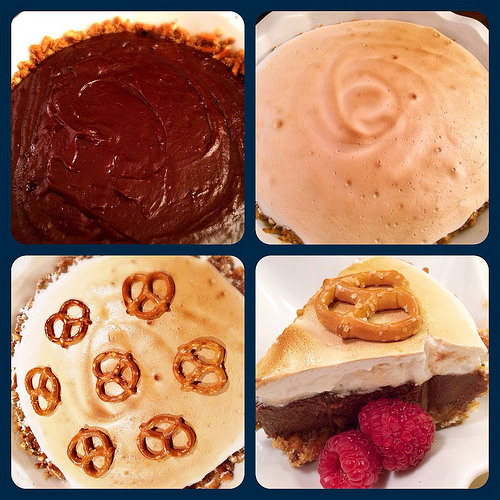 I followed this recipe, with a few adjustments.  I halved everything to make just 1 pie.  Instead of graham crackers I mixed pretzels with ginger snaps in the crust.  I also made a simpler meringue.  Rather than doing it over heat, beat the egg whites into a fluff and slowly added sugar to keep it light. Then, I melted the marshmallows in the microwave before adding them in.  I skipped the Guinness reduction and in favor of bourbon extract.
That meringue was insanely good… I must say this is one of the best desserts to date!
Christmas morning was a sure sign we are all grown up – after a late night, we slept until 9am and no one touched a present until almost 10:30!  This is unheard of in my family.
It gave me time to take some pictures of my favorite ornaments.  The one on the bottom right was my great grandmother's!
French press coffee in hand and fire built, we dug into the bounty.  Even Honey (the dog) waited patiently for her turn to explore her stocking.
Mom out did herself, as always.  We are lucky girls!  I got a ton of clothes, a pizza stone, new towels (my only request – another sure sign of being an adult!), some cool glass bottles, make-up, chocolates… and bacon duct tape.  Wouldn't it be awesome if it was scratch 'n sniff tape?!
Brunch is the big-deal meal in my family.  So is taking pictures of everything we eat.
Mom staged a shot of the sparkling wine and ambrosia:
One of our most-loved traditions is the champagne brunch.  I brought a bottle of sparkling from my Napa trip – a Schramsberg Brut Rosé.
It went well with our smorgasbord.  We had ambrosia, Italian sausage and cabbage saute, local bacon, toast, scrambled eggs, mâché (greens), and mushrooms (so good sautéed in bacon remnants and fresh rosemary).
Then we lounged.  We Skyped my other sister in Portland.  I napped.  I never nap… bacon and sparkling are to blame!  😉
But we aren't total lushes couch potatoes.  A few hours later we took Honey for a 3 mile walk by the river.  It's pretty close to where my dad is buried, so we made a pit stop to say hi.  Honey jumped right up on the bench there to say hi.  It was really sweet.  And really cold… we hauled it back home for hot tea and to begin dinner.
Dinner was another tradition – my friend Ben and his partner came over.  Ben makes the best chocolate-coated toffee I have ever had, and every year he comes over for a meal and to deliver a bag of crack toffee.  We snacked on a cheese plate, enjoyed some wine, and prepared dinner.
Mom helped me to roast my first whole chicken.  It turned out really well!  We ate that with a spaghetti squash and bacon creation and a salad.  And more wine.  (Read: we slept in again.)
This marvelous Christmas deserves a link up over at Katie's MIMM!
***
I'm prepping for a NYE pairing dinner I'm co-hosting… and then I must admit I'm excited to get back on the clean eating train.
What is the big holiday meal in your family?
What was the best gift Santa brought you this year?