Lucifer isn't always scary.
Be honest – how many of you are already horrified at this post? 😉
My best friend has a cat that she named Lucifer.  Shortened to Lucy to keep it PC.  My friend had a baby and both her and the baby are allergic to Lucy, so I offered to take the cat on a trial basis.
Meet Lucy:
She's a beautiful grey 9-year-old cat who is NOTHING like her namesake.  Thank god.
You may judge me, but I am not a big animal person.  I am not home a lot and can't even keep a plant alive, so the thought of having something that needs constant care doesn't appeal to me.  However, this cat is cool.  She sleeps all the time and mostly keeps to herself except at night when she jumps in bed to cuddle with me.  Perfect animal for me!
To recap: I'm turning 30.  I got a cat.  The cat is my cuddle partner. I'll soon be a creepy old cat lady.
________________________________________________________________________________________
My WIAW meals should be re-title "meals of desperation."  There has been so much going to that I still haven't done a big trip  to the market since Blend!  This means I was eating the last of everything in my fridge.  By snack time I was 100% out of veggies and had convinced myself to ditch kickboxing for a grocery run.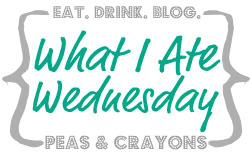 Check out my semi-normal eats below, and then click here to head over to Jenn @ Peas and Crayons to get to see what delicious spring foods everyone else is enjoying!
_______________________________________________________________________________________
Breakfast:
Forgetting to bring my Aminos to my mom's house made me realize just how much I crave my morning cocktail (apple cider vinegar, water, Glutamine, and Fitmixer Aminos).  This morning we were happily reunited. 🙂
Breakfast was an old favorite: PB & Jeggs.  After a pretty indulgent weekend finished off with burgers and homemade strawberry margaritas I wanted something simple!  The "jam" this morning was raspberry.
This fueled a great leg day workout.  The gym was still not crowded!!!  I guess people are still recovering from the weekend?
I took full advantage of the desertion and did a little Instagram photo shoot.  #bloggersterotype
Post-Workout Re-Fuel:
In the spirit of not having groceries old favorites, I turned an almost-empty container of Greek yogurt into a Carrot Cake Protein Batter.
Lunch:
Desperation was setting in.  The last of the no-salt turkey deli meat, the end of a jar of salsa, and frozen edamame.
I 100% thought I had a bag of Pirate's Booty in my desk drawer.  Nope… I forgot I ate it last week.  Don't you hate it when that happens?!
Snack:
This happened not long after lunch since I didn't have my desk draw snack.  I had one piece of salmon left and the end of bag of spinach.  I topped with the lemon, red pepper flakes, herbs de provence, and nutritional yeast.
That salmon may had been of a questionable age… if you don't hear from me tomorrow, call 9-1-1. 
Dinner:
This is when I caved.  I wanted to go to kickboxing, but the need for food was greater.  Instead I went to the chiro and then to Fresh Market.
I was craving a million different things, but settled on a ghetto version of carbonara.
Instead of pasta, I used tofu spinach noodles.  My sauce was a mix of Greek yogurt cream cheese, parsley, red pepper flakes, and garlic.  Then I mixed in some shredded turkey, topped it with the infamous runny egg, and drizzled with the a thick fig balsamic.  #strangebutgood
Any excuse for a runny egg!
Dessert:
My favorite meal of the day.  I froze some Greek yogurt mixed with half a scoop of protein powder, cinnamon, stevia, and butter extract for about 30 minutes.  Then I topped it with cubed butternut squash roasted with cinnamon, ginger, and cayenne.  And a little cocoa powder sauce (cocoa power, almond milk, cinnamon, and stevia), for good measure.
Translation of this meal: cinnamon roll yogurt with sweet butternut bites and dark chocolate sauce.
***
As much as going back to work after a long weekend hurts, remembering it's a short week is enough to keep me smiling!
Are you an animal person?  What was/is your favorite pet?
What is your typical I'm-desperate-for-groceries meal?