This quick cauliflower crust is the perfect canvas of a shell to fill with whatever you're craving.  I'm partial to these Mediterranean Scallop Cauliflower Shell Tacos.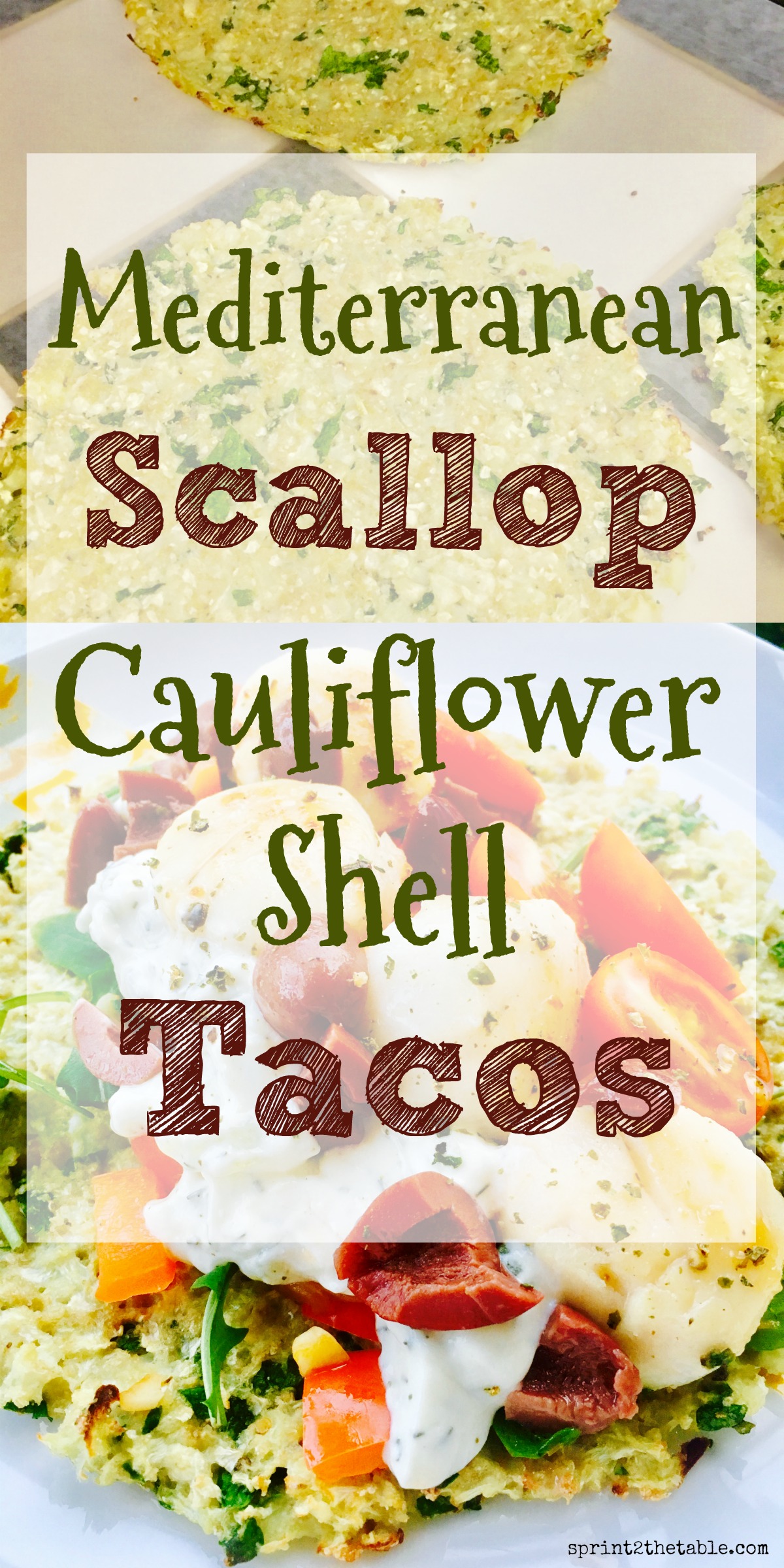 Unless you've been living under a rock, you've probably seen some form of a cauliflower crust floating around Pinterest or Instagram.  Most of them require a solid amount of cheese to bind the crust together.  Not mine!
My crust is bound simply with egg whites.  Now, I don't have a problem with cheese (I eat it on the regular).  I just prefer to save room for toppings… or, in this case, fillings!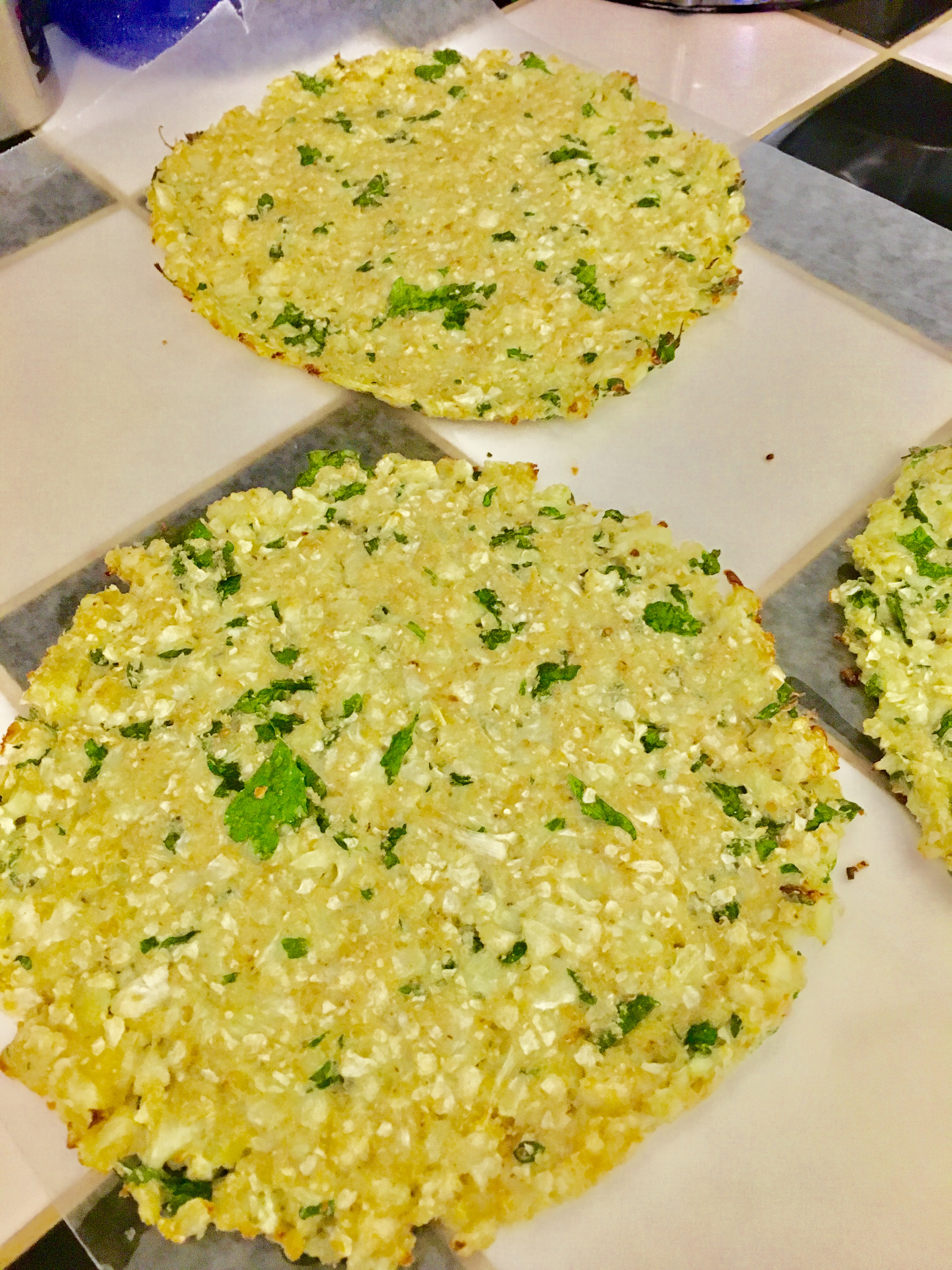 When I saw this month's Recipe Redux challenge – to make a creative taco – I knew it was time for an experiment.
I knew my crust could be picked up like a slice of pizza.  Why shouldn't it be sturdy enough to use as a taco shell?  It totally worked.  The skies parted, angels sang… well, maybe not.  But I did do a Snoopy dance!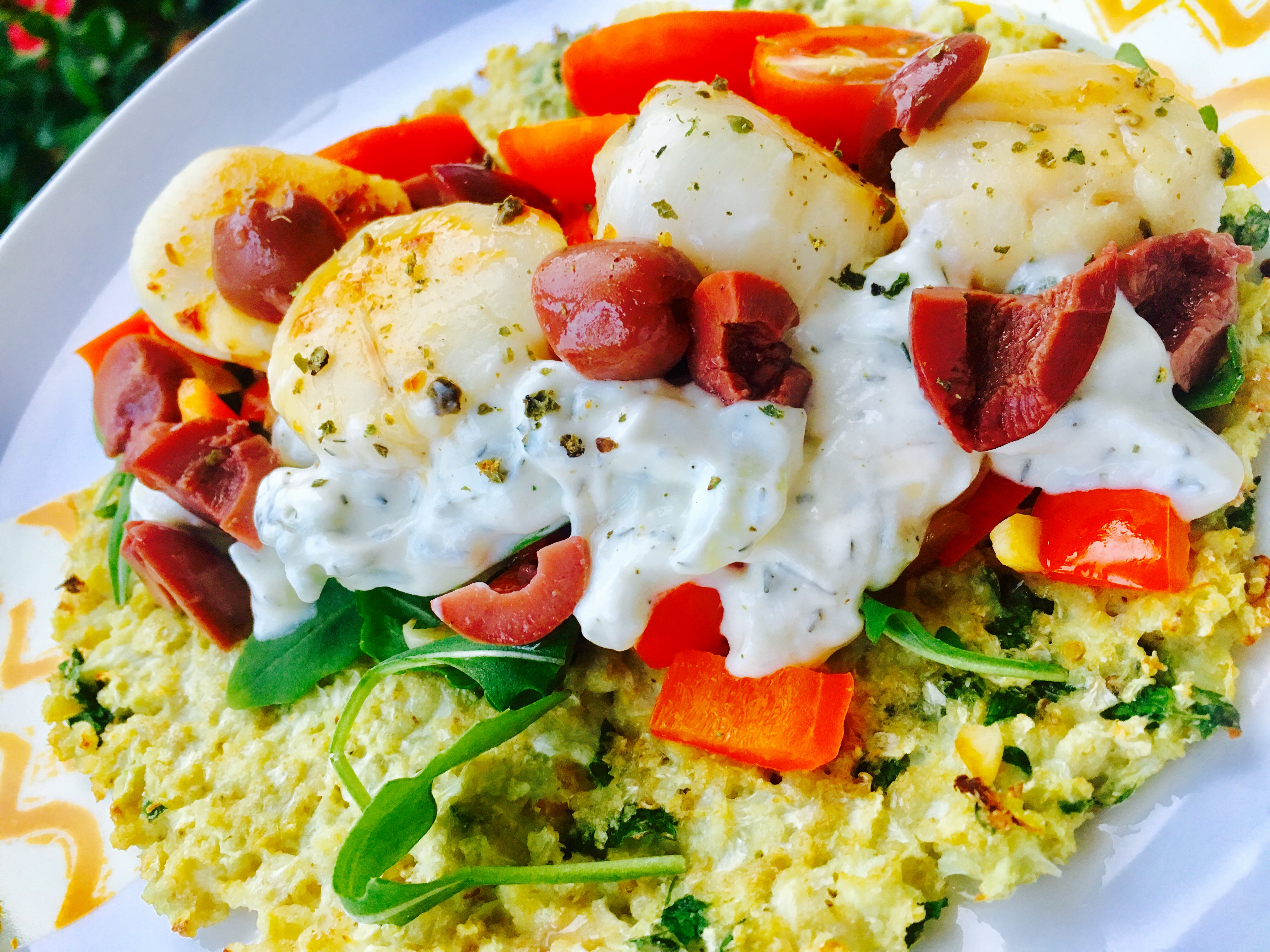 The stuffing I chose for this untraditional taco carried on in the theme of unusual.  I went Mediterranean.
My stuffings were centered around scallops (thank god for my Sizzlefish freezer stash), which I sautéed simply in lemon juice with a  bit of pepper.  There were also greens, onions, garlic, red bell peppers, tzatziki, and olives.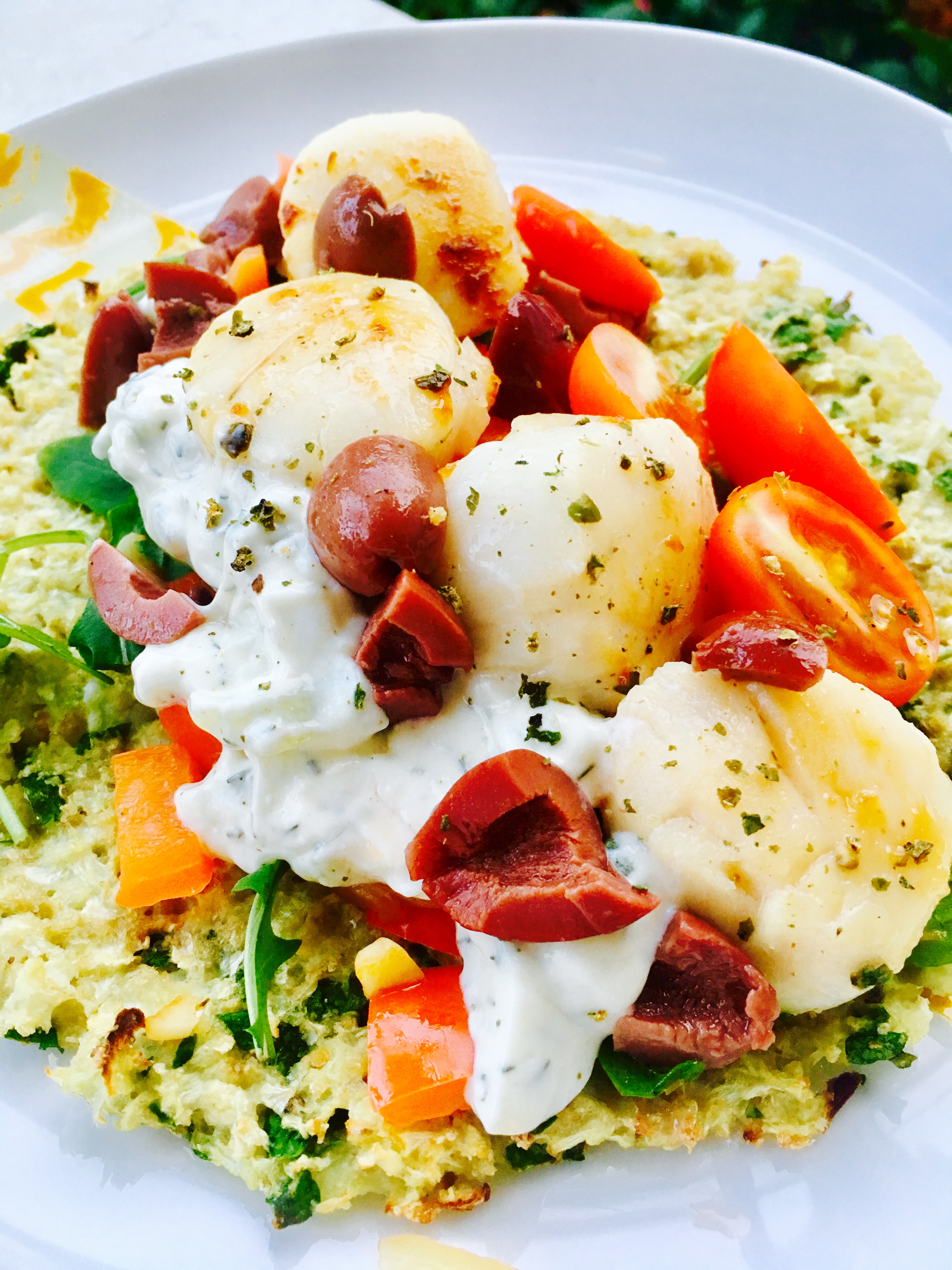 In true fashion, I overstuffed the tacos.  BUT – I did manage to squeeze one together to prove they can be eaten as a "traditional" untraditional taco.
Then I put it down, added more sauce, and ate with with a fork and knife.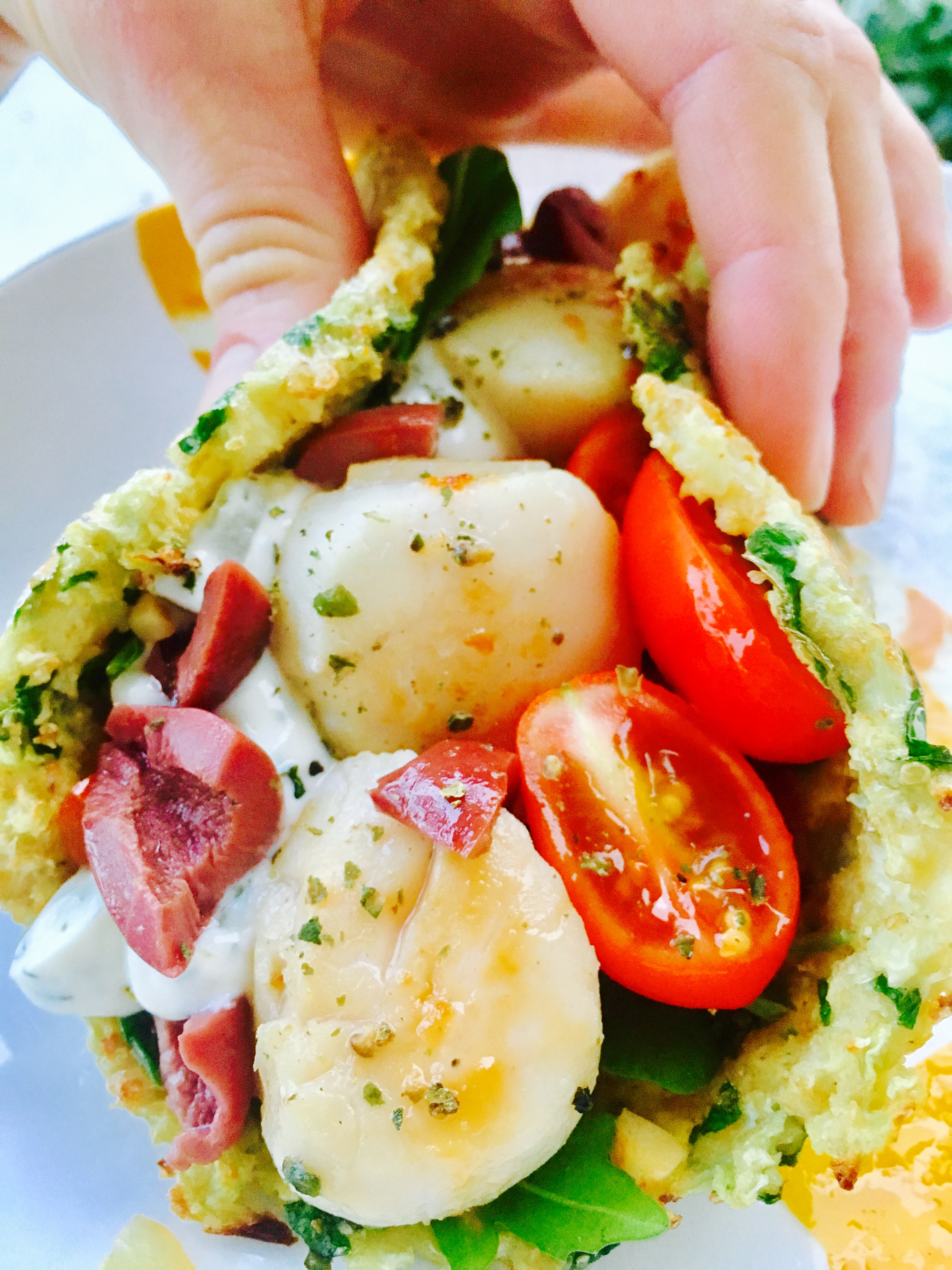 Let your imagination run wild with these shells!  Add your favorite flavors to the crust batter (I put parsley in these).  I love adding nutritional yeast, chili powder, cumin, oregano, garlic powder… literally anything I'm craving!
---
Mediterranean Scallop Cauliflower Shell Tacos
2SERVINGS
adjust servings
This quick cauliflower crust is an all-in-one, gluten-free shell to fill with whatever you're craving.
Ingredients
2

cauliflower crusts, divided to make 4 tortillas

8

oz scallops, or two servings of your preferred protein

Juice of 1/2 lemon

1/2

red bell pepper, diced

1/4

c diced red onion

1

clove garlic, minced

Handful spinach

1/4

C tzatziki sauce

2

T kalamata olives, minced
Instructions
Prepare cauliflower crust mix according to directions. Divide batter in half to create two taco shells. Bake as instructed in original recipe.
Meanwhile, sauté bell pepper, onions, and garlic with a bit of oil or cooking spray. Set aside.
Cook scallops (or protein of your choosing) on stove top with lemon juice. This should take about 6 mins over medium heat, flipping once.
Once shells, pepper mix, and scallops are done, assemble the tacos. Place shells on a plate and top first with greens. This will prevent the shells from getting soggy. Layer on the pepper mix, protein, tzatziki sauce, and olives.
If it's too stuffed... just use a fork and knife. Enjoy!
---
It's also WIAW time!  Check out some of my quickie eats below (it's been a crazy week!)
More cauliflower crust pizza, topped with a whole smashed avocado, parsley, and sriracha.  Followed by more Mediterranean tacos, this time with shrimp.  Then a dinner party which consisted of a LOT of meats and cheeses, plus some delicious desserts.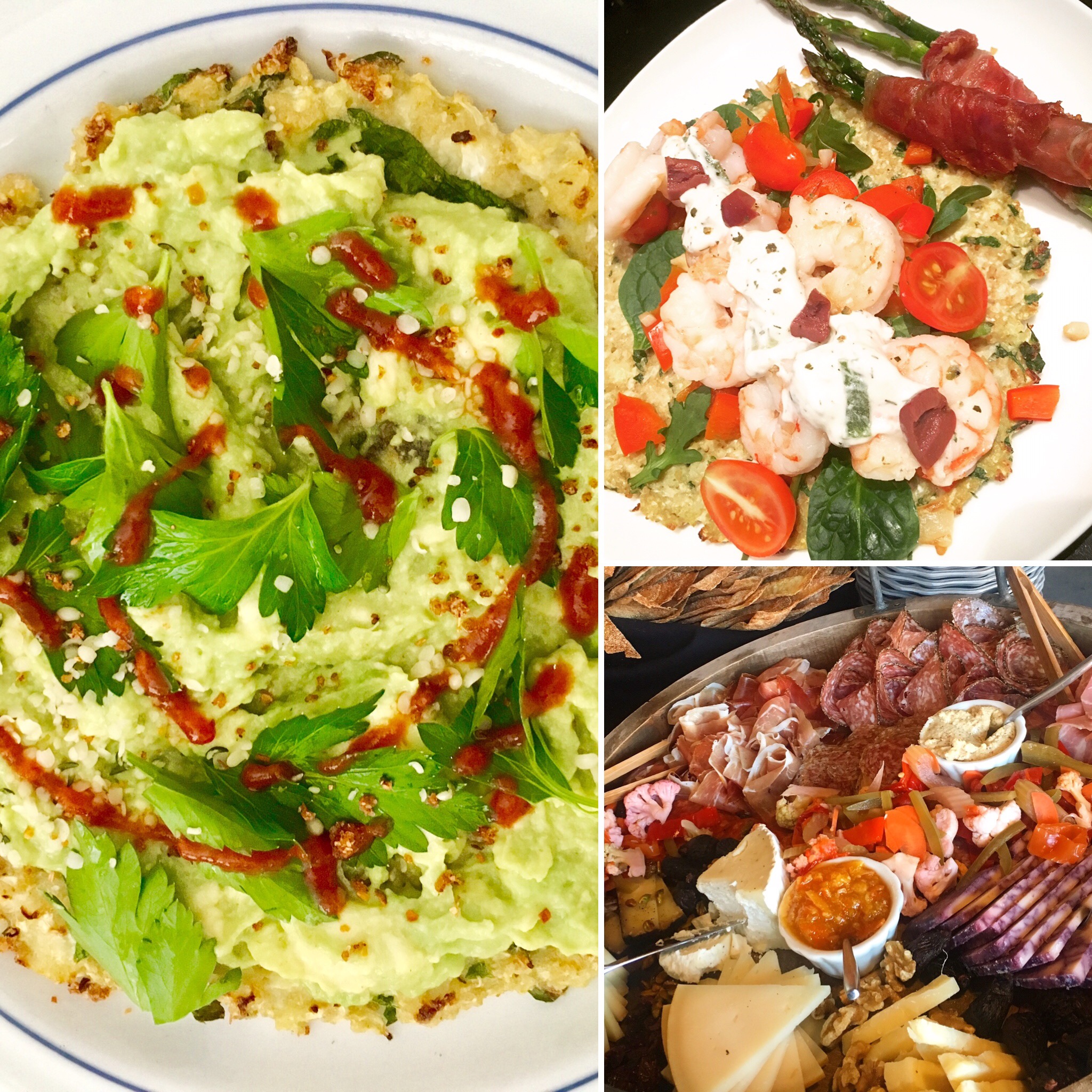 ***
Vegas even liked of this one! I feel like I need a graphic that indicates her seal of approval…
Have you ever made a cauliflower crust?
What your favorite taco filling?