Holidays in my family aren't always traditional.
My family isn't exactly normal…
We don't have a set "meal" every year.  Each of us enjoys food and trying new things, so we take the opportunity to get creative in the kitchen while we're all in one place.
Last year we had a Taiwanese dinner.  I made this Sweet Potato and Toasted Marshmallow Cake and Hot Buttered Rum.
The year before we had spaghetti and meatballs.
I also made this Gingerbread Martini:
This year… I have no idea what we're doing.  All I know is that I'm infusing bourbon with cranberries and cinnamon for a funky take on a Manhattan.
My point?  I don't have one other than to justify the fact that less than a week until Christmas and I'm about to share a recipe for Salmon Burgers.  Not a traditional holiday food… but I decorated them in holiday colors!
When I made these Lemon-Thyme Zucchini Salmon Cakes, I discovered that it's hard (impossible?) to find canned salmon that is de-boned AND has no salt added.  I made a mental note to attempt making salmon patties with fresh salmon.  I promptly lost that mental note. 
Months later, I finally remembered to try it out.
Lemon, rosemary, and dill were made for each other.  Particularly when paired with seafood.  We all know how well citrus and salmon compliment each other, but that extra herb-y punch takes this from hot bar to restaurant-worthy.
Not that there's anything wrong with the hot bar – I adore it – but you know what I mean.
These were the perfect thing to thrown together and have for lunch during the week.  If you prep your food at the beginning to the week, you already have cooked salmon and can whip this up in no-time mid-week.  If not, add 10 mins to the cook time so you can broil the salmon first.
To make it festive, top them with pomegranate arils and edamame tossed in a quick nooch sauce (nutritional yeast mixed with vinegar and/or water).  This may sound like a strange topping… but it was good!!!
Speaking of Strange But Good… Don't forget to link up tomorrow!  It's the second week of the new link up here.  thanks to everyone who participated last week!  I'm continually inspired by you all!!!
Click here for the details, and grab the graphic below to share in your Strange But Good post tomorrow.
Remember to use #strangebutgood in any Tweets and Instragrams of your creations. 🙂
---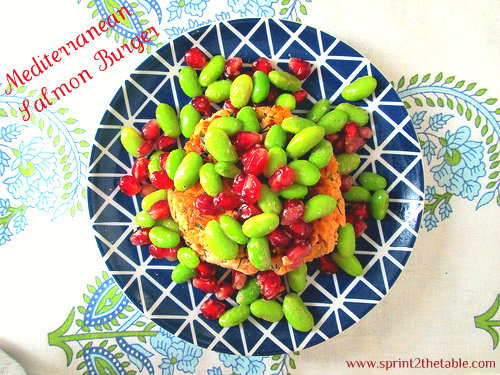 Mediterranean Salmon Burger
1/2 tsp olive oil
1 shallot, finely chopped
1 clove garlic
1 pound fresh salmon filet, cooked
2 T chopped dill
2 T chopped rosemary
1/2 tsp fresh lemon juice
1/4 tsp pepper
1/4 tsp paprika
 Heat the olive oil in a small pan and sauté shallots until soft.  Add garlic and continue cooking until fragrant.
Add salmon to a blender and blend until smooth.  Stir in dill, rosemary, lemon juice, pepper, paprika, garlic, and shallots.
Shape into 4 patties.  Place on a medium hot pan and cook until outside are browned (~3 mins each side).
Makes 4 burgers.
***
I spent all last night baking… one item in particular I can't WAIT to share for #strangebutgood tomorrow!
Does your family cook together for the holidays?
Do you like to do a traditional Christmas dinner and/or brunch?  What do you have?