Crack is whack.
Thank you, Whitney Houston for that insightful quote. 
After a long hiatus, I am jumping back into Heather's Meatless Monday link up!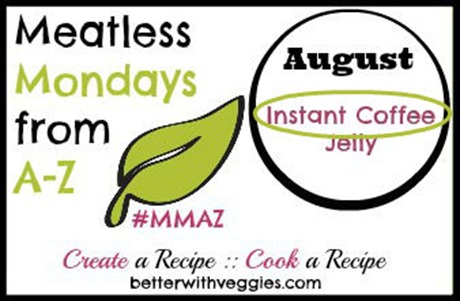 I would never expose you to something whack, so this post isn't actually about crack.  It is a super-energizing smoothie though!
This week's MMAZ link up is about making someone else's recipe.  Unfortunately, I am unable to follow recipes (or directions).  Rather, I took inspiration from someone's recipe.
Sarah created this vegan Mocha Chip Mousse last week.  I loved how she used tofu to create a protein-rich healthy-ish dessert.  It made me remember my favorite Carrot Cake Batter Shake, where I used tofu to get a milk shake consistency.  Why hadn't I done it with chocolate?!  And coffee… this was a frapp waiting to happen!  There may have been some strangeness too… I've been loving chocolate-beet smoothies lately and I carried that idea over to make this a Mocha Beet Frappuccino. 🙂
Recipe for this crack-like creation at the bottom…
---
First I have to share some marvelous!!!  I had the pleasure of dining with one of my favorite ladies: Sarena!  She invited me over for dinner with her family.  I'd never met her crew before, but felt like I already knew them thanks to social media.  Tony (her husband) said he felt like Instragram was coming to life.  🙂
If you've never tried any of Sarena's gluten-free baked goods before, let me assure you this stuff is the jam.  She made a loaf of gluten-free bread that was better than most of the "real" bread I've had.
We started with a salad, then for dinner enjoyed succotash, grilled pork, and homemade bread.  And more bread.  I wish I'd gotten a pic of the Pavlova Sarena made for dessert too.  It was fantastic!
Also marvelous was a sunny Sunday run up Stone Mountain.  Remember those booty building incline sprints?  I'm back at it. 🙂
While we're talking about booty, I finally picked up a pair of the Nike Pro booty shorts I see everyone on Instagram wearing.  They are actually amazing – comfy and breathable.
I shamelessly wore them all day long.  Including to 2 grocery stores.
Check out what else is marvelous in blog land this week in Katie's link up!
---
Mocha Beet Frappuccino
1 scoop chocolate protein powder
1/2 serving (1.5 oz) tofu
1/4 C roasted beet (or 1 tsp beet powder)
1 T instant coffee granules
1/2 T cocoa powder
1/4 inch piece fresh ginger
1 cinnamon stick (or 1/2 tsp ground cinnamon)
5-6 drops vanilla liquid stevia
Pinch of xanthan and guar gums (optional)
Ice and water (adjust according to thickness preference)
Toss it all in the blender and mix until smooth.
Inhale.  Bounce off the walls.
***
Why don't I ever remember that it's a bad idea to run up mountains the day before leg day?!  Doh.
Do you run around in your gym clothes all day?
Do you even gluten-free products even though you don't have an allergy?  I like trying all the foods!