"Do something every day that scares you."
I'm pretty sure Eleanor Roosevelt would approve of this jaunt…
The morning after my decedent meal in Interlaken, I woke up early and ready for a physical adventure.  The plan was to go canyoning, but water levels were too high.  I decided to go paragliding while I figured out what else to do with my day (this isn't the scary part).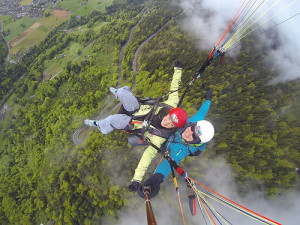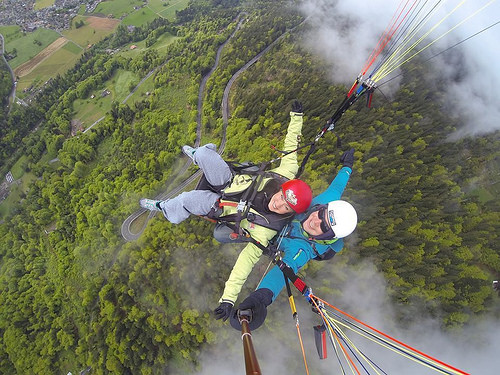 Paragliding is actually pretty easy.  You take off running with your partner and float into the sky.  It's a peaceful ride!
While I was flying through the air with my guide, I picked his brain for suggestions about what to do for the afternoon.  He suggested a hike and told me about a place he likes.  One train and a bus ride later, I was at the bottom of a mountain in Stechelberg ready to hike to Mürren.
It started out innocently enough.  There was a light rain, but nothing I couldn't handle.  The air was crisp and the foliage was a stunningly bright green.  I took off, humming to myself as I climbed.
The rain picked up, but wasn't too oppressive.  The higher I went, the colder it got.  I was moving at a pretty good clip and the cool air actually felt good.  When the rain turned to big, fluffy snowflakes I was thrilled!
The spring snow was pretty wet, and I was getting soaked.  I stopped in a little hut along the trail for a snack and to dry off.  I thought about turning around, but I had a goal in mind!  I kept moving and tried to enjoy the awe-inspiring views.
When the snow began accumulating, I got a little concerned.  There were signs along the trail telling me I had about an hour and a half to go.  I'd already gotten half way up, so it seemed silly not to continue.
The further I went, the harder it snowed.  I still didn't feel cold, but my hair was soaked and my ears were starting to sting.  You know that panicky feeling you get when you begin to doubt your location and ability?  It started creeping in.  I forged on, checking out signage about avalanches, gawking at mountain goats, and admiring tulips in the snow.
I knew I had to be close, but that didn't stop me from being concerned.  I started wondering who would find my frozen body (a silly thought, I know).  I hadn't seen any one else the entire hike.  I started running, but that was tiring on such an incline.  I needed to calm down.  So I sang some songs to myself.  The Sound of Music, I Wanna Be Sedated, the Georgia Tech fight song… then houses appeared in the distance.  
I wasn't going to die!!!  I've never been so relieved to see a gondola in my life!  5374ft.  Whew.
I'd originally planned to hike for another few miles to the next town, but I was done – mentally and physically.  And I was thirsty.
The next gondola down wasn't for an hour, so I went into a little restaurant to thaw out and have a sparkling water.  The view was unreal.  I couldn't believe I'd just hiked through the snow (totally unprepared).
Back at the bottom of the mountain, I jumped on the bus to Lauterbrunnen.  I must have looked like a cold, wet puppy because the bus driver befriended me and gave me chocolate.  When I asked where I could get dinner, he suggested a place called Hotel Oberland.  He said they served authentic fondue that wasn't too "touristy."  Funny, because it's owned by an Australian!
I had been in Switzerland for a week and hadn't had any fondue!  I parked my cold buns in the seat, and ordered a beer to go with a giant pot of fondue.  It came with a delicious salad too (much needed with all the cheese).  The fondue was served with mushrooms, chives, garlic, and onion to add to the boiling pot.  There were bread pieces and potatoes for dipping.
It was quite good – the bubbly cheese was flavorful and pleasantly sharp.  I greedily shoveled in the first bites and burned the crap out of my tongue.  Oops.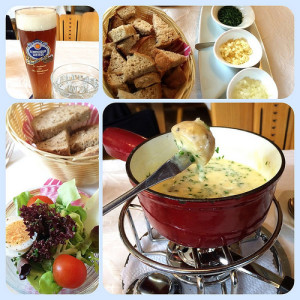 Fondue is tasty, but that is a LOT of cheese.  I ate about 2/3 of the pot before crying uncle.
300 floors and almost 24K steps later, I was done.  Side note: my Fitbit is now at the bottom of a gorge in Zermatt.  But that's another story.
***
Needless to say, I slept like a baby.  It was marvelous.
Have you ever gone into uncharted territory and panicked a bit?
Do you sing to yourself to calm down?  What song?