Rainy Mondays can be hard.
Ok, always.  Rainy Mondays are always hard…
A few weeks ago I committed to making an effort to be more positive on this most glorious day of the week and joined the diva-licious Katie in her Marvelous in My Monday link up.  This week I need to get back on that train.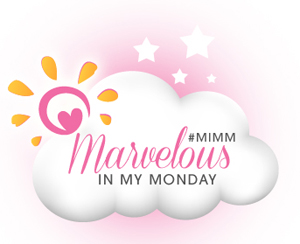 What a better way to do it than recap some tasty food?  I've been eating good this past week, and I have a LOT to share.  This is a long one.  That's what shai said.  Sorry… but not really. 😉
_______________________________________________________________________________________
To start it off, last Sunday my friend Kathleen and I went to an underground supper club hosted by Souper Jenny. she does these once or twice a year; the secret location and chef is announced the day before the event.
Our surprise chef was Omar Powell!  He is the Chef de Cuisine at my favorite Indian Restaurant, Cardamom Hill (a James Beard nominee!), yet he is Jamaican with a French culinary training.  I was beyond excited to see what he came up with!
We arrived at the secret location (a local pasta shop, Storico Fresco) and were immediately blown away by the stunning table setting!
Before the meal, we had the chance to walk around a bit and I got in the professional photographer's way snuck behind the counter to grab a shot of Chef Powell and Chef-Owner Asha Gomez discussing a dish.
The first course was a small treat that left me way too excited for the rest of the evening.  Soft farm eggs with ackee, cod, scallions, and bacon.  The flavors could have easily over-taken the egg, but they were perfectly balanced in the delicate shell.  There is nothing more fabulous than a perfectly cooked egg.
Next we were presented with a brown stewed chicken served over tun cornmeal, pickled onions, and fin herbs.
We questioned whether it was really chicken – I've never had a more rich, flavorful piece of chicken in my life.  This could have easily passed as a tender piece of red meat.  It doesn't even look like chicken, does it?
I almost asked for seconds… and I did ask for the recipe!
The third dish was a Jerked Pork served with yellow yam augratin, mango, papaya jam, and all spice oil.
The flavor combination in this dish was perfection.  The jerk was just the right amount of heat against the sweet fruit, and the creamy augratin.  Augratin can often be too rich for me, but this yam was restrained and didn't take away from the other components.
This next dish was my favorite of the night.  I think… it's hard to choose!  It was a oxtail agnolotii (agnolotii is a stuffed pasta, like ravioli) in a pumpkin soup laced with all spice and black pepper tulie.
I'm a huge oxtail fan, and the agnolotii did not disappoint.  However, what made this dish for me was the soup.  I admired his use of all spice here because it is one I'm timid with.  A little bit can go a long way.  The burst of it here gave a depth of flavor to the soup, allowing it to stand out against a big flavor like oxtail.
Lastly, we enjoyed a sweet and savory dessert.  This was a cornmeal pone with comte cheese, "drops," and thyme honey.
I had not heard of drops before.  Apparently they are a Jamaican street food candy.  It's a sugar-glazed, chewy piece of coconut.  That sweetness with the thyme honey and the more savory pone and cheese was a storybook end to a memorable meal.  I'd like to say I was too stuffed to eat it all… but I ate mine and half of Kathleen's.
#sorryimnotsorry
_______________________________________________________________________________________
I had another awesome meal with my mom last friday night.  We went to a family favorite, Everybody's Pizza.
This place is one that will forever have a place in my heart.  They have been open since 1971 and this coming Tuesday is their last day in business.  My parents used to go on dates there in college, and later my dad would take me as a treat on Friday nights.
He'd tell me stories about what it was like "back on the day" when then had communal seating and tables of strangers would share pies and pitchers of beers.  We would eat an entire pizza and then polish off a giant order of bread pudding.  There are staving kids in Africa, right?
In honor of my dad, my mom and I had one last meal there.  We toasted my dad's memory with beers and shared a  giant pizza.  Half cheeseless veggie, and half with extra feta cheese, portabello mushrooms, jalapenos, and meatballs.  And then a bread pudding.  We were only going to eat half… but you know that didn't happen.  🙂
It was a great night sharing stories and eating one last meal at a local haunt.  Everybody's, you will be sorely missed.
_______________________________________________________________________________________
What do you do the morning after carb-loading?  You take a trip up Stone Mountain!  Mom and I met up with my friend Kathleen the next morning for a hike up the mountain in the gorgeous spring weather.
They were great sports, cheering me on as I ran my sprints up the steep part.  They even joined in for a couple of rounds!
The refuel was classic.  Fro-yo from Yoforia for lunch!  Fruit, dairy, protein… I got chocolate and Irish cream flavors with kiwi, strawberries, pretzels and a Reese's egg.  Is that not the BEST topping offering?!
This deliciousness fueled my trip to the gym for a killer shoulder and glute workout.  Sprints + glutes in the gym = one tired butt.
_______________________________________________________________________________________
Finally, on Sunday, I rounded out the marvelous with a day of softball.  My women's softball team beat both male teams we played!
After the game we had a social, and I brough a St. Patrick's Day treat for the team: Irish Car Bomb Cupcakes!!  These cupcakes are an annual request… they don't have to twist my arm too hard to oblige. 😉
This is a fantastically indulgent cupcake.  The base is Guinness chocolate cake.  I fill them with Irish whiskey ganache and then ice them with an Irish cream frosting.
I'm too late to post a recipe for the holiday… but if you're interested I may do a post later this week.  Let me know!
***
It was a bit of a gluttonous weekend, but coupled with a LOT of activity.  No regrets, but I'm really looking forward to getting back to normalcy this week!
Does your family have a nostalgia restaurant?  Is it still there?
What is making YOUR Monday marvelous today?