Food is a significant part of any trip for me.
Sometimes it's the whole reason for the trip…
This past week's trip to California was no exception.  There was plenty of wine in wine-country, but the food was equally important.
After a looooong day of travel, all Lisa and I could think of when we hit the valley was wine food.  We'd already scoped out our dinner destination: Farmstead.  Farmstead is a farm (named Long Meadow Ranch) and a restaurant.  They have their own vineyards, gardens, and chicken.  Quite literally, it is a farm-to-table restaurant.
Our sights were set on a runny farm-fresh egg atop a steak tartar with capers, cornichons, tabasco, and toast.  It was fantastic.  The meat was also directly from the farm – the freshness of it made all the difference in the world.  It's amazing neither of us licked the plate.
We split a couple of other dishes as well.
The first was a grilled peach salad with speck (a cured meat similar to prosciutto), arugula, and house made ricotta.  It was good… but the peach to salty stuff was a bit off (the peaches were in too big of pieces).  That purple basil made the dish.  Wil be remebering that in the future!
The second was a grilled artichoke with gribiche (like an aioli) and lemon.  Simple and yet so good.  This preparation always makes me wish I had a grill!

As fabulous as all of that was, the crowning jewel was dessert.  My first birthday cake of the trip was a Scharffenberger chocolate cream pie with graham cracker crust.  It was so fantastically fresh and delicious!
The crust actually tasted like it may have had some coconut, but we were assured it was just a good, old-fashioned homemade graham crust.  We talked about it lovingly for the rest of the trip.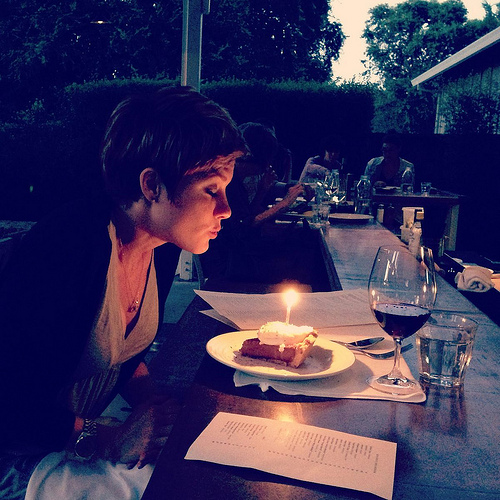 ---
The other food we went on a mission for was a burger from Goose & Gander.  From the moment we walked in I knew we couldn't have made a better choice.  The outdoor seating area alone was worth the trip.  There were lights strung across the courtyard, quaint iron tables, and tall fence "walls" covered with vines and gorgeous colorful flowers.
First thing's first though.  A craft cocktail.  Apparently the mixologist is something of a cocktail rockstar, so we were excited to try some creative concoctions.  I went with the "Scarlet Gander."   It was Hanger One Buddha's Hand Citron Vodka, ginger, shiso, galangal, lemon, and rhubarb.  Not like anything  I would typically order, but the flavors were so unique I couldn't pass it up.  It did not disappoint – these flavors were strange but good. 😉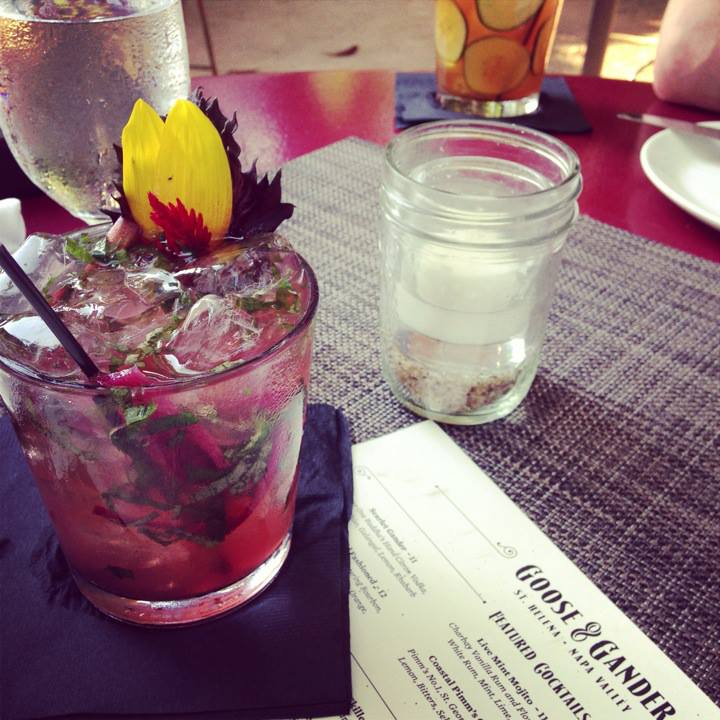 We begin the meal with a salad.  Our waiter recommended we try the watermelon and Rock Shrimp salad.  The melons they used were the traditional pink AND a yellow melon.  It made for a gorgeous plating!
It was served roasted peanuts and a Thai chili dressing that he swore would be a 9 on the heat scale.  It wasn't even close to a 9, but the salad was still delicious.
Now for the reason we came: the burger.  Multiple people told us that the burger here was the best burger around, and that it shouldn't be missed.  It isn't the #1 burger I've ever eaten, but it's certainly top 3.  I was really glad we decided to split it… it was massive and that much indulgence would be a stomach ache waiting to happen.
The bun (from Model Bakery) was perfection  It kind of looks soggy in the pic, but it really wasn't.  It held up to the fantastically juicy grass-fed beef burger, which was topped with bone marrow (meat butter), Gruyere cheese, house smoked bacon, and pickles.  Served with a side of duck fat fries (duck fat = crispier fries).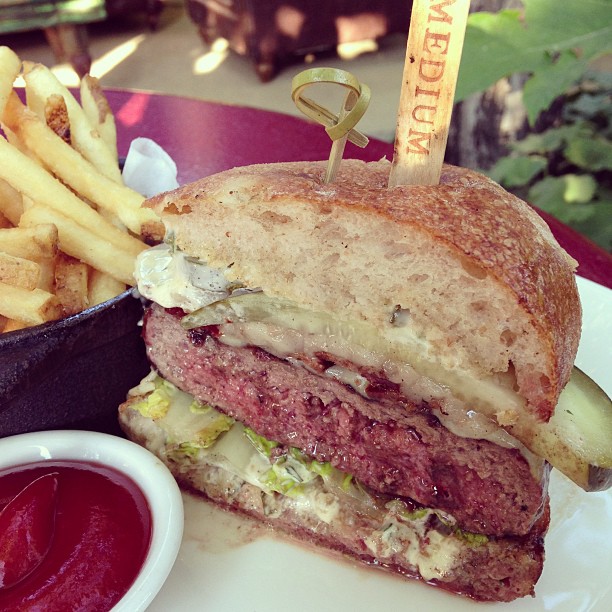 Between the craft cocktails, "famous" burger, and duck fat fries, Goose & Gander reminded me a lot of Atlanta's Holeman & Finch (highly recommended if you are ever here).
We ate a lot more than this, but memories of these meals in particular (and the amazing company) are making my Monday Marvelous.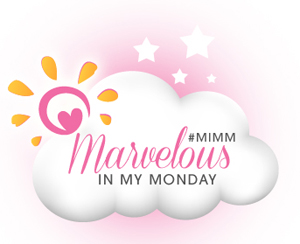 ***
Moral of the story: always ask the locals what they eat.  You'll find the coolest places and the must-try dishes.
Have you ever been to the Napa area?  
Are you adamant about researching the must-try restaurants when you travel?