It's rare that I repeat a meal.
Except dessert.
Variety is one of the keys to staying on track.  I know this is different for everyone, but if I don't stay entertained by what I'm eating it's not pretty.  Which is why I'm shocked by this story about a woman eating nothing but Starbucks for a YEAR.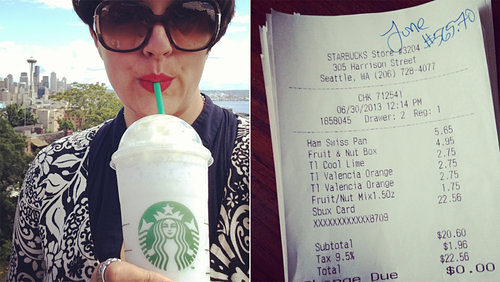 The 40-year-old woman, Beautiful Existence, is a mother of two.  Yes, that's her legal name.  She still cooked for her kids, but – even on holidays – only ate Starbucks food.
She said she spent $500-$600 a month on meals, and ended up saving money and losing weight.  Her first non-Starbucks meal?  Fish and chips from Seattle restaurant chain.
I would've done a lot better than that after  year of bagels! 
________________________________________________________________________________________
This WIAW I did not eat at Starbucks.  I did repeat a meal, and for that I am ashamed.  Kidding, kidding.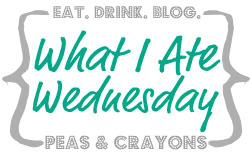 Read on for my eats, and then check out Jenn's blog for everyone else's delicious creations!
________________________________________________________________________________________
Breakfast:
The usual apple cider morning cocktail. was followed by a new muffin creation.  I'll be sharing this recipe Friday for the #strangebutgood link up.  The veggies you see aren't even the strange part! 🙂
Mid-Morning Snack:
Mexican Chicken Soup, was on tap this week for meal prep.  I wanted to share the recipe today but didn't have time to take good decent pics.  Monday!  I will say that it's very good, it made a TON, and its thick 'n hearty.  I should probably call it chili…
Lunch:
Crab was 20% off this week at the market!  It's one of my favorite seafood items, so I stocked up.  This crab salad had a dressing made from nutritional yeast, lemon juice, and wasabi.  I stilled it with broccoli, sunchokes, and cilantro.  Unpictured were some dried wasabi edamame seeds
I ate the Korean Sweet Potato topped with cinnamon for dessert.  They are so fantastically sweet!
Mid-Afternoon Snack:
Did I mention that soup recipe made a ton?  Two-a-days:
Dinner:
Dinner may look sparse.  I made Sablefish and my BBQ Cauliflower Bites to go on top of an arugula salad.  I was saving room for dessert: cocoa-roasted kabocha topped with peanut flour sauce (I get my peanut flour on iHerb – use discount code USO924 for $5-10 off your order) and cacao nibs.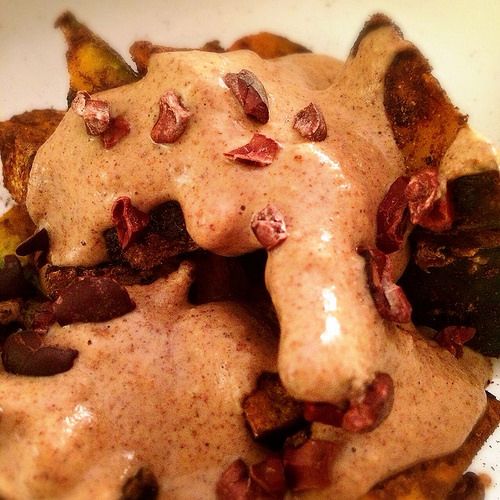 Dessert:
The kabocha dessert was just round 1.  For my midnight snack, I wanted cake.  This chocolate chip masterpiece came complete with chocolate icing, rice whipped cream (farmer's market find!), and flax seeds.
The coolest part about this recipe is the fact that I used cottage cheese in it.  Cottage cheese melts when it's heated.  It melted into this cake and formed a marshmallow-esqe filling.  Marshmallow Chocolate Chip Cake.  It's better than Starbucks. 😉
_______________________________________________________________________________________

Marshmallow Chocolate Chip Cake
1 T whole wheat pastry flour
1 T coconut flour
1 T (~8g) vanilla protein powder
1/2 tsp cinnamon
1/4 tsp baking powder
1/4 C liquid egg whites
3T cottage cheese
1/4 tsp vanilla
1 tsp mini chocolate chips
1 T unsweetened almond milk
Stevia, to taste
Optional topping: 1 T cocoa powder, 1 T pumpkin puree, Stevia and almond milk to preference
Mix dry ingredients in a small bowl.  Stir in wet ingredients, followed by chocolate chips.
Pour into a sprayed microwave-safe bowl and microwave 1:20 mins.
Top as desired.  Consume.
***
I just realized next Monday is a holiday for those of us in the US.  Woo hoo!!!
Do you repeat meals or strive for variety?
What one food could you eat everyday?