Atlanta is a great place to be if you love food.
I love all of the restaurants, markets, a food events.  There is a Green Market across the street from my building every Saturday morning.  It's where I pick up my farm-fresh eggs, tomatoes, and various other locally grown produce.
The market also features a weekly chef's demo.  This week was Chef Daniel Chance from Campagnolo, an Italian restaurant in the neighborhood.  He made a tasty basil risotto with green bean from the market and a seared lamb with rosemary.  I was paying close attention as my next demo is in less than a week!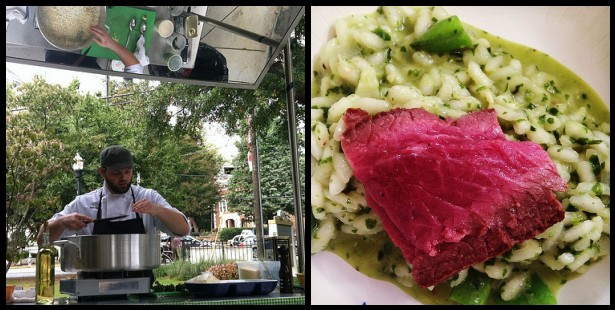 Atlanta also is a great spot to be a blogger.  We have a ton of bloggers in the metro area, as we all make an effort to get together on a regular basis.  This weekend was hard for people, but we managed to get a group of 5 together to meet in the park for a potluck picnic.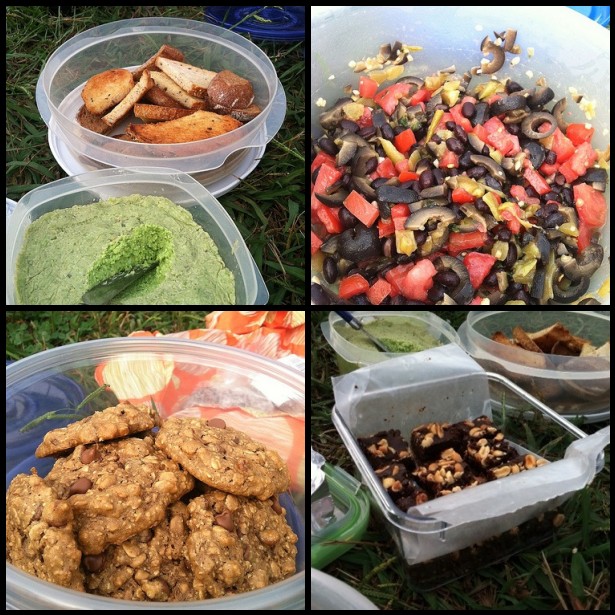 Clockwise, left to right: Alayna's Edamame-Avocado Hummus (to be included in her soon-to-be-released cookbook), Lee's Texas Caviar, Stacy's Oatmeal Cookies,  and my S'more Bars.  Heather brought coconut covered dates, but I failed to get a pic.
All of the food was wonderful, but even better was the chance to catch up with everyone.  We sat in the park and talked for a few hours – I didn't notice it had gotten so late until my stomach began to growl again!
_______________________________________________________________________________________
Foodie friends aren't always local!  One of my favorite online blogger events is the Foodie PenPal program.  I love getting to try new things from across the country!
This month my "pal" was Sharlene @ Solar Cooking.  She was so sweet to put together a box of goodies I could eat on my training diet.  Admittedly, I was leery of the turkey jerky at first.  after a few people on Instagram encouraged me, I sucked it up and tried it.  It was really good!  Added bonus: it's surprisingly low in sodium (for a jerky). 
Don't you want to get in to the action?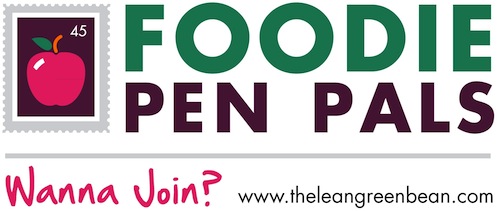 To sign up for a Foodie PenPals in September, click here to fill out the form on that lovely Lindsay's site.  It's that easy!  You don't have to be a blogger, and the spending limit is just $15.  The only requirement is that you be a US or Canadian resident.
Join in by October 4th as pairings will be emailed on October 5th!
______________________________________________________________________________________
Workout Recap
This week was hard for me.  I have been feeling under the weather and wasn't able to lift as heavy as I would have liked some days.  Working until 2 am almost every night could have been the culprit too…
We also added 100 pull ups (assisted – for now) to my repertoire.  Those are no joke.  I didn't get them in every day due to feeling sick-y and  being pressed for time, but I'm starting out on Monday full-force!   Bicep day always makes me feel a little better, so here's a pic from my favorite day:
I also had my first posing practice in a competition bikini.  I felt neekid.  There are pics… but I lack the kahunas to post them.  Less than 5 weeks out from competition… AHHHHH!
Workout Recap (9/24 – 9/30):
Monday – Chest/Biceps, Calf raises, 60 pull-ups, 2 mile walk
Tuesday – Legs, 100 pull ups, 2 mile walk
Wednesday – Back/Triceps, Calf raises, 1 mile walk
Thursday – Shoulders/Butt, 2 mile walk
Friday – Chest/Biceps, Calf raises, 2 mile walk
Saturday – Legs (with Trainer), 2 mile walk
Sunday – Back/Tris
***
Closing in on competition will mean changes to the diet are coming.  I'll miss you, S'mores Bars… 
How do you push through workouts when you're not feeling 100%?
What would you send a foodie penpal to represent your hometown?