I'm full.
No, not full of shit.
Full of food.  Protein.  Complex carbs.  Veggies.  This is a result of my my nutrition plan changes.  I mentioned Monday that they were coming.  And come they did. I was secretly hoping I'd just get another cheat day. No dice.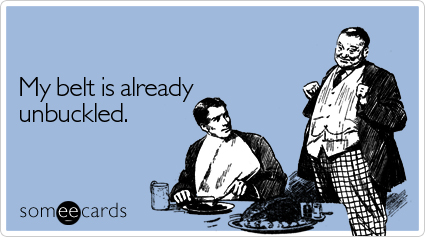 The veggies and carbs have increased slightly… and then there's the protein.  It has doubled, and is now required to be from a "real" source (fish, egg, or soy) at a minimum of 3 meals.  I'm not there yet, so don't call me out on this first WIAW.  It's going to take me a little time to ramp up.  I'm fast learning that figure competitions are not for the faint of heart.  😉
---
In summation, this is the bulking edition of What I Ate Wednesday.  Tuesday morning was spent at a panel event where I knew I wouldn't be able to get the foods I need.  It was fun to brainstorm some portable meals that could be prepped the night before!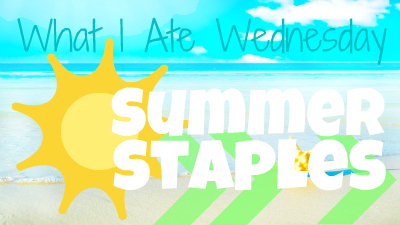 I did keep it seasonal, thanks to a recent rampage of the Farmer's Market.  Check it all out below, then click here to visit Jenn @ Peas and Crayons to see everyone else's summer eats!
---
Meal 1:
As usual, I began my day with Fitmixer Aminos mixed with ~2T of apple cider vinegar and water.  I won't bore you with another pic,  but trust me when I say this stuff is the bomb.  Especially when you have to wake up for a 7am conference.  I wish I was making that up.
This week I managed to NOT have PB & Jeggs for once.  This week I planned ahead and – knowing I'd need the caffeine for my early morning – made Overnight Mocha Protein Oats.  Who needs Starbucks when you have this tastiness?
Mocha Protein Oats:
1/3 C rolled oats
1/2 C water (or liquid of choice)
1/4 C coffee (chilled)
1 scoop chocolate protein powder
1/4 C unsweetened almond milk
1-2 tsp cocoa powder
2 tsp chia seeds
1/2 tsp vanilla extract
1/2 tsp cinnamon
5-6 drops liquid stevia 
Place the oats and liquids in a medium bowl and microwave ~3 mins (some liquid should remain).
Mix in remaining ingredients and place in fridge overnight.  In the morning, stir, top with your favorite fruit, and enjoy!  
Note: If you prefer your oats warm, you can also pop these in the mirco again in the morning.
Meal 2:
Greek yogurt is a protein-rich staple in my diet.  Right now I'm hooked on seasonally appropriate strawberry Greek yogurt.
The fruit flavors in the grocery store have a ton of added sugar, but you don't have to buy those!  I make my own using fresh berries and a touch of Stevia.
To make, simply mash up 1/4-1/2 C of your favorite fruit and mix it into a serving of yogurt.  I added a bit of Stevia and cinnamon as well.  Topped with  pumpkin seeds and eaten with a side of black tea.
This bowl was prepped the night before and frozen.  By the time I was ready to eat Meal 2 (at the afore mentioned meeting) it had thawed to an awesome fro-yo consistency.
Meal 3:
This lunch on the go was better than I could have found at a salad bar chain!  Once again, I prepped everything the night before.  The salmon, Ezekial bread, and edamame were stored in the freezer over night so they were just thawed in time for lunch.
Yes, those are individually packaged Dora the Explorer edamame packets.  I swear I tried to find the regular package   They were out.
In the tupperware I packed my veggies and arugula, and had a dressing ready in the mini container.
The dressing was a quick mix of olive oil, white balsamic vinegar, lime juice, and cumin.
Beat that, Doc Greens! 😉
Meal 4:
I made it back home for afternoon snack and heated up a few of the Chick-less Nuggets I posed yesterday.  They are just as good on day 2!
The dip with this was awesome.  I picked up a jar of Marmite and couldn't wait to use it!  It is a strong flavor, so I mixed 1/4 tsp with 1 T of peanut flour, 2 drops of liquid smoke, and 1.5 T of water.  I'm forever indebted to Heather for introducing me to this stuff!
Meal 5:
Other bloggers are a HUGE source of inspiration to me.  JL posted these tempeh patties 3 weeks ago and my only regret is that I took so long to make them!
I followed her method but increased the nooch to a full tablespoon and added fresh lime juice and thyme.  OMG.  Next time I'm tripling the recipe and freezing some for later.
Served with spinach socca (basic method here; this time I blended in 1 C spinach), sweet potato, raw asparagus, red pepper, onion, and a chipotle pepper pureed with a pinch of cloves, cinnamon, and teeny bit of water.
Meal 6:
I got called out on Instagram for eating Carrot Cake Batter every day week.  It's addicting!!!
In an effort to be less boring, I decided on a different kind of batter.  I must have had Kristina's french toast on the brain…. because this is what I came up with:
Maple-Zucchini Bread Batter.  Words cannot even describe.  Sweet with a little depth from maple extract and spice notes from cinnamon, ginger, and a pinch of cloves.
Carrot cake whaaat?
Recipe at bottom.
Meal 7:
I went simple.  Apple.  Casein pudding.  Uncle Sam's Cereal.  Cinnamon.  Classic.
---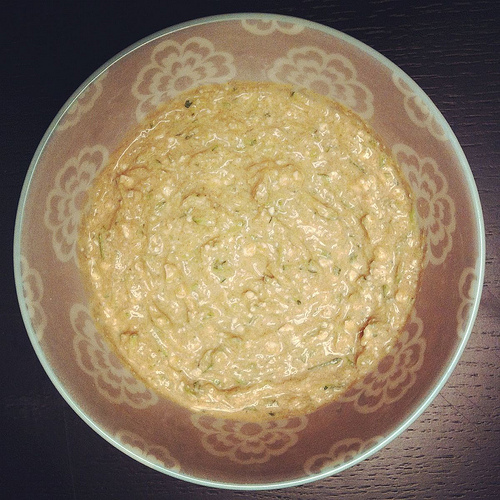 Maple Zucchini Bread Batter
1/2 medium zucchini, grated
1/3 C no salt added cottage cheese
2 T unsweetened almond milk
1 tsp cinnamon
1/4 tsp ginger
pinch cloves
1/4 tsp maple extract
7-8 drops vanilla liquid stevia 
Grate zucchini into a bowl and set aside.
In blender, combine remaining ingredients and blend until nearly smooth.  
Add blended mix to the zucchini and stir to combine.
Enjoy!
***
Are you keeping track?  I managed 171.9g of protein – pescatarian-style this week.
Have you ever had to pump up your meals to gain muscle/weight?
Do you think I'm nuts on the zucchini batter piece?  I swear it's good!