Eggs have a lot of sodium.
Since my sodium intake is now limited to 500 mg a day pre-competition, I had to find a way to get protein at breakfast without relying solely on eggs.  Apparently eggs have a ton of sodium… how, I have NO idea.  
There is no way I can eat seafood for breakfast without puking, and my trainer doesn't want me eating protein powder all day so it was time to get creative.
Oatmeal is great, but it doesn't come close to meeting my protein needs.  I had to think of something to add to it.  Enter: Texturized Vegetable Protein (TVP).
TVP is made from soy flour after the soybean oil has been extracted.  It's then cooked under pressure and dried.  It is a great source of protein and fiber.  It's gluten-free.  In short, TVP rocks.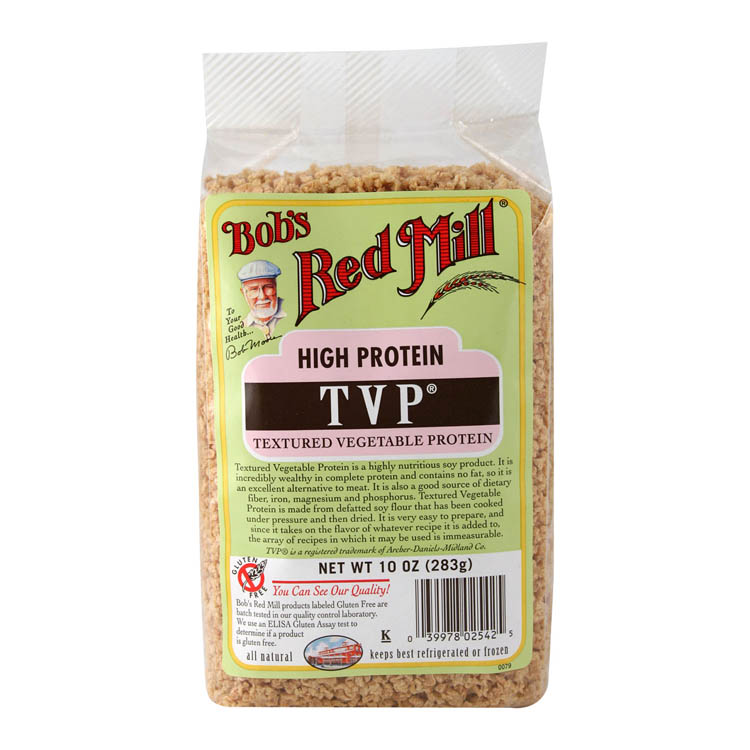 I've used it in savory dishes – like my Chick-less Nuggets – but never thought to use it in something sweeter.  Necessity is the mother of invention!
Today's creation is like a creamy bowl of oats, but with fewer carbs and a ton of protein.  I did use one egg white (3T) to make it super-silky, but that's a negligible amount of sodium compared to the entire CUP of whites I was eating before.  There is also a bit of rolled oats in this.  If you are cutting carbs, you can leave that out and reduce the liquid a tad.
Flavor-wise this is a massive bowl of fall.  I added apple pie spice (you could also use a mix of cinnamon, nutmeg, and allspice) and maple extract.
In my kitchen it smelled like a pie was baking as this cooked on the stove top!
Aside from the taste and creamy texture, my favorite thing about this is that is makes a MASSIVE bowl of "oatmeal."  The TVP expands as it re-hydrates, which makes this volume-eater very happy.
I topped mine with fresh raspberries, but it would be great with any fruit or even a healthy scoop of peanut butter (23 more days until that returns to my diet… not that I'm counting…).
---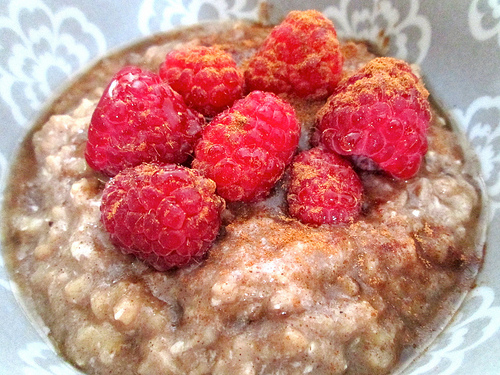 Maple TVP Protein "Oatmeal"
1 C water
1/3 C Texturized Vegetable Protein (TVP)
2 T rolled oats
1 tsp ground flax
1/2 tsp apple pie spice
1/2 tsp maple extract (can use vanilla)
4-5 drops liquid stevia (or other sweetener)
1/4 tsp brown sugar extract (optional) 
3 T egg whites
My toppings: sugar-free maple syrup, raspberries, and cinnamon
Add first 8 ingredients (everything before the egg), stir, and bring to a boil.  
Reduce heat to a simmer and cover.  Cook about 10 mins, until mix thickens.  
Pour in egg whites.  Allow to cook for 2-3 more mins, stirring frequently so that the egg doesn't form chunks.  The mixture should be silky smooth.  
Scoop into bowl and add your favorite toppings.
Note: For a vegan option, add a flax egg or simply leave the egg out.
Approximate nutritionals (without toppings): 0.8g fat, 102 mg sodium, 13.8g carbohydrates, 5g fiber, 3.2g sugar, 19.9g protein
***
Unrelated: I really like casein protein at night for recovery, but they all seem to have a lot of sodium.  Anyone know of a low sodium (<50 mg) brand?
Have you ever used TVP?
What is your favorite hot cereal topping?