Found on the packaging for a set of pots:
The marketing person that approved this should be fired.  LOL!
Buuuut… who am I to talk?  I eat cold spinach-strawberry soup for breakfast.  And I like love it.
I also think it's funny to try on my bridesmaid dress (alteration success!) and send punk rock pics of myself to the bride-to-be:
Welcome to my pre-5K Friday night:
Pasta/pizza dinner with my bestie
Trip to HomeGoods
Talk self out of unnecessary fro-yo trip
Download pics
Make sure bridesmaid dress alterations are correct
Cup 'o tea
Watch movie bossman gave me – Glengarry Glen Ross
What 5K, you ask?  Welllll… I decided a couple of days ago to do it. By myself.  For no good reason.
File under: you might be a runner if…
So here I am at 6a on a Saturday morning drinking coffee, eating a banana, and blogging pre-race. Happy as a clam.
Earning this evening's bachelorette party-dinner, one race at a time. 😉
______________________________________________________________________________________
In case you're trying to decide what to do with all of the produce you bought whilst at Whole Paycheck Foods, over-excited about spring… I have a good one for ya!
For that reason, this time of year is killer on my grocery budget (or lack thereof).  However, this meal is low cost, fairly quick to assemble, and can be made in advance (in fact, its even better on day 2 once the flavors meld).
Beluga Lentils with a simple vinaigrette, tossed with onion, jalapeno, mango, and cucumber.
Served up with a sweet potato, topped with coconut butter and roasted cinnamon.
True, that frozen soup was a decent lunch as far as frozen foods go.  But THIS was well-deserved after a week of quickie lunches.  There will be a repeat tomorrow.
 _____________________________________________________________________________________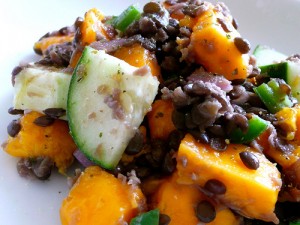 Mango-Cucumber Lentil Salad
1/4 C beluga lentils
1 1/4 C water
1/4 C red onion
1 jalapeno, seeds removed
Juice from 1/2 a lime
1 T EVOO (is used basil-infused)
1 T apple cider vinegar
1/2 tsp cumin
S+P, to taste
1 small mango (I used a champagne mango)
1/2 cucumber
Rinse the lentils, then put them in a small pot with the water.  Bring to a boil, then simmer gently until lentils are cooked, ~25 mins.  They will be tender, but hold their shape.
Meanwhile, mince the garlic cloves & chop the onion very finely. Heat 2 tbsp of olive oil in a frying pan, add the onion & garlic and cook over a very low heat until well softened but not coloured, about 10 – 12 minutes. Then remove from the heat.
Meanwhile, dice the onions, jalapeno, mango, and cucumber.  Place a small amount of EVOO in a pan and sauté onions until almost translucent, ~5 mins.  Add jalapenos and sauté 1-2 mins more (you want to mellow the flavor a bit without losing the crunch).
Whisk together the lime juice, EVOO, vinegar, cumin, and S+P.
When lentils are cooked, drain and place in a bowl to cool.  Pour the vinaigrette over the lentils and gently stir with a fork so that lentils are coated.
Mix in the mango and cucumber, season with S+P as needed.
Makes: 1 serving, easily multiplied
***
This rain may force an afternoon snooze for me!
Did you run a race today?  
If you are going out tonight (post-race?!), will you be taking a nap?