Can there be too much of a good thing?
I'm not sure I could tire of dark chocolate.
How about Nutella?  Can you imagine having 5.5 tons of it?  Thieves in Bad Hersfeld, Germany have made away with a trailer loaded up with just that much of the hazelnut-chocolate-y crack spread.  According to this report, that's about $20,700 of Nutella.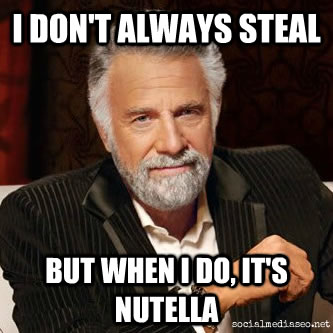 Seriously.  What would you do with all that nutella?  What are they going to do with it?!  More importantly… will this cause a shortage? 😉
___________________________________________________________________________________
On to healthier, less-alaming things.  It's WIAW time!  This is probably the last day of normal (for me) eats pre-competition.  Cheat days are gone and I'm back to being super-strict.  How do people do this for 16+ weeks?!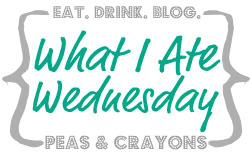 Check out my 7 low-sodium, protein-filled meals below, and then click here to head over to Jenn @ Peas and Crayons to get to see how more normal people are eating!
__________________________________________________________________________________
Meal 1:
This morning I woke up SORE.  After getting my workout mojo back, I've been hitting the gym hard.  After my morning cocktail (apple cider vinegar, water, Glutamine, and Fitmixer Aminos) I talked myself  into an include treadmill walk.  I promised myself I'd only go for 20 mins to work out the soreness.  Well, once I got started I realized I was feeling MUCH better and did 40 mins!
That's not to say that I didn't spend the entire walk thinking about breakfast.  I was dreaming up something tropical and full of flavor.  Mango-Coconut TVP Oats.  I added coconut and butter extracts, then imagined I was on an island.
I can't remember who suggested it, but adding a little baking powder to the original recipe made these nearly double in size.  I'm a volume eater, so I was in heaven.  Recipe at the bottom.
Meal 2:
This was so awkwardly timed.  I had posing practice so I didn't wan to do that on a full tummy, but I was doing a leg day after which I refuse to do on an empty tummy.  So I scarfed this down between the two.  I'd recommend a little more time for digestion before 4 sets of 25 ass-to-the-grass barbell squats.
Shredded chicken with raspberries and pepitas.  And black pepper.  It's good.  Really.
Meal 3:
I've seen Sarena do this for so long, I finally had to try it.  Cinnamon-roasted kabocha squash topped with vanilla protein powder "sauce."  OF course, I had to #strangebutgood-ify mine up by making the protein green.  I blended it with spinach and maple extract.
You can't taste the spinach… I don't think my trainer believed me.  Whatever.  It was just the thing to take for a quick protein + carb shot after a killer leg day.
Meal 4:
Is it weird to crave chicken?  I did.  Shredded chicken with green onion and diced cucumber.  I tossed it in a quick nutritional yeast dressing (nooch + apple cider vinegar + cumin + red pepper flakes).
Meal 5:
I have "tested" this dish more than any recipe I've posted on this blog.  I think I finally got it right tonight!!!  And I took pics.  Recipe will come verrrry soon (read: as soon as I can motivate to edit said pics).
It's an Indian curry.  I shared it with a friend, who gave it her stamp of approval. 🙂
Meal 6:
I missed my salmon today!  Normally I like it with fruit for meal 2, but I definitely couldn't do seafood right before squats (trust me – that is less-than-pleasent if it burps back up… TMI?).  Anyway, I decided to have evening salmon.
Sautéed portabello mushroom, red pepper, nutritional yeast, and salmon (pre-cooked during the Sunday food-prep with lemon and dill).
Meal 7:
I was conflicted tonight.  I needed more carbs, so it was a good night to try the baked chocolate chip Quest bar I've been seeing everywhere.  But I also wanted cottage cheese.  So I went half and half.  Turns out that was brilliant because I still have the other half of that bar to eat – it was AMAZING!
My cottage cheese was mixed with cocoa powder, vanilla, a little stevia, and cinnamon.  Topped with strawberries.
_________________________________________________________________________________

Mango-Coconut TVP Oatmeal
3/4 C water
1/2 tsp cinnamon
1/4 tsp coconut extract
1/4 tsp butter extract
Stevia (or other sweetener), to taste
1/4 C egg whites
1/8 tsp no-sodium baking powder
1/2 mango
Unsweetened coconut, toasted
Add TVP, water, cinnamon, extracts, and stevia to a small pot.  Stir, and bring to a boil over med-high heat.  Cook about 5-6 mins, or until liquid is mostly absorbed.
Reduce heat to medium.  Pour in egg whites and baking powder.  Allow to cook for 2-3 more mins, stirring frequently so that the egg doesn't form chunks.  The mixture will become voluminous.
Scoop into bowl and add mango and toasted coconut (I toasted mine in a pan with a bit of coconut oil).
Note: For a vegan option, add a flax egg or simply leave the egg out.
***
Diet changes come tomorrow.  No more cheat days.  Reality has set in… I will be walking across a stage in stripper heels and a bikini in a month.  Ack!
What would you like to have 5.5 TONS of?
What have you learned not to eat before a workout?