Mondays are not my favorite.
They are second only to Tuesday in their suck-factor.
This week I'm making an effort to be more positive about the start to the week and joining up with the diva-licious Katie in her Marvelous Monday link up.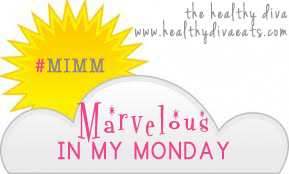 After an awesome weekend, I think the glow should carry over to Monday!
It all started Thursday night with a ATL blogger dinner.  I met up with Lee, Kat, Heather, Alayna, Stacy, and… HEATHER and her boyfriend, who are visiting for the weekend from Tennessee!!!  We ate at a local Ethiopian place called Desta (3086 Briarcliff Road Northeast, Atlanta, GA 30329; 404.929.0011).
If you've never had Ethiopian food, think of Indian food… but without the cardamom and coconut flavors.  And with fingers – you scoop your food with injera, a bread made from teff flour.  (No worries – they has hand sanitizer at the table.)  Injera is just teff flour and water mixed together and left to ferment for 2-3 days.  It has a light, spongy texture and a slightly sour taste due to the fermentation.  I know that sounds odd, but it works.  Kind of like kombucha.  It's also really rich in iron!
I ordered the Fish Tibs, which were excellent!  The injera are the things that look like rolled washcloths in the background:
 _______________________________________________________________________________________
Round two of the marvelous happened Friday night.  After a looooong day, I met up with Heather and her boyfriend again for a fun dinner at The Spence (75 5th St NW, Atlanta, GA 30308; 404.892.9111).  I don't repeat restaurants often, but this one is in the rotation.  It was started by Richard Blais of Top Chef fame, and actually lives up to the hype!
Here are a few of my favorites from what we ordered:
Clockwise, left to right:
Fois gras with 5-spice and candied quince

Butternut squash agnolotti with pig trotter, brussle leaves, and parsnip puree
Blood orange and champagne cake
Milk chocolate, peanut, and burnt banana ice cream (I

can't eat here without ordering this

)
The icing on that cake came when I checked my mail that evening.  Not one but TWO special deliveries.  Nuttzo sent me an entire jar of my favorite nut butter (I'm not just saying that).  This stuff is pricey, but I SWEAR it's worth every penny.  It was my first "treat" after my figure competition last year.
The second package was from Chobani.  They sent over a sampling of their new flavors and a spoon.  I was probably too excited about getting a spoon in the mail… but it's a really nice, heavy spoon.  I normally don't eat flavored yogurt due to the sugar content, but I've been using these as condiments and eating these 1/2 at a time.  My favorite flavor?  The fig with orange zest – I love that it has real pieces of fig!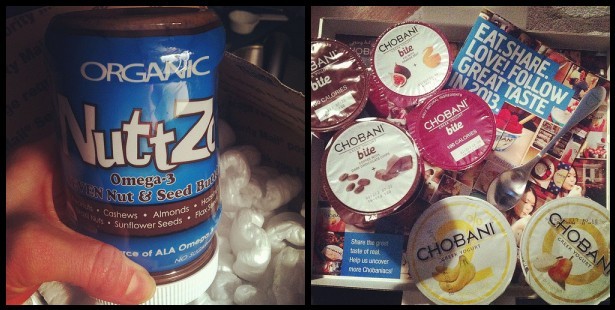 _______________________________________________________________________________________
The awesome didn't stop there!  
Saturday night I took my broccoli Heather, her BF, and another friend to a place I've been really excited to try.  7 Lamps (3400 Wooddale Dr NE #217, Atlanta, GA 30326; 404.467.8950) was opened by one of my favorite local chefs, Drew Van Leuvan.  I used to eat at ONE Midtown all the time when he was at the helm.
This was one of the best meals I've had in recent memory.  It was a TON of food, but it was great to get to sample a little bit of everything: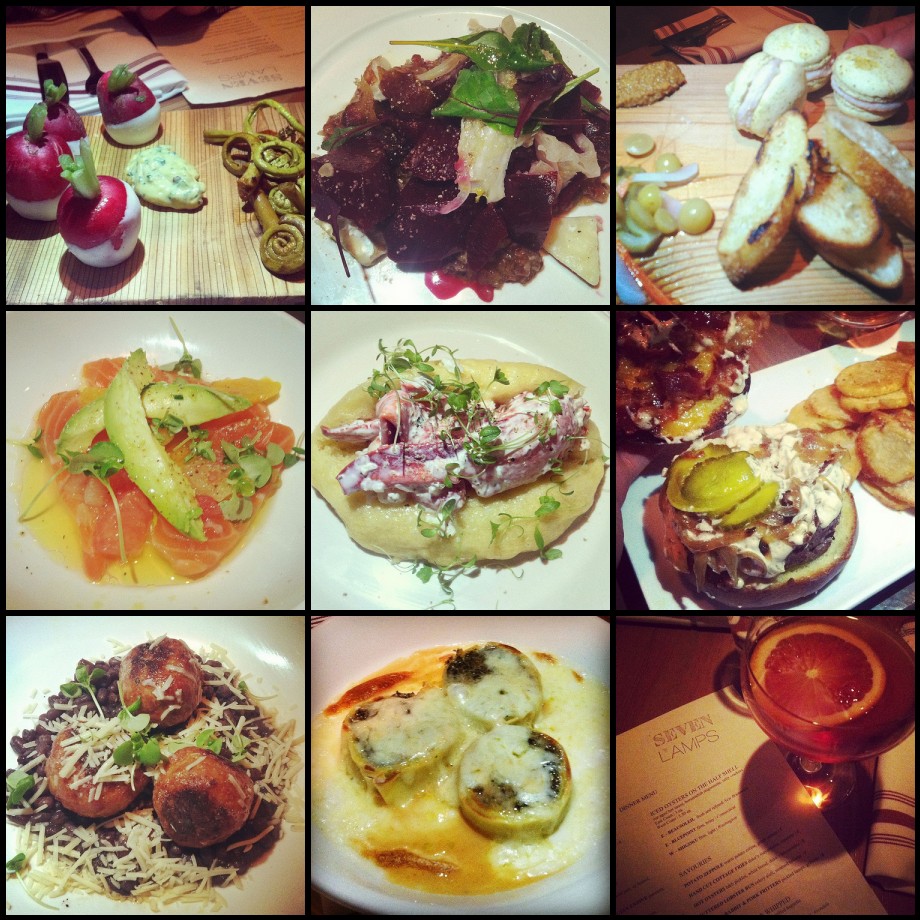 Clockwise, from the top left:
Butter-dipped radishes with mustard aioli and pickled Fiddlehead Ferns

Smoked ruby beets with medjool dates, bacon jam, oj fennel, and bucheron
Mortadella mousse in Sicilian pistachio macaroons with grilled baguette, bourbon mustard, and pickled grapes and celery
Sashimi of smoked Wild Salmon with navel orange, grapefruit, avocado, and pea shoots
Lobster roll with celery aioli on a steamed brioche bun
"Off the Menu" burger that is 50% brisket, 50% top round, and topped with housemade Thousand Island, caramelized onions, B & B pickles, and a grilled cheese gratin… and served with hand cut cottage fries
Spicy lamb meatballs with adzuki beans, sage, and brasied pearl onions
Savory crepes with wood grilled tuscan kale, vidalia onion, gruyere gratin, smoked vinaigrette
Red Dawn – Four Roses bourbon, pur likor spiced blood orange liqueur, benedictine, and black walnut bitters
The beet dish was a fantastic combination of flavors and textures.  You all know I love salty and sweet, so the bacon with the dates was a huge win for me.  It was well-balanced with the tangy OJ fennel.  The creaminess from the boucheron against the still-firm beets made the dish that much more fun to eat..
I'm sad that my favorite dish was the worst picture.  I was too excited to eat it!  The mortadella mousse macaroons were out of this world.  It was you childhood bologna sandwich, all grown up.  A little sweet, a little salty, and a perfect chew from the macaroons.  I could have eaten plates of these.
The burgers were ordered by the boys, but they shared a bite.  This may be a contender for the best burger in ATL (certainly better than H&F, and right there with Bocado). It's not on the menu and they don't like to serve them during dinner service… but you should order it anyway.  My eyes rolled back into my head upon taking a bite of the juicy burger.  It was the sort of burger that gets all over your face, but you don't care because you're too busy reveling in its deliciouness.
There is room for improvement on the salmon dish and the lobster.  Both were missing something… the smokiness wasn't apparently in the salmon, which I think would have made the dish.  As it were, it fell flat on my palate.  The lobster claw meat itself and the steamed bun were both fantastic.  It simply needed something else to lift it.  A little bit of heat or tang added to this would make it close to perfect.
The service was great.  Or server, Joseph, was attentive and clearly passionate about the menu.  "Head Mixtress" Arianne was slammed behind the bar, but took the time to talk with us about the drink selection.  Her suggestions were spot-on!  I'd come back just for a cocktail… but I'd probably have to order more macaroons too…
The night wasn't over yet!  We moved on the Victory Sandwich Bar, where we met up with a friend of Heather's BF.  Here's the thing about Victory.  They have Jack & Coke slushies.  A victory, indeed.
 _______________________________________________________________________________________
Sunday… I needed some down time!  I enjoyed a luxurious day in the weight room and some green!
***
It's going to be a crazy week.  I may have to re-read this post a few times.
What was your favorite part of the Super Bowl?  As a former advertising major, I dig the commercials!
What was weekend memories are making your Monday marvelous?