Like I ever need any luring into the weekend…
However, I was excited for the events of this past weekend.  I've recapped the best parts below, including purple basil, watermelon salad, my BFF's baby's 1st birthday (remember when he was born?), and dinner at the latest #ATL seafood hot spot.
First I want to take a moment to express my condolences to the people of Aurora, CO.  It is beyond me how anyone could do such an evil thing.  Furthermore, I don't understand why it's legal to buy those guns.  I know some people consider shooting to be a hobby, but we as a society have proven to ourselves over and over that assault rifles bring nothing but harm.
On to brighter things…
_______________________________________________________________________________________
1. Purple Basil
I found this delicious herb at my local Saturday farmer's market:
Purple Basil is not quite as sweet as the green variety, and a bit heartier. Much closer to a romaine lettuce leaf in texture.  I loved it on a P28 Protein Bagel with some Greek yogurt and an heirloom tomato (also from the market).  served with a side of these Indian Roasted Chickpeas – an old recipe, but one I return to often!
2. Baby Jackson Turned 1
My nest friend's little boy, Jackson, had his 1st birthday this weekend.  I'm sure he won't remember any of it, but we have a fantastic time celebrating with him!  Doesn't he look just like his daddy (pic below)?
We had a some tasty eats compliments of the baby's grandmother.  I brought a new take on this cotija-watermelon salad that I made for his mamma's baby shower a little over a year ago.
This new twist contained:
Watermelon
Cucumber
Blueberries
Jalapeno
Feta cheese
Mint
Fresh lime juice
Light drizzle of olive oil
Pepper
Of course there was cake.  Ever the gentleman, Jackson wasn't about to face-plant into that baby cake like his Aunt Laura would have.
3. Dinner at Lure
My friend Keith and I headed to the latest restaurant concept by Fifth Group (an Atlanta restaurant group), Lure.  This group is one of the best in Atlanta, due largely in part to their staff.  The serve and attention to detail is always top-notch, and Lure upholds that tradition.
We began the meal with a couple of small plates: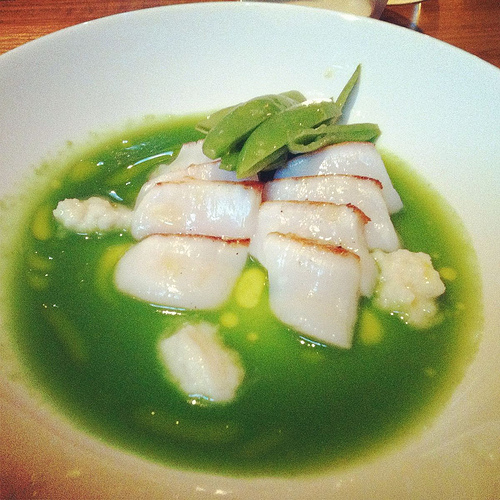 The seared scallop crudo with sugar snap peas and horseradish was a huge win.  I can't recall ever having a more fresh piece of seafood.  The slightly sweet, crisp snap peas was the perfect light pairing with the scallop, and the dollops of horseradish gave a nice kick to the dish.  This was my favorite dish of the night – love at first bite.
The next dish was a plate of French Horn mushrooms with baba ghannouj, chickpeas, and a parsley salad.  I loved the mushrooms, and the bright lemon juice the dressed the parsley.  I found the baba ghannouj to be a bit salty (I'm sensitive to salt, so you may think it's perfect).
For round two, we ordered one more small plate and a main.  We were absorbed in conversation, so we didn't notice our second dishes were taking a while to come out.  That didn't stop a manager from coming out to apologize and off us free soup!  I didn't get a pic of the Tom Yum Shrimp Bisque, but we very much appreciated the gesture.
Our entrees did arrive, and they were beautiful:
The small plate we chose was grilled octopus & pork lettuce wraps with basil, cilantro, red onion, rice noodles, and spicy Vietnamese sauce.  I loved the heat in the sauce.  The octopus was good, not too chewy… but I barely remember the pork.
My main was a sautéed black grouper served atop silver queen corn, curry, yogurt sauce, and a spicy lime pickle.  I was surprised at how well the strong flavors worked with the flaky fish.  It was perfectly executed.  The spice from the curry was excellent with the sweetness of the worn and the slightly sour citrus of the lime pickle.  It didn't top the scallops, but it was close!
We were comfortably full… but it was my cheat day… how could I pass up dessert?  After polling everyone via Instagram, I selected the guava and coconut bread pudding.
This deliciousness was served with a creme anglaise and toasted hazelnuts.  We loved the bread – a brioche from the famed H&F Bread Co.  The toasted hazelnuts we like the icing on this cake.  Ever the texture lover, I enjoyed their nutty crunch with the chewy toasted coconut that coated the soft bread pudding.  It was also the perfect size and sweet-level.  Just enough to hit the spot without regrets.
Overall, this 5-day old restaurant impressed me.  As I said, the service was perfect.  The food was solid as well; it has a distinct "Fifth-Group" feel.  In comparison to The Optimist (the other new Atlanta seafood restaurant I wrote up last week), it is different.  The Optimist is more "farm-to-table" seafood; it uses few ingredients and allows the main ingredient to speak for itself.  Lure focuses more on spices and offers many dishes with of an "ethic" twist.  Both good in their own way.
Side note: Lure's wine list is much better, another signature of this restaurant group.
______________________________________________________________________________________
I didn't just eat my way through the entire weekend!  I stuck to my workout plan and was very good about getting in my 7 meals after admitted last Wednesday to not being excited about eating anything.  This week's workouts were pretty exciting to me – I'm starting to notice bigger gains in my arms.  I was able to do preacher curls with an EZ curl bar that I couldn't think about curling a month ago!
The real boost happened Saturday at the farmer's market.  I was walking around, eating free samples (it was cheat day!), and one of the women working looked at me and said "flex."  I said "excuse me?" and she repeated herself.  I thought she was kidding, but she was serious!  I blushed hard… but obliged.  LOL!  It made my day.  Thank you, free sample lady. 🙂
Workout Recap (7/16- 7/23):
Monday – Back/Triceps, calf raises
Tuesday – Shoulders/Glutes, 2 mile walk
Wednesday – Chest/Biceps, calf raises, 1 mile walk
Thursday – Legs (w/ trainer), 2 mile walk
Friday – Back/Triceps, calf raises, 100 push-ups, 2 mile walk
Saturday – Shoulders/Glutes, 3 mile walk
Sunday – *rest day* … easy 3 mile walk
***
I also cooked a lot this weekend.  I cannot wait to share some new recipes this week, including one reader request! 🙂
What was the best part of your weekend?
What new item have you tried recently?  Have you ever had purple basil?