Is "luck" real?
If we create our own fate, then nothing is really sheer luck…
Whatever the case may be, I felt pretty lucky this weekend.  To start it out right, I was lucky to be invited to a preview lunch for the Atlanta Food & Wine Festival.  It is far and away my favorite food event of the year.
From the delicious food they served to the sneak preview of the class schedule, the organizers, Dominique Love and Elizabeth Feichter, are going to put on the best one yet!  If you haven't been before, this is the year to try it out!  One of my favorite things about this festival is that in addition to the amazing tasting tents, there are a ton of courses you can attend.  I always learn something and meet new friends.
---
The food luck continued with a fabulous meal at one of Atlanta's best new restaurants, Better Half (349 14th St. Bldg C Atlanta, GA 30318; 404-695-4547).  It was started by Zach and Cristina Meloy after spending a few years growing and learning with Push Start Kitchen (my favorite underground supper club).  Even cooler is that they funded the restaurant with  Kickstarter campaign!  The story behind this place alone makes you want to support it!
The menu changes daily, but I trust anything Zach makes will be amazing.  My friend and I split several items and left perfectly sated:
Apps: roasted garlic panisse (chickpea flour cake) with preserved lemon mayonnaise, candied fennel, and pickled shallot and 2 crispy pork belly pieces with black bean puree and cucumber pico de gallo
Mains: striped bass, rice grits, chile pudding, spinach, and shallot rings, and an 18 hour lamb neck, tacu- tacu (bean cake), crispy plantain, and cilantro puree
Desserts: vanilla cremeux, butterscotch, cocoa crumb, and orange puree, and a cocoa sponge with cajeta and smoked chocolate ice cream
The panisse may have been my favorite.  The chickpea cake was perfectly crisped on the outside, but the inside was light and creamy.  I loved the texture contrast in each bite, and the bright lemon mayo was the perfect flavor accent.
---
This last item really was lucky.  Jennifer Nettles was playing at my favorite venue in Atlanta Saturday night.  I had a giant brain fart and forgot to get tickets.  With nothing else to do, I decided to walk down to the show and see if anyone was scalping tickets.  They were not.
I almost turned away, but saw a lone guy standing at the Kicks 101.5 (our local country radio station) booth.  It was a long shot, but I had nothing to lose… I asked if they happened to have an extra ticket.  He had TWO!  And he gave them to me for FREE.  It was unreal.  I thanked him over and over and then called my mamma.  I'm a good kid. 😉
Naturally, I enjoyed a celebration cocktail and a sandwich while I waited for Mom to get there.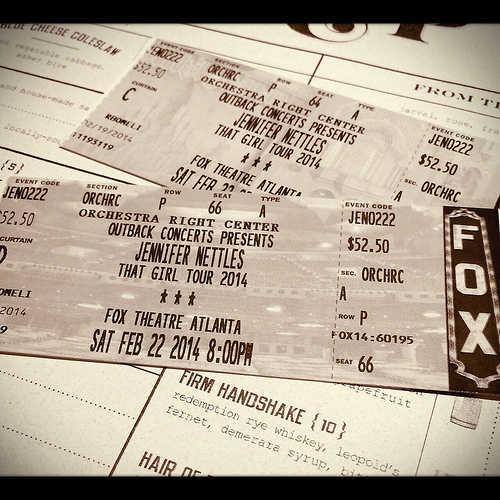 We've been listening to Jennifer since way before her Sugarland days (she started solo and with a non-country band, Soul Miner's daughter).  I was a little sad she didn't play her old stuff, but it was still an amazing show.
That woman's voice fills a room like no other!
***
Luck or not, it was a great weekend!  I bet Katie would call it marvelous. 😉
Do you believe in luck?  When was your last "lucky" occurrence?
Do you like Sugarland/Jennifer Nettles?  Did you know she had a career before country?