I'm terrible at making nut butter.  
Does that get me kicked out of the blog world?  The only one I've ever successfully made was a Spiced Almond Butter.
Until today.  I found a workaround.
One my training diet, I can't have a ton of fats.  However, I do get to have a handful of almonds or seeds each day.  I'm forever searching for a way to maximize the nutty deliciousness.  What can I say – I'm a volume eater.
With this low-fat peanut almond butter, I can have a heaping 2 tablespoons of the good stuff.  I've been taking full advantage – smearing it on toast, stirring it into Greek yogurt, dipping apple slices in it… name your favorite way to eat peanut butter and this is a worthy sub!
For a protein-filled breakfast, I slathered it on a piece of P28 high protein bread and topped it with fresh peaches.
The true test was when I craved it on a cheat day.  On a day when anything goes, I still slathered a piece of toasted bread with this butter and happily snacked away.  Of course, that "bread" was a slice of chocolate pound cake. 😉
Recipe at the bottom, after a quick, unrelated review…
---
You may have seen Energy Bits reviews floating around the blogs lately.  At 64% protein, I REALLY wanted these to live up to the hype.
Spirulina has been gaining popularity lately.  These bits are made from 100% organic spirulina algae.  It's super high in protein, low in calories, and will supposedly "boost your athletic performance, supercharge your run or crank up your endurance while working or working out."
Sounds almost too good to be true, right?
Well…. it was for me.  I didn't notice the slightest difference.
Ideally you are supposed to chew them.  I tried one and nearly gagged, so I opted to swallow the rest.  I waited a good 45 mins to let it hit my system before working out, but no dice.  Maybe they'd work if you took them more consistently?
I received these at no charge through the Fitfluential Ambassador  program.  This is my honest opinion.  I wanted to like them… but I can't see spending $115 on this product.  Thank you to the Energy Bits crew for allowing me to sample the product!
---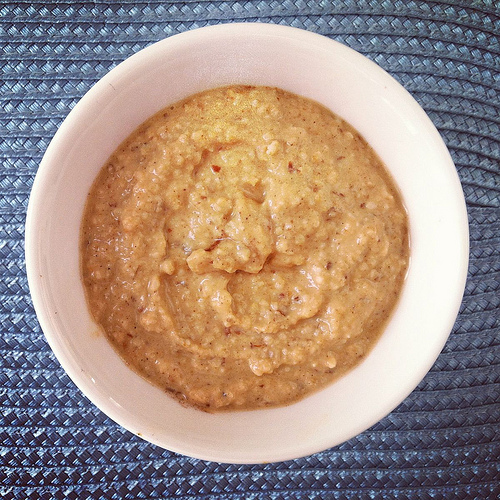 Low-Fat Peanut Almond Butter
1/4 cup almond flour
3 T peanut flour
1/4 cup almond milk
6 drops vanilla liquid stevia
1/4 tsp cinnamon (optional)
Mix nut flours and almond milk until combined.  You may adjust liquids to desired consistency.  If too thin, place the mix in the fridge to thicken. Add sweetener and cinnamon, if desired.
Makes ~8T.
Approximate Nutritionals (per tablespoon): 32 calories, 2.2g fat, 5.6g sodium, 1.6g carbohydrates, 0.8g fiber, 0.3g sugar, 2.3g protein
***
Today my dad would have turned 57.  It's hard to believe he's been gone 4 years… but he is forever my inspiration.  Happy Birthday, Daddy.
"Death ends a life, not a relationship." – Mitch Albom
Are you a successful nut butter maker? (Sarah, you can't answer, #nuttybutter )
What is your favorite nut butter pairing?