I took a lot of classes this weekend.
If only high school had been this much fun.
Atlanta's Food & Wine Festival is my favorite event of the year.  It's not just another tasting tent cattle call.  Food and wine experts come from all over the Southeast to teach classes, host tastings, and showcase their best on the tasting trails.
Food and wine are also great bonding agents.  I tend to go to these event alone, which has lead to meeting a ton of great people.  This year I went with my friend Stephanie, whom I met at last year's festival in the beer and doughnut pairing class!
The most exciting part about the 3-day festival to me is the opportunity to take so many classes.  Each year they seem to get better and better!  Today I want to share a few of the marvelous lessons I learned.  At 10am Saturday morning I found myself with 4 drinks in front of me in a class called "Drink More, Consume Less."
If you know me, you know I enjoy a good beverage.  I do not enjoy the hangover after a few, so this class was really interesting to me.  Julie Dalton, a sommelier from Wit & Wisdom in Maryland, began the class by admitting she used to be a big red wine drinker and turned her nose up at wines like Riesling.  I 100% identify with bring a red wine snob!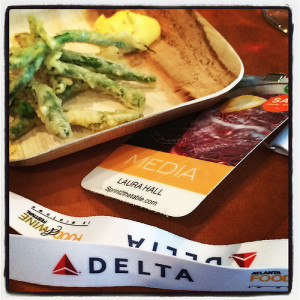 What I learned was that huge red wines aren't the only wines that are fun to pair with food.  A light, mineral-y Chablis was fantastic with tempura fried green beans and saffron aioli.  I also really liked the beans paired with the Lambrusco (a sweet red wine).  The common thread there was that both wines are slightly effervescent.  That bit of bubble combined with something crunchy is, as Julie said, "like a ping pong in your mouth."
It was another pairing that surprised me most though.  We were given a Riesling which was insanely food with a slice of proscuitto.  The sweet wine with the salty meat was perfect.  I love a sweet and salty combo… how did I not think to do with with food and wine before?!
Yet another sweet and salty dish was a decadent dollop of Nutella with salted Marcona almonds.  That is lovely on it's own, but with a light cocktail made of sweet vermouth, club soda, and bitters it was almost refreshing.  The funny part was that I thought the cocktail boring on it's own, but it came alive with the Nutella!  #strangebutgood pairing!
Tip: If you're ever wondering how sweet wine will be, check the alcohol content.  If it's low (~7%), that means it has more residual sugar and will be sweeter.
---
Having been very responsible with my low alcohol booze before noon, at 1p I bellied up to the tasting table in a "Spicy Bubbles" class.  I love heat and I love bubbles, and this class did not disappoint!  Jon-David Headrick of Jon David Headrick Selections, and Andrea Reusing, Chef and Owner of Lantern Restaurant in Chapel Hill, NC, led the hour-long class.
If you're like me, sparkling wine is normally a pre-dinner or dessert drink.  The goal of this pairing was to show us how it can work throughout a meal with some heat.  As if I had any doubts, I knew I was in the right class when the first heat pairing was popcorn coated in a spicy Indian curry called Vandouvan and a Brut Champagne. 
One of my favorite pairings was the Dosnon & Lepage Blanc de Blancs "Récolte Blanche" with a Thai green papaya salad.  The salad itself was made up to julienned green papaya, carrots, onion, Thai chills, fish sauce, toasted ground dried shrimp, peanuts, and cilantro (must re-create ASAP!).  It was extremely spicy, but the Champagne was perfect for it.  This particular Champagne had a ton of bubbles, which we learned is an indicator that it will be good with spicier food.  More bubbles = more spice.
You may be under the impression that Champagne is expensive… and you are right.  Sparkling wine can be just a good though!  Champagne is only Champagne because of the region where it's grown in France!  You can find very high quality sparkling wine outside of the region.
We tasted a Jean-Francois Merieau "Bulles" Touraine Sparkling from the Loire Valley, which is the second largest French sparkling wine production area.  Loire Valley sparklers are made using the traditional method, the same as in Champagne, but are typically lower cost.  This one was under $20!  It was ginger-y and delicious – it's low dosage* left it crisp and refreshing, perfect for the shrimp it was paired with. 
*Dosage simply refers to how much sugar is added just before corking, which determines the sweetness level of the finished wine.
***
Now I really am getting back on track, I swear.  While it's been marvelous, between vacation and this weekend my digestive system is ready for a break.
Would you ever go to event like this alone?  It's a great way to meet new people!
Do you like sparkling wines?  How about lower alcohol drinks?