It may seem strange to travel to another country and stay with someone you don't know.
I didn't hesitate.
Lucie was so kind to open up her home to me for the first leg of my travels.  It was funny – I didn't really occur to me that I didn't know her in real life until someone commented that it was brave on both our parts to plan to spend this time together.  Thankfully it went off without a problem!  (I think… Lucie will have to tell her side of the story. ;))
As I write this, I'm sitting in Lucie's kitchen while she sleeps.  Tomorrow she gets up early for the gym and work, and I sleep in a bit before boarding a train to Interlaken to go canyoning.  After spending the day in France without her, I know I'll miss her already!  It's crazy, but I feel like we've been friends for years!
But I get ahead of myself.  I arrived on Wednesday afternoon having been traveling from the US since Tuesday evening.  It sounds worse than it was.  I napped on the plane and train; by the time Lucie picked me up from the train station I was running on adrenaline  – so excited to finally be here!
In true blogger fashion, Lucie and I greeted each other with gifts of food.  She had this beautiful mix of Swiss goodies waiting on my bed:
From there we did the next logical thing for bloggers to do – we had a healthy snack before going for a trail run!
The recipe for this gluten-free Coconut Blueberry Oat Bread is posted on Lucie's blog.  You should make it – I am as soon as I get home!  It was perfectly moist and high in protein.  Blueberries are my favorite to bake with because they get so juicy and practically burst in your mouth (TWSS).  It's also delicious with almond butter.
After a brief rest/gab-fest, we hit the trails.  It felt wonderful to be out in the fresh air after being cooped up on planes and trains.  Lucie showed me her favorite route – it was beautiful and green!
Along the way they had different fitness stations.  We stopped along the way to play on the rings and do some planking.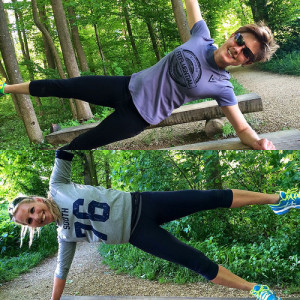 Back home, Lucie told me I smelled and needed to shower before dinner.  (Kidding – she's too nice to say that.  But I did smell.)
All cleaned up, we rode bikes (eek!) to a place she once told me we would go if I ever visited.  Little did she know it would actually happen!  The restaurant is callee Jay's Indian Food.  Yes, Indian in Switzerland.  It was fantastic!  Jay  is a friend of Lucie's.  He was fabulous – I felt like a special guest!  We were treated with a glass of Prosecco to begin, followed by papadum and a gift from the kitchen of mushrooms and a delicious curry sauce.
He then brought out a bottle of Amarone having heard it is my favorite!  It was the perfect treat.  We shared an appetizer of samosas, chicken tandoori, and garlic prawns, followed by thali-style entrees. I ordered the sampler so I could try the fish, chicken, lamb, and vegetarian offerings.  All were excellent, but the spicy fish was my favorite!  
To end the evening, Jay accommodated our chocolate craving with a small sliced loaf… and mayyyyybe a side of whiskey.  
More to come later, but I couldn't help but to share a bit before I leave.  HUGE thank you to Lucie for being an amazing hostess.  You always wonder if people are the same in reality as they portray themselves to be on their blogs.  Lucie is even better!!!  She's marvelous. 😉
***
Swiss Learning, Day 1: I can not only ride a bike, but I can do so while slightly tipsy.  😉
Have you ever stayed with someone you've never met?
Do you keep moving after a long trip or do you crash?  I find powering through is the best way to combat jet lag!