In honor of the long weekend I took a little break.
Not from activity, just blogging.  Of course lots happened in the meantime!
1. I made it back from a whirlwind tour of the country.
2. As soon as I located my car at the airport (harder than it sounds when you leave if for a week), I was on my way to pick up my BFF for a post-baby "date" at one of Atlanta's best restaurants – Restaurant Eugene.
3. After a morning run, I spent some QT with Mom.  Poolside.
4. Did a little shopping and went to dinner with the girls.  We shared everything – my favorite way to dine!
5. The next day I woke up to find that my PB&J Pancakes made the FoodBuzz Top 9!  Thanks to all who "buzz'd!!!"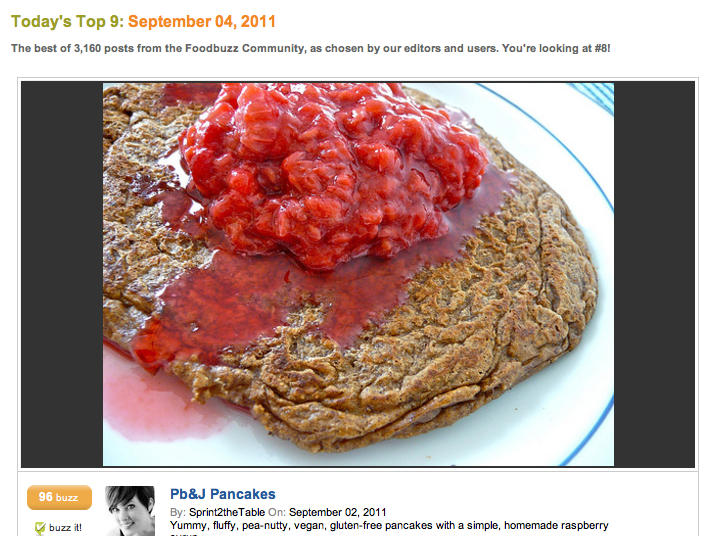 6. I met my Italy travel companion and foodie friend for a little tennis before lunch… and we saw a pirate along the way.
7. After another epic trip to the Dekalb Farmer's Market (a.k.a. Cook's Heaven), we reconvened to grill up a tasty dinner.
8. No pics today… but I did get in a great 6.5 mile run.  70 degrees and drizzling rain – bad for my tan, perfect for my run.
_____________________________________________________________________________________
I was also honored by TWO fabulous ladies – Haley @ Oat Couture and Lisa @ Healthful Sense – with the Butterfly Award!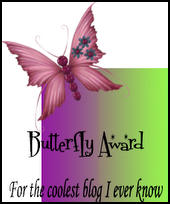 Check out their blogs if you don't already!
Haley posts some of the best workouts I've seen yet.  Her stories are also fantastic – every time she recaps a night out with friends I'm convinced we were meant to be BFFs.
Lisa come up with some of the best "healthy" recipes on the web.  I recently made her Vegan Fudge Brownies and loved every bite!  She also has a beautiful family that I love reading about.
1. Name your favourite colour: Call me boring, but black is my favorite color.  Look in my closet if you don't believe me.
2. Name your favourite song: I love music, so this is really hard.  I'm going to go with a stand by – Rhiannon by Stevie Nicks (of Fleetwood Mac fame).  Check her out in 1976:
3. Name your favourite dessert: Anything chocolate and cake-like.  Like the S'mores Brownies I made.  Pass the fork and don't even think about trying to steal a bite.
4. What wizzes you off:  Unsolicited opinions.  If I want your opinion, I'll give it to you.
5. When you're upset you: I get mad – I'm not a crier.
6. Your favourite pet: Growing up we had a cat named Twinkle.  This cat was the best cat in the world.  As a kitten she would patiently let my sisters and me dress her in doll clothes.  As a grown cat who was introduced to the new dog she was tolerant and even shared a squirrel or two.  In college I cried like a small child when mom called to tell me she had to be put down. 🙁
7. Black or white:  See question #1
8. Your biggest fear:  Throwing up.  I had a phobia as a child and would call mom begging her to get me from school because I thought I'd be sick in public.  I'm not sure where that came from, but to this day I refuse to get sick.
9. Best feature:  I like my arms.  Thank you, push-ups.  I'm up to 100 now!
10. Everyday attitude: I'm echoing Haley… totally sarcastic, can get a little bitchy… but in a way that has a touch of humor.  I'm generally happy, but have little patience (hence, I can NEVER reproduce).  It's possible that I annoy everyone around me with my enthusiasm for food.
11. What is perfection:  Perfection… no worries, total freedom to travel and explore different cultures.  Tasting menus.  Good friends.  Good wine.  Constant adventure and growth.
12. Guilty pleasure:  Waffle House.  I have a love for chocolate chip waffles, hash browns (well-done), and the patrons of this fine establishment.
Now I have the honor of tagging 7 other people to share the same fun facts for the Butterfly Award!  In no particular order:
***
I'm enjoying my free Chick-fil-a breakfast this morning.  Mmmmm…
What was your favorite part of the long weekend?
Do you have a little shock when you have to return to work after 3 days off?  I do!