Apparently I am a glutton for punishment challenges.
Challenge #1
It's been 25 days since I've had any animal product.  So what do I do?  Sign on for the 30 Day Vegan Challenge being hosted by Amanda @ Run to the Finish.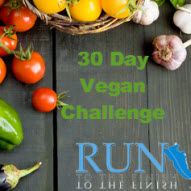 Now that I've committed to 30 days, I am terrified I can't do it.  What happens when I go out to eat and all I can have the the wilted side salad?  This may seem like a no-brainer for most, but dining out is like an expensive Olympic sport for me.
I mentioned that while on the cleanse I saved about $350 a week – that's how bad my foodie habits were.  Hence, the new Vitamix.  I earned that present! 🙂
Eating a plant-based diet feels good to my body.  I know this, and I want to fuel myself the right way.  Heather @ Better with Veggies gave me the advice to focus on the things I CAN eat (she also has a great post up today about being a plant-strong athlete).  There are so many delicious veggie dishes in the world, and I am at my happiest when I'm being creative in the kitchen.
Eating green and saving green.  FTW.
…But would it be wrong to give myself another present at the end of this 30 days?  Maybe I'll take the plunge and book a French vacation…
Challenge #2
This is a much-needed challenge – I'm cleaning out my closet!
The great and wonderful Pinterest gave me the idea to do a 6 month closet clean out.  This pin went under my "Brilliant Ideas" board.
The idea is to flip all your hangers to face the wrong way. As you wear items, you return the hanger to face the "right" way when you replace the clothing.  After 6 months' time you donate anything that is on a hanger turned back out.  I love the added benefit or a charitable donation!
I've been at it for 1 week and so far have noticed that I wear the same things.  A LOT.   People at work must think I only own 3 outfits, all of them black.
***
I love the added motivation of a challenge, as well as the camaraderie when you're taking it on with friends!
What would you treat yourself with if you saved $1,400 in one month?  Good god, that sounds like a lot when you add it up…
Have you signed on the a challenge recently?  Want to join me in one of these? 🙂