I always look forward to Christmas.
…and I am always ready for it to be OVER.  
Things are beginning to calm down again, and I couldn't be more ready for it!  🙂
Tonight I am going to my first derby practice in a month!  I really want to get some weights in this afternoon, but I'm also pretty sore from P90X on Monday.
Things I am ready to get back to:
My condo
Quiet
Food that doesn't involve sugar (*gasp*)
Running more regularly
Derby
Cereal (can you tell I haven't had breakfast yet?!)
______________________________________________________________________________________
Speaking of breakfast…
Angela continues to amaze over at Oh She Glows.  Carrot Cake Oatmeal.
It is literally like eating carrot cake batter for breakfast.  I made a couple of modifications… make your own adjustments and eat cake for breakfast!
I'm pretty sure it doesn't get better than this.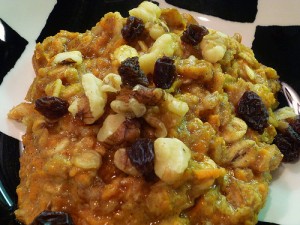 Carrot Cake Oatmeal
1.25 C unsweetened vanilla almond milk (or other milk-substance)
1 tsp vanilla extract
1 T cream of coconut
1 T apple cider vinegar
1 tsp cinnamon
1/4 tsp ground ginger
1/4 tsp fresh ground nutmeg
1/8 tsp sea salt
1/2 tsp fresh lemon juice
1 large carrot, finely grated (like you would for a carrot cake)
1/4 C oats
1/4 C muesli
1 scoop vanilla protein powder (I use Growing Naturals)
In a medium pot over medium heat, add milk, lemon juice, coconut milk cream, and apple cider vinegar, stirring to combine.  Whisk in spices and salt.
Stir in grated carrots and oats.  Reduce heat to medium-low. Cook until mixture has thickened (~8 minutes), stirring as needed.  Mix in protein powder, cooking 1-2 mins more to warm.  Remove from heat and pour into a bowl.
Have fun with the toppings!  I used dried cranberries, pecans, and a drizzle of maple syrup.