Driving across the US can be as entertaining as going to Europe.
Just in a more… American… way.  Go 'Merica.
If you've been following along, you know that Vegas and I picked up a hitchhiker at Graceland.  The King himself.
The second day of our cross country move involved a trip to Graceland.  How could we pass up the bobble head Elvis that would become the mascot for our journey?  We also couldn't pass up a grilled banana and peanut butter sandwich.
Lesson From Route 66: You don't always be perfectly healthy.  Live life.  When in Rome, eat the greasy sandwich.  Or whatever… you know what I mean.
He came with us to meet Heather in Little Rock, and he saw the house my dad grew up in in Conway.  That night we rolled into Oklahoma City and crashed.  Not literally – just in the bed.  Who knew sitting all day could be so tiring?!
Lesson From Route 66: Picking up hitchhiker isn't always a bad thing.  And you're never too old to play with dolls.
Day 3 involved a stop in Amarillo, TX.  I had never been to the northern part of the state and it certainly lived up to the saying that "everything is bigger in Texas."
We stopped in a couple of teeny little towns where we found random old steak houses and the world's largest barbed wire museum.  We did our best redneck tourist stop at the leaning water tower of Britten.  One urban legend says the guy (Britten) got drunk one night and bet his friend that he could build a leaning water tower that could remain upright.
Lesson From Route 66: Always do sober what you said you'd do drunk… it'll teach you to keep yer pie hole shut.
Once in Amarillo, we hit up The Big Texan.  Home of the free 72 ounce steak.  Free if you eat the whole thing in under an hour, that is.  We were dead set on taking the challenge.  Vegas and I were even going to race each other.  Once we got there and saw what 72 ounces of meat looked like, we decided to pass. #thatswhatshesaid
Lesson From Route 66: Being competitive is fun, but don't be a damned idiot about it.  Can you imagine being in the car with us after that?!
Post-steak we stopped at Cadillac Ranch.  It wasn't as big as I'd imagined, but worth a stop to see the craziness.  Oddly, it wasn't built by Texans.  A bunch of artsy-types from San Fran erected it.  The Cadillacs have now been half-buried in the ground for long than they were on the road.  Even yard art is bigger in Texas.
Day 4 we woke up in Albuquerque, NM.  We don't remember getting there.  Just kidding (sort of).  We got in late the night before and I woke up all confused about what day it even was.  A trip to Whole Foods was needed to resuscitate my brain.  There is a giant red arrow pointing to the parking lot.  I call that a sign from God!  The King got more sandwich fixins.  We got the hot bar.  Maybe that's lame since we could have eaten local food…
Lesson From Route 66: Don't question a good thing. Or your stomach.  Whole Foods is awesome in any state.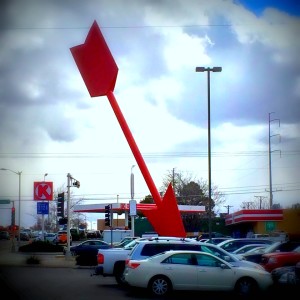 On the way to Arizona we passed a casino in the middle of nowhere.  We had to stop because I had an interview (speaking of… does anyone want to hire me for freelance marketing/social/writing work?).  Vegas played poker (and won $200… she says – and I quote – "I am a video poker master").  We learned that there is such a thing as a casino that doesn't serve alcohol.  #fail
The Continental Divide was a good time, as was the giant tee pee right across the Arizona border.  We bought more M&Ms.  I think we literally bought a pack a day.  We also bought our fair share of Indian handmade jewelry and tsotchkes.  Not to mention local beers.
Lesson From Route 66: Sometimes it's less about buying stuff than it is about supporting the locals.  Both of us have Indian blood… supporting the economy a little after all this country has put Native Americans through just seems right.
Flagstaff, Arizona may have been my favorite stop.  There was snow on the ground, but it was really quite warm in the sunshine.  At this point we decided to slow down a bit.  We'd been driving about 8 hours a day and were a day ahead of the mover.  Why not sleep in and spend the early afternoon exploring a new town?  We stayed in a cute little boutique hotel and lazily ordered room service for breakfast.  Our hunk of burnin' love really loved the hot sauce.  It was just his size!
Elvis was a hit in Flagstaff.  He got to visit his distant relatives, the gnomes.  He enjoyed a nice spanish lunch before sweet-talking the lady at The Sweet Shoppe into letting him get behind her counter (tee hee).  We got a couple of gelatos out of it – peanut butter-peanut butter cup and rocky road – so we didn't give him too hard of a time.
Lesson From Route 66: It's a marathon, not a sprint.  Slow it down when the mood hits.  See the sights.
Day 5.  Seligman, AZ.  At this point I'm actually surprised we haven't had the first argument.  We are great together, don't get me wrong.  But 5 days in the car can make anyone cranky.  Except us, apparently.  We choose laughter.
Lesson From Route 66: Laugh at yourself.  Belly laugh.  You'll make mistakes.  You'll run over skunks (I SWEAR it wasn't me!).  You'll drop house plants off of the back of toilets (don't ask).  Enjoy the ride.
Laughter is why I didn't kill Vegas when she nearly killed Elvis.  After falling from the great heights of a tractor, Elvis sustained injuries to his neck and right arm.  The sign seemed especially appropriate.  For all 3 of us.  #cheerstosuperglue
Rolling down the road we went, into the little town of Seligman, AZ.  There was so much to see… but first Elvis had to pee.  Super clean toilets at Angel & Velma's in Seligman, btw.
Lesson From Route 66: Never pass up a chance to pee.  On these long stretches you don't know where the next clean potty will be.
I swear, if you ever have the chance to drive down Route 66, take it.  We almost flew.  I'd have regretted missing any second of this.  'Merica at it's finest.  The people along these little stops were fabulous.  Every stop was a little piece of someone leaving their mark.  Being a part of that and sharing it with Vegas (and Elvis) was an experience I'll never forget.
Lesson From Route 66: Run flat tires are seriously reliable.  TN and OK need to put more money into road maintenance.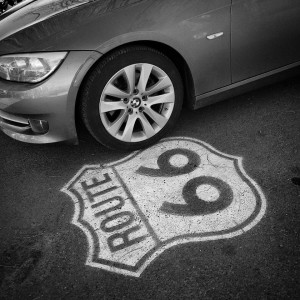 ***
If you're ever driving across the US, check out this site (absolutely no affiliation).  Full of marvelous sights like these!
Have you ever driven across America? 
What lessons have you learned from traveling?