Important tip: read labels.
I'm new to this seafood thing.  It still makes me a little squeamish to touch it.
When I finally located low-sodium canned salmon I was so excited that I neglected to check the label to ensure it was de-boned with the skin removed.  It most certainly was not.

WHY would anyone want canned salmon with the skin and bones?!  They DO NOT.  I'll gladly pay an extra dollar or two for that task to be done.
Stubbornness trumped squeamishness, and I dug through the damn can of salmon removing all the icky bits.
It paid off.  These cakes were the best seafood creation I've made yet!
I first worried I was adding too much lemon, but discovered that it only makes salmon more delicious.  The fresh thyme goes well with lemon, and adds a light slightly sweet accent.
These cakes are kept moist by the grated zucchini.  I loved its creamy and faintly nutty flavor made the salmon that much richer.
A bit of coriander goes well here, as it also has a bit of a nutty, citrus-y flavor that is well-balanced with the lemon and thyme.
I paired my cakes with a simple salad of raw asparagus, roasted beets, and chopped broccoli.  A quick toss is rice vinegar and pepper kept it light and refreshing.  Asparagus is surprisingly high in protein; that and the fiber from the broccoli make this a pleasantly filling salad.
The earthy beets against the crunch of the sweet, raw greens is fantastic.  Not to mention the colors – I've said it before, but colorful food just tastes better.  I made it several times this past week!
Recipes at bottom of post.
_____________________________________________________________________________
Workout Recap
Plantar fasciitis is a weird thing.  It hurt all week, and I decided to resume regular leg-day workouts as long as it didn't make it worse.  Lo and behold, after 2 hard leg days it finally QUIT hurting.  Sunday was supposed to be a rest day, but I was so exited to be pain-free that I ran some sprints (my only trainer-approved cardio, as sprinting is good for the glutes).  "Sprint" is used loosely… I was so sore from leg day that they were more like sprints in slow motion. 🙂
I also found the secret to watching football without cable TV.  Rather than going to the bar like I would have in the past, I went to the gym and took a leisurely walk on the treadmill while I happily watched GA Tech play on ESPN… happily until the very end when we lost the game.  *sigh*
Even more exciting was a new bicep curl PR.  After a couple of years trying to get over the 15 lb hump, I was finally able to curl 20s!!!  I was grinning like the Cheshire Cat, looking around to see if anyone noticed how much of a beast I was.  LOL!  Of course, so one was tracking my curl weight, but whatever.  This is me trying to play it cool in the locker room: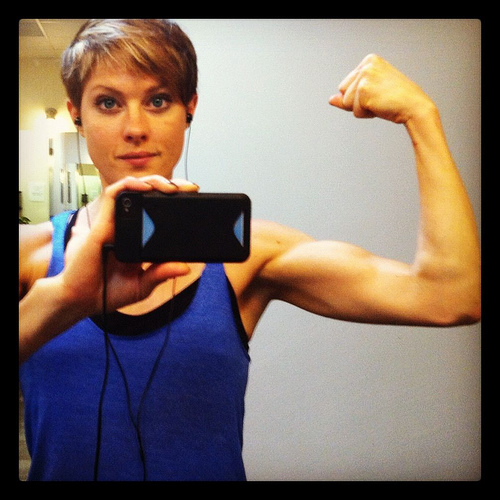 Workout Recap (8/27 – 9/3):
Monday – Chest/Biceps, Calf raises, 2 mile walk
Tuesday – Legs (w/ trainer), 1 mile walk
Wednesday – Back/Triceps, Calf raises
Thursday – Shoulders/Butt, 2 mile walk
Friday – Chest/Bis, 2 mile walk, Calf raises
Saturday – Legs (w/ trainer)
Sunday – Rest, Sprints
Monday – Back/Bis, Calf raises, 5.5 mile football walk
_______________________________________________________________________________________
Beet, Asparagus, and Broccoli Salad
1 small beet, roasted
1/2 C asparagus, chopped
1/2 C broccoli, chopped
1 T red onion, diced
1 T rice vinegar
Freshly ground pepper, to taste
Place all ingredients in a small bowl and toss to combine.
Serves 1 (easily doubled).
_______________________________________________________________________________________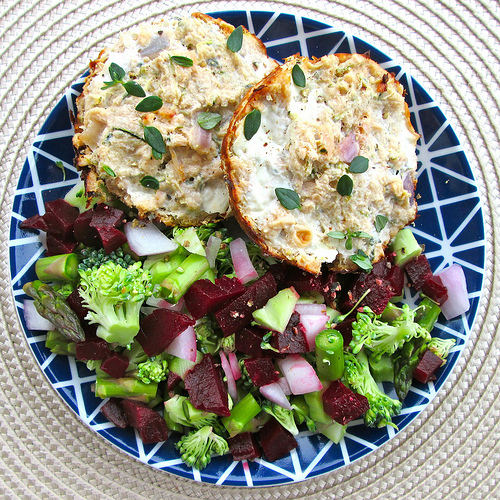 Lemon-Thyme Zucchini Salmon Cakes
1 7oz canned salmon (no salt added), deboned with skin removed
1/2 C grated zucchini, pressed to remove water
3 T egg whites
2 T red onion, chopped
2 T fresh thyme
1 T fresh lemon juice
1/4 tsp ground coriander
S&P, to taste
Preheat oven to 400 degrees and lightly grease muffin tin.
Place drained salmon in medium bowl and break into small piece with fork (or fingers).  Add remaining ingredients and stir to combine.
Spoon into muffin tin, lightly packing down to remove air spaces.  Bake for 20 – 25 mins, or until golden brown on top.  Remove from oven and let cool for a minute. Gently loosen with a knife and lift from the muffin tin.
Makes 4 cakes.
Approximate Nutritionals (per cake): 82 calories, 3.2g fat, 56mg sodium, 0.9g carbohydrates, 0.2g fiber, 0.6g sugar, 10.2g protein
***
These cakes are great to make ahead for an portable, protein-filled lunch!
How was your long weekend?  Any new dishes (or pumpkin beers) to report?
Does touching seafood/meat make you at all squeamish?