It's been a minute since I've showed cauliflower some love.
My apologies, cauliflower… but you give me gas.
Gas aside, I felt inspired to give it a go after seeing this recipe from Anna-Marie.  It had a really cool twist – she toss the cauli in stock before roasting it.  I did just that in today's strange (but good) recipe: Lemon Pepper Roasted Cauliflower.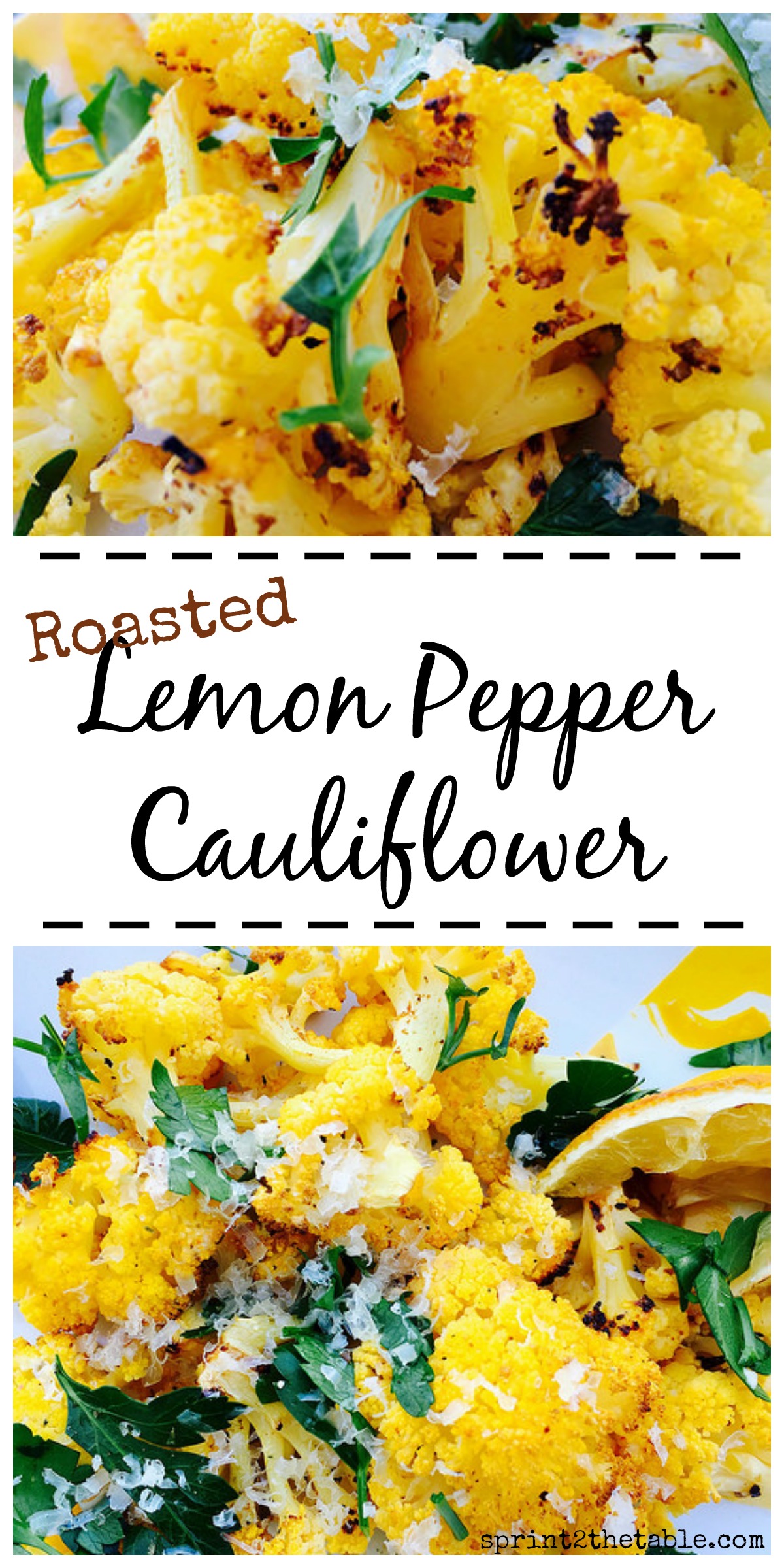 I started out with a yellow cauliflower, so this will look more yellow than if you use a white one.  Both would be good… but did you know that the color in a yellow cauliflower comes from a genetic mutation?  This mutation gives it more beta carotene and about 25% more vitamin A than white cauliflower.
The taste and texture are similar.  It possesses the same firmness and crumbly florets.  If anything, the flavor is slightly more sweet, but it's nothing drastic.
Regardless of the color of your cauliflower, the ingredients in this recipe will give you an incredibly flavorful side dish.  The use of vegetable stock adds flavor without extra fat (read: more room for cheese on top).
I added liquid smoke for a bit of a BBQ flavor.  If you don't have any on hand, shame on you.  Kidding.  You could replace the cayenne and liquid smoke with a smoked paprika.
Top this deliciousness with parsley for color and lady health.  Grate some pecorino or parmesan cheese over the top… because cheese.
Do NOT skip that roasted lemon step.  The little bit of juice to finish the dish is amazing.
---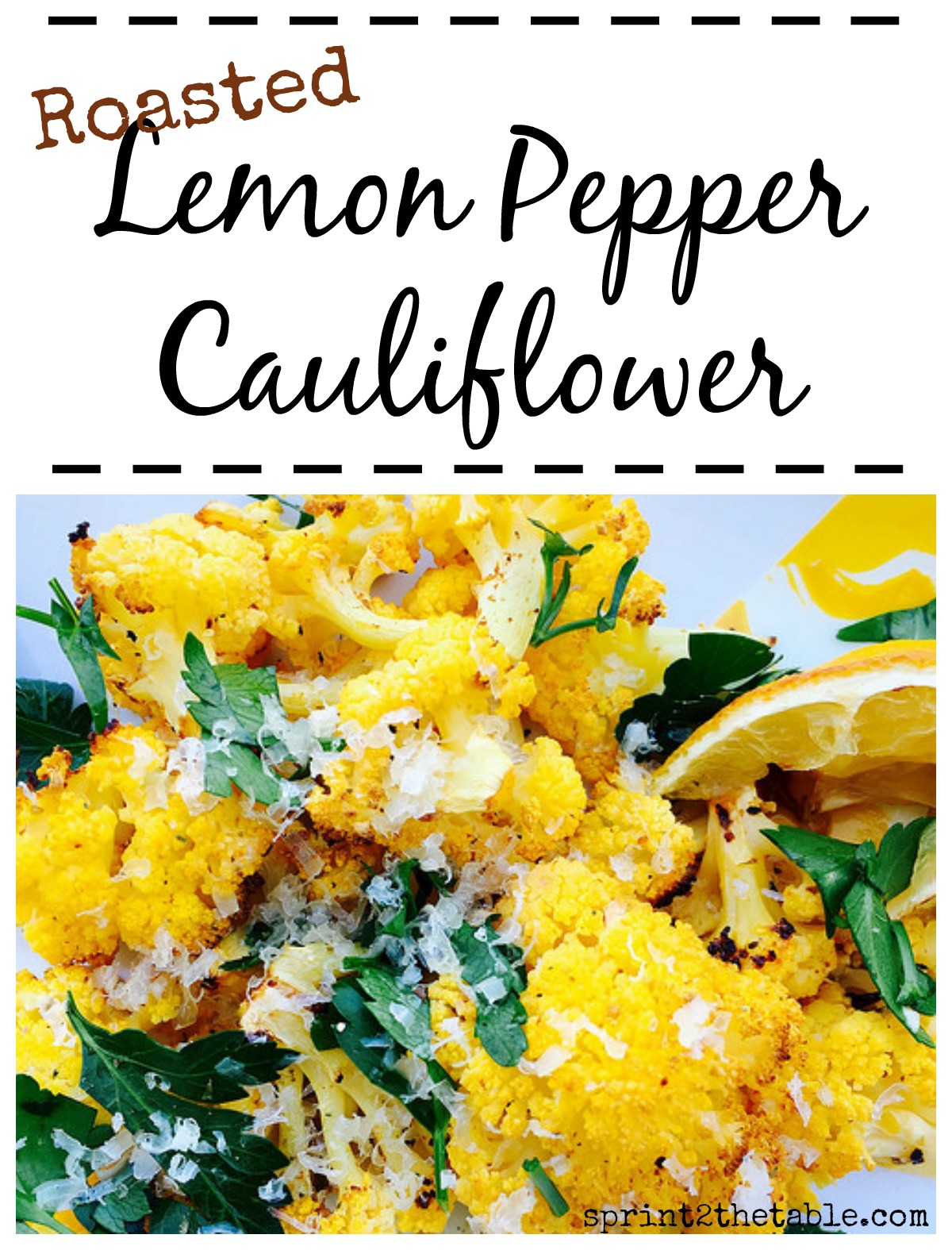 Lemon Pepper Roasted Cauliflower
1 large head cauliflower (I used a yellow carnival), divided into small florets
3 T vegetable stock
1 lemon, quartered
6-7 drop liquid smoke (optional)
1 tsp garlic powder
1/2 tsp freshly ground pepper
½ tsp cayenne pepper
¼ C parsley, roughly chopped
Grated parmesan cheese, to top
Preheat the oven to 450.  Line a baking pan with non-stick foil.
Place the cauliflower pieces on the pan and toss with the stock, juice from the lemon, and liquid smoke.  Do not throw away the lemon!
Add the garlic, pepper, and cayenne, tossing again to coat.  Spread the cauliflower across the pan as evenly as possible.  Place the juiced lemons on the tray as well.
Roast the cauliflower for 20-25 mins, tossing half way through.  They're done when they begin to turn golden brown.
Plate the cauliflower with lemon on the side.  Sprinkle the top with cheese and parsley, and give a squeeze of that roasted lemon juice.
Make 4 servings.
---
How have you enjoyed making co-workers, friends, or family stare with strange but good creations this week? The link up rules can be found here or by clicking on "Strange But Good" in the menu bar above. In short, I want to see what concoctions have earned you weird looks from co-workers, family and friends! Post your Strange But Good creations, grab the logo below for your blog, and link up here.
Remember to use #strangebutgood in any Tweets and Instagrams of your creations. 🙂



***
Apparently it was good… Vegas didn't complain about the gas.
What's your favorite way to eat cauliflower?
Is there a food you love so much that you'll eat it regardless of the side effects?